Six SNHU Alums Celebrate Success Together in the World of Finance
At first glance, Forward View Consulting might seem like the sole accomplishment of a passionate entrepreneur and Southern New Hampshire University alumnus named Nathan Yates.

In a way, at least in the beginning, that's not far from the truth. Yates founded Forward View as a way to bring new economic opportunities to his hometown in rural Southwest Virginia. Believing that nonprofits and small businesses are, as he put it, "the foundation of our nation's success," he decided to offer consulting services anyone could access.

"We serve two distinct markets: small businesses and much larger investment companies," Yates said. "One day we're updating a local deli's e-commerce website and the next day we publish an investment analysis that's read by a multi-billion dollar international asset manager."

Yates is, by all accounts, a natural born leader: smart, self-made and uncommonly dedicated to helping "the little guy." His perseverance is incredible, too. As a young man living with a rare form of muscular dystrophy called spinal muscular atrophy (SMA), he fought for everything he had.

But it's important to Yates that readers not cast him as the lead in the story of Forward View. This, he insists, is far from a one-man show.

He credits his team, built almost entirely from former classmates and peers from SNHU, for the company's success. "Every Forward View member offers skills and ideas that I don't possess," Yates said.

Different skills, but a common passion, and the way it all came together is uniquely of its time.
(Un)favorable Odds
2014 was a breakout year for the U.S. economy. Five years after the global market crash, it marked the most significant upswing in job growth the country had seen in 15 years.

That same year, Yates was finishing up a position with a Chicago-based equity research firm and had started looking for a new job. He'd already earned his MS in Finance (with a 4.0 GPA), and national unemployment was finally back down to 5.8%.

The timing couldn't have been better, yet Wall Street was proving to be a dead end.

Despite an overall economic growth spurt, the unemployment rate for persons with disabilities was still 12.5%. That number since dropped (to 10.7% in 2015), but at the time, the lower prospects inspired Yates to correct an imbalance in the system. He decided that, if he wanted to get ahead, he needed to take matters into his own hands.

So he did. Yates started taking freelance gigs, and by October 2014, he planted the seed of an idea right in his backyard.
The Forward View
Yates realized he wasn't alone. Young up-and-coming professionals who came of age with the internet had resources and information no generation ever had before.

Not only were millennials receiving wider access to education, particularly MBA programs, but the drive for Generation Z (born 1994-2010) to play by its own set of rules was becoming more and more palpable. When jobs for economics majors like Yates weren't already there, young professionals had the power to start their own.

Yates had a front-row seat to a new age of entrepreneurship. He saw the power of distance learning for tech-driven problem solving, networking and flexible self-directed workflows, and he believed that technology could be equally as effective as a tool for growing business. Not just for himself, but for anyone.

He just had to prove it. But how?

He started by giving his optimistic outlook for small businesses a name. He called it, simply, "The Forward View."
When "I" Became "We"
Forward View set out to create opportunities for businesses and people. So it was fitting that the first person Yates enlisted for help was Kerri Costello, a talented Pennsylvania-based graphic designer whose creative eye perfectly complimented his entrepreneurial vision.

As kids, their parents had met at a Cure SMA (formerly Families of SMA) conference and the two kept in touch. When it came time to designing the Forward View logo, Yates couldn't imagine anyone better suited for the job.

His clients agreed. "I once emailed a very lengthy mining company equity research report to the firm's CFO," Yates recalled. "He replied almost immediately: 'I love your Forward View logo! It's a great design. Please compliment the artist for me.' He never commented on my analysis!"

Yates and Costello were a natural fit. But when they lost a large consulting job, they saw a profound need for a copywriter. Enter: Jamie Brown, the first in a long line of former contacts from SNHUconnect, the university's private portal for online students, who would transform Forward View from a one-man business to a team of business-savvy innovators.

As a content strategist, Brown made an immediate impact designing tri-fold brochures, business cards and envelopes that featured Costello's logo. Yates distributed these marketing materials to local businesses at special events, and the team began creating first impressions that were built to last.

Up to that point, Yates grew the Forward View team as a way to add specialties and skills he believed he didn't have. But in July 2015, he took a new approach.
Hire People Smarter
Yates wanted another financial analyst by his side, someone with whom he could explore ideas and develop new business tactics, and he knew that David Wilson could deliver. In fact, he already had; the two frequently collaborated as classmates pursuing their online BS in Finance and Economics degrees.

All subsequent teammates have possessed a strong background in finance and economics, and a core commonality as an alum or current online student at SNHU. Each one of them takes that influence into new, exciting directions that broaden the Forward View client base.

Take Grace (Shu-Yuan) Wu, for example. Though she was hired as a web designer and digital artist, she's had a colorful career in international trade, education and, of course, finance (for which she's earning her master's). One look at those credentials, and it's not hard to see why Yates introduced Wu as "Forward View-personified."

Next was Fred Campbell, an engineer turned research analyst, who emailed Yates about joining the team back in February. Operating under the business tactic that leaders should hire people smarter than themselves, Yates knew hiring Campbell was the right choice.

That move enabled Forward View to launch the Sporting Goods Monitor: a game-changing service that provides unique coverage and forecasts for the sporting retail industry.

In a short time, the product drew a global audience. It proved so successful, in fact, that the team needed Orlando-based research analyst Michael Williams to join just to support its growth. With his specialized coverage on the golf industry, he's been an invaluable asset since July.
"Money should work for people..."
Now celebrating its second anniversary, Forward View went from a seed of an idea to a towering sycamore, its roots planted firmly in a changing marketplace. Beyond the obvious talent, each and every member has an uncommon passion for giving back, and it makes for even higher impact results, both on and off the clock.

Many team members lead by example. For Wilson, that means over a decade of active service with the U.S. Air Force. For Wu, it means providing inspiration to her two sons, who see in their mother a multi-talented, hard-working woman as dedicated to her career as she is her family.

Williams blends a little bit of both. A proud parent, he's also known for his charitable efforts, most recently for Feeding Tampa Bay this past April. He's also a passionate believer in Yates' assertion that "money should work for people, not against them" and learned early on how studying economics could empower citizens.
A Penmen-sized Hole
As far as Forward View has come, it remains uniquely focused on its original mission.

An official partnership with a global network of independent analysts called StockViews, for example, is just one way to "disrupt the traditional sell-side business model." Where quality equity research was once only accessible to select international corporations and hedge funds, Forward View and StockViews aim to put this research in the hands of smaller businesses navigating the industry.

Still, Yates wanted to do more.

"[After graduating], I felt like there was a Penmen-size hole in my life," Yates said. "Our university's mission is so compelling that I couldn't imagine limiting myself to spectator status."

In October 2014, Yates once again tapped into his network and became an adjunct finance instructor at SNHU. By the following September, he accepted the role of Finance and Economics team lead. Today, he continues to inspire students who may have wondered what possibilities are ahead.

For all the achievements in his career and the challenges he's faced, Yates carries with him an infectious gratitude. From his perspective, it never seems like his own accomplishments burn brightest, the real rewards are the connections he's made along the way. He wouldn't change it for anything.

"Without my disability, there would have been no SNHU degrees and no Forward View," Nathan said. "If [that's what it took] to have these amazing people in my life, so be it. I'm blessed."
Spencer Hensel is a copywriter in higher education. Connect with him on LinkedIn.
Explore more content like this article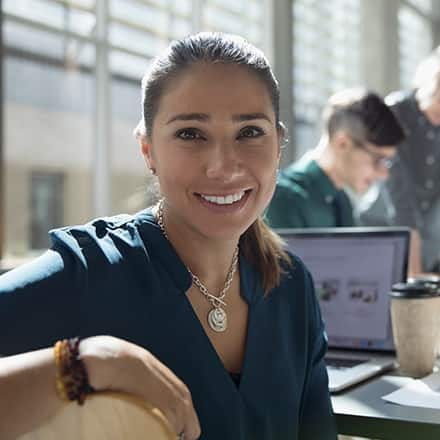 June 16, 2021
Thinking about earning a degree in accounting? Your learning could prepare you for more jobs than you'd think. There are many alternative careers for accountants across the finance and business world.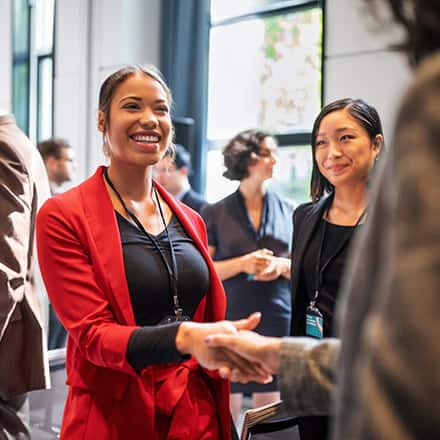 June 04, 2021
The day you receive your diploma from your university is a proud one, marking the culmination of your degree. But, your relationship with the university doesn't have to end there. Alumni are an integral part of a university community and are true advocates for student success.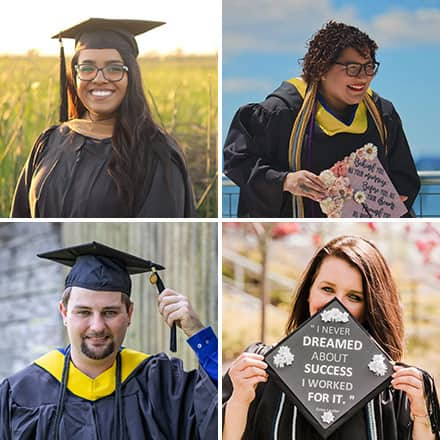 May 10, 2021
Determination has always been a key characteristic of SNHU graduates but never more so than within the 43,000 students who persisted throughout the pandemic in completing their degree programs.