Q&A with SNHU Professor Frederick Lord for National Poetry Month
Each April, Associate Professor of English and Creative Writing Frederick Lord delves into a poetry unit in his Introduction to Creative Writing in honor of National Poetry Month. He also touches upon poetry in his English language course as well as honors program courses.
Lord published a poetry collection, "What I Made Instead of a Life" in 1996, and plans on assembling another while on sabbatical this fall. His most recently published poem, "Aengus Afterward," appeared in the Winter 2018 issue of the "3Elements Literary Review."
Lord shared his philosophy on reading, writing and teaching poetry. This interview was edited for length.
What do you teach during the poetry unit in your Introduction to Creative Writing class?
Well, the problem with teaching poetry today is a lot of students want to rhyme and don't know how. Poetry is a lot like golf. Anybody can play it but only a few can play it very well, and to play it well, you need a lot of practice and you need to not be reinventing the wheel all the time.
I really concentrate on how poetry is made up of the details, not generalities, and work with people to be, as you would with prose, to be more specific, or more concrete. Ironically, or perhaps not, the more concrete you are, the more abstract you can be.
You teach people to think like a poet in the sense that poets argue by the metaphor. Poets argue by symbol. Poets persuade through the surprise of the language and the metaphors that they use, and that's how they persuade us of their vision of the world.
What do you think the foundational lesson is in understanding poetry?
I talk a lot about connotation and denotation... Language almost always operates on more than one level if we're paying attention, if we're listening. That's why poetry is so important as a spoken art and as a personal face-to-face kind of thing. Poetry loses a lot when it's just the words on a screen. It loses a lot because there's a lot that we communicate that is more than that. The sound of words is so important. The way we say them and the emphasis we give them, and the way we organize them and our volume and what we stress and don't stress... all of those things communicate in ways that are far more efficient, if you will, than your prose and that's one of the attractions of poetry.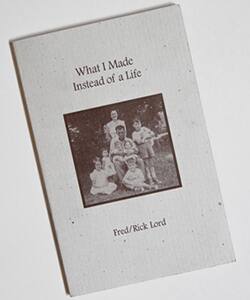 Throughout your time teaching poetry, has the way you taught it changed?
No, I don't think so. We've broadened the subject matter, but we're always trying to broaden the subject matter of what poetry can write about and we've always been interested in pushing those barriers wherever we could. That's a sociological change.
I haven't seen any stylistic changes and I think maybe we're a little more cosmopolitan in our appreciation of poetry. We're more accommodating than most styles. More accommodating in differences of approach and that may be part of the fact of becoming more accommodating to all different kinds of people. There is a pressure to become more diverse and not just simply a tolerant society, but a society that celebrates its variety and I think poetry can reflect that ... It's more consciously inclusive than, say, it was 30 years ago.
Why do you think poetry is important to read?
Everything's important to read, whether it's the back of a cereal box or the Constitution, everything's important to read ... If we are to understand what it is to be a human being, we need to read about other people's experiences about being human beings, and poetry does that very, very well... Poetry to me is as fundamental to the humanities as anything else.
Why is it important to write poetry?
It's self-expression. Self-awareness. It's teaching you about yourself. Sometimes I don't know how I feel about something until I've written about it. Sometimes I discover attitudes and ideas that I was not aware of... It's a way to react and respond to life in general.
It's fun. Don't forget the pleasure in writing. Of creating something that didn't exist before you existed it, and as a way to communicate that you don't seem to have any other way to communicate.
Who is your favorite poet?
The poet that really woke me up would have been William Butler Yeats when I started reading him when I was 15. I mean, I read a lot of poetry before then. I had a lot of favorite poets before then, but when I really started to read his work seriously, I think that really woke me up to what poetry can be. At 15, I started reading Yeats and from then on, he became probably my favorite poet.
He's a great poet to go grow old with... He (his poetry) evolved, if you will. As his life changed, he changed with it and that's, I think, what grabbed my attention right away.
Your love for poetry developed at a young age, then, and stuck with you.
I started writing when I was nine and even though I had lots of different jobs and situations and places I've lived, I could always find time to write poetry. I haven't always been able to find time to write more extended works which is why I'm looking forward to having a little bit of time now (on sabbatical), but I think that simply it's become a part of who I was and how I function in the world. Some years I haven't written very much and some years I've written a lot. I'm surprised at how much I've been able to write in my 50s and 60s.
When you write poems, do you return to them?
I'm a constant reviser. Sometimes I won't get around to finishing a poem. I published a poem in 2009 that I started in 1970. And then again, I published a poem that took me an hour to write, and sent it off and it was accepted that day.
If you don't submit your work, even if you don't have any hopes of fame or fortune, you don't get your (poem) to the best it can be. You have to have the pressure of knowing that a stranger is going to read it and that will make you look at the poem again. It will make you make the poem better, if you know that somebody who knows nothing about you is going to read it.
What advice to you have for an aspiring poet?
The first advice we always give you is to read. Read as much and as widely and as deeply as you can. Nobody ever wrote a great book without having first read one, at least one. Even Homer must have read something, but what? I don't know.
Write a lot. Write as often as you can. Try to finish everything you start, even if you get halfway through a story and say, "this is going nowhere." Push it and finish it. Same with a poem. Finish it. You don't want to be carrying parts of things around with you.
(Poetry) is a calling, it's not a profession. It's a calling and if you have that calling, it's really what matters to you and everything else is secondary. It's always been the poet in me that's made the big decisions, sometimes with disastrous results, but that's the person that made the decisions all through my life.
I might have been rich and famous doing something else but who cares? It's not something you decide to be; it's something that you realize you are.
Rebecca LeBoeuf is pursuing her bachelor's degree in communication at Southern New Hampshire University, and is set to graduate in May 2018.
Explore more content like this article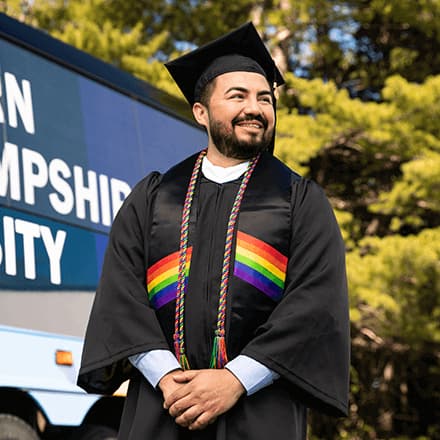 July 19, 2021
The moment Jesús Suárez '21 received his diploma in the mail was one he and his family will never forget. This was more than a degree—it was a cap to an incredible journey. While there was a series of hardships along the way, there was a persevering sense of love and accomplishment.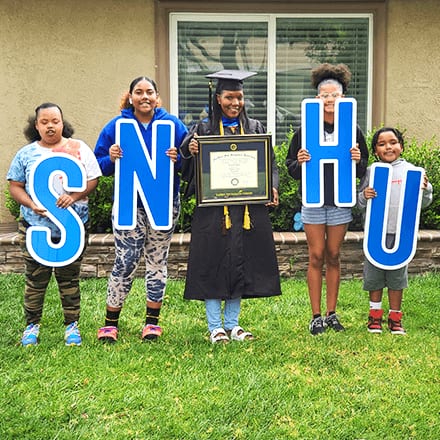 July 12, 2021
Latisha Aguilar '21 has always wanted to be a voice for special needs students and advocate for them. With the goal of becoming a middle school guidance counselor, she said finishing her psychology degree later in life allowed her more time to figure out what she wanted to do with her education.
July 01, 2021
Interested in starting a new job or advancing in your current field? An Associate of Arts (AA) degree can give you the broad-based education and in-demand career skills you need to reach your goals. Learn more about earning an AA degree and what you can do with one.