Danielle Hoopes 1st Woman to Earn SNHU Online Computer Science Degree
Danielle Hoopes '18 knew where her passion lay and once she found a school that worked for her, she couldn't wait to finish her degree and get to work.
Hoopes, a 31-year-old resident of Fort Smith, Arkansas, is a software development analyst at Goodyear Commercial Tire and Service Centers corporate headquarters. She lives there with her husband and a pair of spoiled lionhead bunnies and spends spare time traveling, writing computer code and reading fantasy novels. She's also the first female graduate from Southern New Hampshire University's bachelor's in computer science online program.
"It feels like a dream come true," she said. "Cliché aside, I never thought I could get here."
Finding the Right Fit
Hoopes began her college career at a traditional campus in Fort Smith and, while she enjoyed it, she felt constricted. Since she had to attend classes at specific times, it was taking too long to take the courses she needed while working full-time. Southern New Hampshire University (SNHU) offered a solution.
Hoopes said the computer science curriculum was up to date and found that being able to complete her work on her own schedule allowed so much more time to study and learn. "I was very impressed with the welcome I received when I first contacted an advisor at SNHU and how quickly they were able to place me in classes ...," she said.
Hooked on Tech
Hoopes didn't grow up with a computer at home. In fact, she didn't have a computer or internet in her home until she had enrolled in college. But that didn't hamper her passion. She did anything and everything to log more time in front of a monitor because she loved it. She spent extra hours at the computer lab at school, visited friends to borrow their machines and took every class at her high school that involved computers.
She tried a couple other paths in college, biology and marketing, but eventually returned to her first love. 'I came back to my true passion only to realize that as a female, I was needed badly to represent our gender in STEM," Hoopes said.
When she transferred to SNHU 2 years into her degree, she didn't waste time, even enrolling in twice the normal full-time student course load of 2 courses per term.
It was Hoopes' love of the industry that drove her, as well as encouragement and support from her academic advisor, Keith Hrasky.
"His check-ins kept me on track and having someone to go to with any questions was something I had never had before," she said. "I just kept telling myself that my dream of becoming a leader in technology was attainable and the staff at SNHU helped me accomplish it."
Giving Back to Women in Tech
Hoopes said that for now she's focused on developing her skills in her current position and mentoring girls in her community who have shown an interest in STEM (science, technology, engineering and mathematics) fields.
"My long-term goal is to obtain my master's degree in information technology and become a leader in my company," Hoopes said. "I want to show other women and girls that they too can push through the glass ceiling and truly excel as I have."
With a bachelor's degree in hand and her sights set on earning a master's, Hoopes said her hard work and passion has brought her to a place in life she wouldn't have imagined.
"Computer science is challenging and ever-changing and it sometimes makes me feel behind the curve. With that said, technology is shaping our world and I can always be proud that I am a part of it," she said.
Joe Cote is a staff writer at Southern New Hampshire University. Follow him on Twitter @JoeCo2323.
Explore more content like this article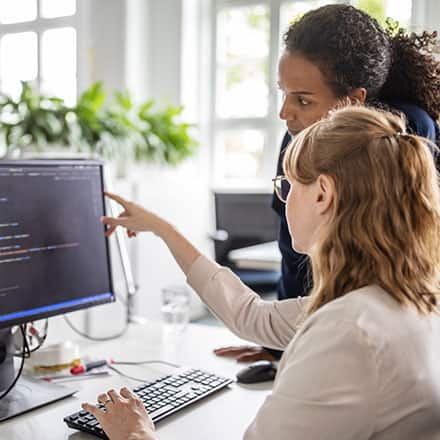 February 15, 2021
As technology continues to become a growing part of our daily and professional lives, a career in web development can help you find work in virtually any field. But before you learn web design and start an exciting career in development, it's important to understand how to become a web developer.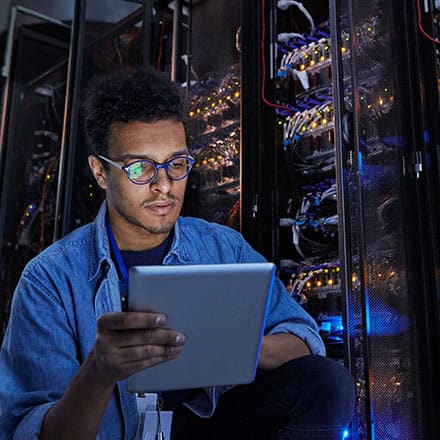 February 10, 2021
In recent years, headlines about cyber security have become increasingly commonplace. For companies of all sizes, keeping information safe is a growing concern.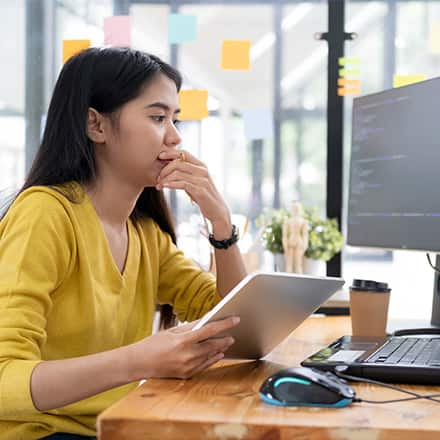 February 08, 2021
Software engineering is a particularly versatile and rewarding tech-focused career. This is a growing and vibrant career path for anyone who likes solving problems, thinking creatively and using technology to create new business solutions.