Make Data-Driven Decisions with a Master's in Business Analytics
The 21st century has seen an explosion in data generation, as well as the rapid development of analytical and information technologies and the growth in storage and processing capabilities. This has led to the need for business analysts now more than ever. By earning your Master of Science in Business Analytics from Southern New Hampshire University, you could learn to be the go-to person for making informed, data-driven decisions in any company or organization you work for in the future.
The MS in Business Analytics is one of the high-quality degree programs taught on our campus in Manchester, and it provides a market-relevant combination of a comprehensive education in business analytics with real-world applications.
If you're interested in an online master's program, check out our Master's in Data Analytics online.
See Yourself Succeed in Business Analytics
In our MS in Business Analytics degree program, you'll learn how to collect and interpret business data, communicate findings to stakeholders and execute strategic business decisions. A degree in this area could give you the knowledge, tools and skills necessary to pursue or accelerate a career in business analytics.
As a private, nonprofit university, SNHU has one mission - to help you see yourself succeed. The benefits of earning your master's in business analytics at SNHU are:
Supportive community. Join the SNHU campus community of students who are closely connected with faculty and staff dedicated to your success.
Affordability. SNHU is one of the most affordable private, nonprofit universities in New Hampshire.
Accessible faculty. Learn from highly credentialed faculty who are experts in their fields and interact with you in the classroom, dining hall, fitness center and the stands.
Efficiency and flexibility. Complete your graduate degree on campus in 12-18 months, with 3-5 courses per 16-week term.
Minimal requirements. No GRE or GMAT required for admission.
Networking. Tap into our nationwide network of alumni for tips and career opportunities.
Campus experience. Enjoy more than 50 student clubs, champion Division II athletics and fun events on our 300-acre campus in Manchester, NH, named a "Best Place to Live" by Money magazine.
Hear From Our Faculty
From engaging, hands-on curriculum to internships and real-world experience, the MS in Business Analytics programs can help you advance your career. With faculty mentors and student support services available throughout your program and beyond, you can see yourself succeed at SNHU.
Admission Requirements
SNHU requires an undergraduate Grade Point Average (GPA) of 2.75 (or equivalent) for admission. If you are an international student in need of a visa to study on campus, please see our international admission requirements.
Acceptance decisions are made on a rolling basis throughout the year for our three 16-week graduate terms. You can apply at any time and get a decision within two weeks of submitting all required materials. To apply, simply complete our online application form.
Career Outlook
When you earn a master's in business analytics, you'll acquire analytical knowledge pertinent to the world of managing businesses. Most businesses today have quickly realized the power of analytics and are eagerly scouting for qualified leaders in the field.
Career opportunities for business analysts are on the rise. According to the U.S. Bureau of Labor Statistics, employment of management analysts is projected to grow 14% from 2018 to 2028, with particular growth in small consulting companies with highly specialized business functions, as well as government agencies looking to reduce spending and optimize efficiency.*
Curriculum
Coursework for the MS in Business Analytics program covers all three areas of business analytics – descriptive, predictive and prescriptive – as well as courses that integrate information technologies with data-analytic methods. Experienced faculty members in this program bring a high level of real-world experience, integrating both theory and real-world practice.
In this program, you'll get a chance to work on real-life business analytics projects with area and remote organizations, while the electives will provide you the options to do an internship, expand your reach into applications of analytics to functional areas of business and allow you to pursue your own special interests. The curriculum of the program is extremely hands-on and experiential, and it should prepare you for a successful career in the world of business analytics.
List of Courses
Courses May Include
MS in Business Analytics
CIS 525
Applied Data Structure and Database
The course is an introduction to the basic principles and practices underlying the analysis, design, and implementation of the database, as they are used in the contemporary business environment. Students will learn the major approaches used in designing database applications. Students will also learn the details of the logical and physical design techniques of data modeling. This course also reviews the data structure concepts such as link lists, stack and queues, binary trees, graph representation and traversals, sorting, and hashing. The course has an extensive hands-on technical component using Structured Query Language (SQL).
CIS 530
Design of Decision Support Systems
This course will have students dive into what decision support systems are and how to design one on their own. Decision support systems help support managerial decisions through the use of information technology, data, and models to aid in making decisions. This requires knowledge of the data and how to access it. Students will need to gather requirements to determine what the decision support system should do to provide useful information to the user. Also, students will be leveraging querying and scripting languages to extract useful information from the business data. Various technologies will be studied in the course as the environment of decision support systems is ever changing. The concepts learned in this class will help students design a working decision support system that provides valuable information to the end user.
QSO 520
Management Science through Spreadsheets
Gain a working knowledge of the most commonly used Management Science/Operations Research techniques for their use in business. Learn how to combine the power of the management science and spreadsheets to recommend solutions for a wide variety of business problems.
QSO 560
Descriptive Business Analytics
Descriptive Analytics is used to analyze historical data to gain insights that can be used in making better business decisions in the future. In this course, you will learn about and apply the principles and techniques of business data analysis using Excel and popular data analysis software.
QSO 570
Predictive Business Analytics
Predictive Analytics is used to make predictions about future business activities. The predictions are used to make business plans and take actions to bring about the desired business outcomes. In this course, you will learn about and apply the principles, tools and techniques of predictive analytics using Excel and popular data analytics software.
QSO 640
Project Management
This course includes the study of concepts, tools, and practices of project management. The course adopts a managerial process approach to Project Management, which consists of initiating, planning, executing, controlling and closing the project. Major topics will include project scope, project time, project cost, project quality, project risk, project resources, project communications and how to be an effective project manager. Cases are utilized to integrate the learning in the course and provide decision- making experience for the student.
QSO 705
Capstone in Business Analytics
This capstone course is the culminating experience for the M.S. in Business Analytics program. The aim of the capstone is to assess students' ability to synthesize and integrate the knowledge and skills they have developed throughout their coursework, rather than introducing new concepts. This course is structured to support student success in fulfilling program requirements.
Total Credits: 36
Graduate Tuition
Earning your degree is a smart choice to advance your career, and investing in an affordable program increases your ROI. We keep our costs low to remove barriers between you and your goals.
*Bureau of Labor Statistics, U.S. Department of Labor, Occupational Outlook Handbook, on the Internet, at https://www.bls.gov/ooh/business-and-financial/management-analysts.htm#tab-6 (viewed online April 3, 2020)
Related Articles
If you have worked for a bad leader, you likely already have the answer to why good leadership matters. Good leadership can make the difference between enjoying your job and tolerating your job. Here are 10 qualities of a good leader that can benefit teams and organizations.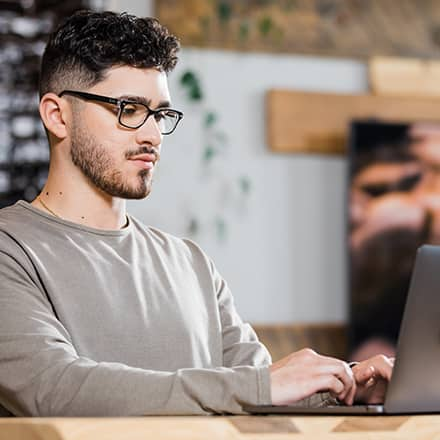 The fundamentals of digital marketing, or internet-based marketing efforts, refer to the guiding principles that can help lead your strategy and result in successful marketing campaigns. Digital marketing is all about sharing content with the aim of engaging and influencing potential customers.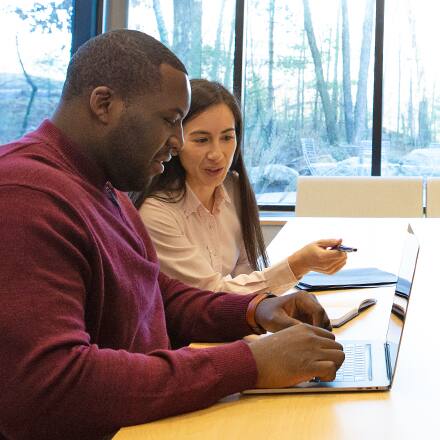 When it comes to pursuing an advanced business degree, you've got options. Two popular choices are the Master of Business Administration (MBA) and a Master of Science (MS). But which degree is right for you?