Spread Your Message with a Communications Major from SNHU
Communicating effectively with co-workers, clients and the public requires expertise in oral, written and visual communications. The Bachelor of Arts in Communications major at Southern New Hampshire University helps you develop and deliver key messages to diverse audiences.
You'll learn communication theory and industry concepts, and build public speaking, presentation and interviewing skills. You'll also gain experience with business communication, graphic design and public relations through courses and minors in advertising, film, journalism, information technology or marketing. Electives in 3D animation and modeling, digital illustration and digital video production are also offered.
Earn Your BA in Communication for just $10K per year
The BA in Communication is one of SNHU's Experience More programs. In these programs, you'll be on a more structured, career-focused pathway to your degree. Designed to incorporate industry experience and prepare you for the workplace more rapidly, at least 36 of your credits will be earned through experiential learning—which may include studio work, lab work, project-based courses, internships, or industry certifications.
You'll also learn through a mix of face-to-face classroom and online formats. That means less seat time in traditional classroom settings, and more time engaging with faculty members as project leads, internship advisors, or coaches.
See Yourself Succeed as a Communications Major at SNHU
Having good communication skills is, without a doubt, one of the most sought-after skills by prospective employers - no matter what field you go into. That's what makes this BA so valuable. As a SNHU communication major candidate, you can expect to:
Gain hands-on experience in public speaking and interviewing skills
Complete coursework in corporate communication, graphic design, public relations, social media and other communication disciplines
Understand and articulate the business rationale behind communication strategies
Tailor the communication degree by minoring in graphic design, social media marketing, sport management, marketing or fashion merchandising
As a private, nonprofit university, SNHU has one mission - to help you see yourself succeed. The benefits of majoring in communication at SNHU include:
Supportive community. Join the SNHU campus community of students who are closely connected with faculty and staff dedicated to your success
Affordability. It's our mission to make higher education more accessible. That's why, SNHU is one of the most affordable private, nonprofit universities in New Hampshire.
Innovative programs. Study abroad at little or no extra cost
Accessible faculty. Learn from highly credentialed faculty who are experts in their fields and interact with you in the classroom, dining hall, fitness center and the stands
Opportunity. Tap into our nationwide network of alumni and strong connections with employers for internship and career opportunities
Campus experience. Enjoy more than 50 student clubs, champion Division II athletics and fun events on our 300-acre campus in Manchester, N.H., named a "Best Place to Live" by Money magazine
Careers & Outcomes
The communication, computer and graphic design skills you'll obtain prepare you for a variety of careers. Employers who have hired SNHU graduates with a BA in Communication include Glamour Magazine, Fox Network, Boston Red Sox, Segway and the Manchester Monarchs.
This BA program emphasizes practical experience through coursework and other opportunities, including:
Working with clients in real-world settings
Contributing to the publication of the student-run college newspaper, The Penmen Press, and student-run radio station, Radio SNHU
Internships
Curriculum
Required courses include psychology, sociology, history and politics, to name a few.
There are 11 communication courses, ranging from public speaking and public relations to social media, journalism and more. Electives include communications, English and graphic arts.
Courses To Prepare You For Your Career
SNHU's bachelor's in communication program includes:
General education
Degree-specific courses
General Education Program
Our programs are designed to equip you with the skills and insights you need to move forward. In recent years, employers have stressed the need for graduates with higher order skills - the skills that go beyond technical knowledge - such as:
Writing
Communication
Analysis
Problem solving
All bachelor's students are required to take general education classes. Through foundation, exploration and integration courses, students learn to think critically, creatively and collaboratively, giving you the edge employers are looking for.
View Full Curriculum in the Catalog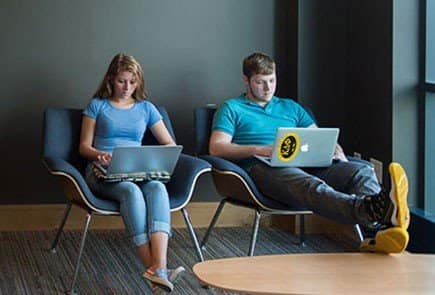 Our Manchester campus aims to keep tuition and related costs low for our students so that you can pursue your degree and your goals.