Spread Your Message with a Communications Major from SNHU
Communicating effectively with co-workers, clients and the public requires expertise in oral, written and visual communications. The Bachelor of Arts in Communications major at Southern New Hampshire University helps you develop and deliver key messages to diverse audiences.
You'll learn communication theory and industry concepts, and build public speaking, presentation and interviewing skills. You'll also gain experience with business communication, graphic design and public relations through courses and minors in advertising, film, journalism, information technology or marketing. Electives in 3D animation and modeling, digital illustration and digital video production are also offered.
Earn Your BA in Communication for just $10K per year
The BA in Communication is one of SNHU's Experience More programs. In these programs, you'll be on a more structured, career-focused pathway to your degree. Designed to incorporate industry experience and prepare you for the workplace more rapidly, at least 36 of your credits will be earned through experiential learning—which may include studio work, lab work, project-based courses, internships, or industry certifications.
You'll also learn through a mix of face-to-face classroom and online formats. That means less seat time in traditional classroom settings, and more time engaging with faculty members as project leads, internship advisors, or coaches.
See Yourself Succeed as a Communications Major at SNHU
Having good communication skills is, without a doubt, one of the most sought-after skills by prospective employers - no matter what field you go into. That's what makes this BA so valuable. As a SNHU communication major candidate, you can expect to:
Gain hands-on experience in public speaking and interviewing skills
Complete coursework in corporate communication, graphic design, public relations, social media and other communication disciplines
Understand and articulate the business rationale behind communication strategies
Tailor the communication degree by minoring in graphic design, social media marketing, sport management, marketing or fashion merchandising
As a private, nonprofit university, SNHU has one mission - to help you see yourself succeed. The benefits of majoring in communication at SNHU include:
Supportive community. Join the SNHU campus community of students who are closely connected with faculty and staff dedicated to your success
Affordability. It's our mission to make higher education more accessible. That's why, SNHU is one of the most affordable private, nonprofit universities in New Hampshire.
Innovative programs. Study abroad at little or no extra cost
Accessible faculty. Learn from highly credentialed faculty who are experts in their fields and interact with you in the classroom, dining hall, fitness center and the stands
Opportunity. Tap into our nationwide network of alumni and strong connections with employers for internship and career opportunities
Campus experience. Enjoy more than 50 student clubs, champion Division II athletics and fun events on our 300-acre campus in Manchester, N.H., named a "Best Place to Live" by Money magazine
Careers & Outcomes
The communication, computer and graphic design skills you'll obtain prepare you for a variety of careers. Employers who have hired SNHU graduates with a BA in Communication include Glamour Magazine, Fox Network, Boston Red Sox, Segway and the Manchester Monarchs.
This BA program emphasizes practical experience through coursework and other opportunities, including:
Working with clients in real-world settings
Contributing to the publication of the student-run college newspaper, The Penmen Press, and student-run radio station, Radio SNHU
Internships
Curriculum
Required courses include psychology, sociology, history and politics, to name a few.
There are 11 communication courses, ranging from public speaking and public relations to social media, journalism and more. Electives include communications, English and graphic arts.
Courses To Prepare You For Your Career
SNHU's bachelor's in communication program includes:
General education
Degree-specific courses
General Education Program
Our programs are designed to equip you with the skills and insights you need to move forward. In recent years, employers have stressed the need for graduates with higher order skills - the skills that go beyond technical knowledge - such as:
Writing
Communication
Analysis
Problem solving
All bachelor's students are required to take general education classes. Through foundation, exploration and integration courses, students learn to think critically, creatively and collaboratively, giving you the edge employers are looking for.
List of Courses
Courses May Include
BA in Communication Campus
COM 126
Introduction to Mass Communication
This communications survey course covers mass media, culture, and society. The course focuses on how and why the US media operate as they do, as well as on how media performance might be improved.
COM 212
Public Speaking
This course is designed to help students develop abilities, including organization and delivery skills, for all speaking situations. The evaluation and improvement of voice, diction, articulation and posture also are studied. May not be used as literature elective.
COM 227
Public Relations
This course introduces students to the theory and practice of public relations in the United States. Students study the major figures in this field as well as organizations, their behavior, and the relationships between organizations and their publics.
COM 230
Graphics and Layout in Print Media
This course is an introduction to the principles and practices of graphic design. Students are introduced through lecture, demonstration and hands-on computer work to the basic elements of graphic visual communication. Adobe Illustrator is used as a primary tool in exploring visual perception through a variety of creative exercises that familiarize the student with basic visual principles such as figure/ground manipulation, shape grouping, letterform shape creation, and grid and system creation. Formal elements of graphic design such as line, shape, color, texture, pattern, balance, symmetry, rhythm, space and unity are thoroughly explored by example and hands-on computer exercises; special topics included are: designing with type, layout strategies, logo design, symbol and pictogram development and stationery systems.
COM 232
Desktop Publishing
This course is an introduction to the software application Adobe InDesign designed for the novice user. Students are introduced to the creative and practical aspects of the desktop publishing program that is considered indispensable in the contemporary communications and design industries. This course is based on a series of introductory exercises and a regimen of hands-on practice that teaches software and design skills; students learn how to combine the use of professional graphic design and word-processing software applications.
COM 235
Multimedia Journalism
This writing practicum introduces students to writing for print and electronic media under deadline. Gathering information by using records, documents, observation, interviewing, and the Internet. Emphasis on library resources, electronic databases, and current events. Basic style and editing based on AP Stylebook and Libel Manual and AP Broadcast News Handbook.
COM 244
Digital Video Production: Level I
This course introduces the student to video aesthetics, and techniques, as well as providing students with hands-on production experience. Video will be approached as a creative visual communication tool for the exploration of abstract concepts, creative endeavors and the human condition. Skills covered in the class will include the fundamentals of all stages of production, use of the camera as a visual tool, audio, lighting, and editing in a digital non-linear environment. Students attend lectures and technical demonstrations, view work of various video and film directors, complete production planning and coordination, and produce creative projects.
COM 310
Social Media
The possibilities and dangers of social media increase daily. This course explores the history, technology, impact, and strategies of social media. Students will examine the uses of social media for business, personal branding, community building, journalism, affecting change, and marketing communications. The course provides hands-on experience with the most current technology.
COM 320
Exploring World Cultures/Mass Media
This course seeks to expand global cultural understanding and communication by examining pop culture and media systems in various countries. Students will have the opportunity to expand their cultural perspective by exploring music, film, television,radio, print media,technology,and urban and youth culture. Topics will include media imports and exports, media audiences, media financing and regulation, media research and reporting, media effects, media ethics, meaning and communication through media, and intercultural communication. In lieu of a text students will use extensive Internet research, personal interviews, podcasts, discussion boards, various supplemental material, and independent cultural exploration. Classes will consist of brief lectures, discussion, viewing of media, and in-class research and projects.
COM 322
Advanced Public Speaking
This course provides students with the skills to produce effective oral presentations in professional contexts. The course includes formal individual speeches as well as interactive and group presentations. It is run as a seminar to provide students with experience as moderators.
COM 430
Organizational Communications
This course gives students the opportunity to develop skills, knowledge, and philosophies in organizational communication through lectures, research, readings, discussions, application, and written assignments. Emphasis is placed on verbal and nonverbal communication, cultural communication, interpersonal relationships within organizations, and dealing with the future and change.
ENG 220
Business Communication
This course is a practical introduction to the preparation of business correspondence, employment applications and resumes and formal research reports. Written communication skills are emphasized.
Total Credits: 120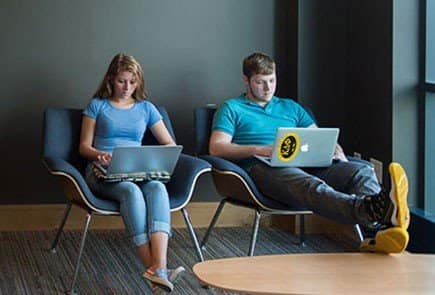 Campus Undergraduate Tuition
Our Manchester campus aims to keep tuition and related costs low for our students so that you can pursue your degree and your goals.