Learn the written word with a BA in English
Turn your passion for reading and writing into a career. Gain the communication and research skills needed in the workplace today. Learn to think critically and write effectively. Welcome to SNHU's Bachelor of Arts in English.
Classes in this major are generally small. The literature courses, for example, average about 20 students and the writing courses about 15 students, allowing professors to keep the classes engaging, lively and highly interactive. You won't ever find yourself sitting in a huge auditorium, trying to be heard or struggling to follow along with a lecture. In fact, some of the most unique learning opportunities might take place outside the classroom.
Because of SNHU's ideal location in the heart of New England, the birthplace of American literature, professors often build in visits to historic literary sites, such as Walden Pond, to add depth to the subject matter.
In this program, you'll learn:
Effective written and oral communication skills. You'll learn how to develop, craft and present ideas and stories that can help you convince, persuade and educate an audience.
Ability to think critically and creatively. You'll discover how to uncover and dissect various viewpoints in order to create new concepts and stories.
Broad knowledge of literary classics. You'll gain a unique perspective and understanding of the world by reading, evaluating and discussing literature that has influenced society.
Proficiency in research strategies. You'll learn proven techniques for pinpointing and analyzing information that helps you build support for your ideas and opinions.
See Yourself Succeed as an English Major
While people often think that a BA in English prepares students only to be teachers or writers, that's not the case at all. Our undergraduate English program is designed to help give you a broad skill set that translates seamlessly into virtually any field.
As a private, nonprofit university, SNHU has one mission – to help you see yourself succeed. The benefits of majoring in politics and global affairs at SNHU include:
Supportive community. Join the SNHU campus community of students who are closely connected with faculty and staff dedicated to your success.
Affordability. It's our mission to make higher education more accessible. That's why we cut our campus tuition rates in half to just $15K/year, with select options at just $10K/year, making SNHU one of the most affordable private, nonprofit universities in New Hampshire.
Innovative programs. Study abroad at little or no extra cost.
Accessible faculty. Learn from highly credentialed faculty members who are experts in their fields and interact with you in the classroom, dining hall, fitness center and anywhere else you need them.
Opportunity. Tap into our nationwide network of alumni and strong connections with employers for internship and career opportunities.
Campus experience. Enjoy more than 50 student clubs, champion Division II athletics and fun events on our 300-acre campus in Manchester, N.H.
Concentration Options
The BA in English with a concentration in Literature is designed for students interested in concentrated literary study, secondary education majors and other students seeking education-related careers such as college teaching or instructional design. In this concentration, students will immerse themselves and become well-versed in literature from multiple time periods and genres.
The BA in English with a concentration in Professional Writing is designed for students interested in technical writing, editing, publishing and web-based careers such as social media editing, copy editing and web development. During a time when branding is on the rise and companies are looking for talented writers to tell their stories, having this concentration in your toolkit could be useful in the job market.
Careers & Outcomes
Because of the strong emphasis on writing, research and critical analysis, the English program opens up a world of options after graduation beyond teaching. Many English majors go on to become corporate communications executives, advertising and public relations specialists, consultants, historians and more. Although some of these career paths may require additional degrees or training, a degree in English from SNHU can provide a strong foundation of knowledge upon which to build. Additionally, the U.S. Bureau of Labor Statistics projected a median annual wage of $50,000 for those with an English degree as of 2018.1 Of course, this annual wage is subject to change depending on the field, degree level, additional concentrations and your credentials.
Curriculum
The English BA includes an extensive overview of American and British literature and a sampling of world literature. You will also be required to take courses in literary theory, the English language and Shakespeare. Optional courses include Pop Fiction, World Mythology and writing workshops in poetry, fiction and drama. In addition to the major, you have the option of adding on a concentration in Literature or Professional Writing.
SNHU's Bachelor in English program includes:
Core literary studies courses covering topics such as Shakespeare, literary theory, language studies and genre studies
British and American literature courses
Courses in multi-ethnic literature, world literature and the Black literary tradition
Project-based digital literature and digital writing courses
A senior seminar and an option to complete a senior thesis
Electives in subjects such as detective fiction, banned books and gender studies
General education humanities courses
General Education Program
Our programs are designed to set you up for success with the skills and insights you need to move forward. In recent years, employers have stressed the need for graduates with higher order skills - skills that go beyond technical knowledge - such as:
Writing
Communication
Analysis
Problem solving
At SNHU, you'll be required to take general education classes in all bachelor's programs. Through the foundation, exploration and integration courses in this major, you'll learn to think critically, creatively and collaboratively, giving you the edge employers are looking for.
View Full Curriculum in the Catalog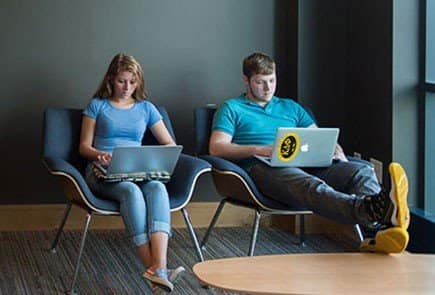 Our Manchester campus aims to keep tuition and related costs low for our students so that you can pursue your degree and your goals.
References
1 Bureau of Labor Statistics, U.S. Department of Labor, Occupational Outlook Handbook, on the Internet, at: https://www.bls.gov/ooh/field-of-degree/english/english-field-of-degree.htm (viewed online April 5, 2021)