Learn the written word with a BA in English
Turn your passion for reading and writing into a career. Gain the communication and research skills needed in the workplace today. Learn to think critically and write effectively. Welcome to SNHU's Bachelor of Arts in English.
Classes in this major are generally small. The literature courses, for example, average about 20 students and the writing courses about 15 students, allowing professors to keep the classes engaging, lively and highly interactive. You won't ever find yourself sitting in a huge auditorium, trying to be heard or struggling to follow along with a lecture. In fact, some of the most unique learning opportunities might take place outside the classroom.
Because of SNHU's ideal location in the heart of New England, the birthplace of American literature, professors often build in visits to historic literary sites, such as Walden Pond, to add depth to the subject matter.
In this program, you'll learn:
Effective written and oral communication skills. You'll learn how to develop, craft and present ideas and stories that can help you convince, persuade and educate an audience.
Ability to think critically and creatively. You'll discover how to uncover and dissect various viewpoints in order to create new concepts and stories.
Broad knowledge of literary classics. You'll gain a unique perspective and understanding of the world by reading, evaluating and discussing literature that has influenced society.
Proficiency in research strategies. You'll learn proven techniques for pinpointing and analyzing information that helps you build support for your ideas and opinions.
See Yourself Succeed as an English Major
While people often think that a BA in English prepares students only to be teachers or writers, that's not the case at all. Our undergraduate English program is designed to help give you a broad skill set that translates seamlessly into virtually any field.
As a private, nonprofit university, SNHU has one mission – to help you see yourself succeed. The benefits of majoring in English at SNHU include:
Supportive community. Join the SNHU campus community of students who are closely connected with faculty and staff dedicated to your success.
Affordability. It's our mission to make higher education more accessible. That's why, SNHU is one of the most affordable private, nonprofit universities in New Hampshire.
Accessible faculty. Learn from highly credentialed faculty members who are experts in their fields and interact with you in the classroom, dining hall, fitness center and anywhere else you need them.
Opportunity. Tap into our nationwide network of alumni and strong connections with employers for internship and career opportunities.
Campus experience. Enjoy more than 50 student clubs, champion Division II athletics and fun events on our 300-acre campus in Manchester, N.H.
Concentration Options
The BA in English with a concentration in Literature is designed for students interested in concentrated literary study, secondary education majors and other students seeking education-related careers such as college teaching or instructional design. In this concentration, students will immerse themselves and become well-versed in literature from multiple time periods and genres.
The BA in English with a concentration in Professional Writing is designed for students interested in technical writing, editing, publishing and web-based careers such as social media editing, copy editing and web development. During a time when branding is on the rise and companies are looking for talented writers to tell their stories, having this concentration in your toolkit could be useful in the job market.
Careers & Outcomes
Because of the strong emphasis on writing, research and critical analysis, the English program opens up a world of options after graduation beyond teaching. Many English majors go on to become corporate communications executives, advertising and public relations specialists, consultants, historians and more. Although some of these career paths may require additional degrees or training, a degree in English from SNHU can provide a strong foundation of knowledge upon which to build.
Additionally, the U.S. Bureau of Labor Statistics projected a median annual wage of $51,000 for those with an English degree as of 2019.1 Of course, this annual wage is subject to change depending on the field, degree level, additional concentrations and your credentials.
Curriculum
The English BA includes an extensive overview of American and British literature and a sampling of world literature. You will also be required to take courses in literary theory, the English language and Shakespeare. Optional courses include Pop Fiction, World Mythology and writing workshops in poetry, fiction and drama. In addition to the major, you have the option of adding on a concentration in literature or professional writing.
SNHU's bachelor's in English program includes:
Core literary studies courses covering topics such as Shakespeare, literary theory, language studies and genre studies
British and American literature courses
Courses in multi-ethnic literature, world literature and the Black literary tradition
Project-based digital literature and digital writing courses
The option to complete a senior thesis or an internship
Electives in subjects such as detective fiction, banned books and gender studies
General education humanities courses
General Education Program
SNHU's required general education program, known as The Commons, aims to guide you toward success in not only your academic career, but your personal and professional life too.
Throughout the curriculum, you'll gain some of the most in-demand skills in today's workplace, including:
Research and information analysis
Diverse audience communication
Critical thinking and ethical problem solving
Leadership, emotional intelligence and collaboration
This expertise will prove practical, transferable and invaluable as you grow in your career and contribute positively to society.
Beyond foundational skill development, the general education program also provides the benefit of allowing you to explore a wide range of fields outside of your intended major.
Full Course Catalog
View Full Curriculum in the Catalog
BA in English
List of Courses
Courses May Include
BA in English
LIT 250
Introduction to Literary Studies
This course introduces all English majors to the field of literary study by surveying the major genres of literature, the styles and movements of literary history, and the methods and theory of critical analysis of literature. Required of all English Majors and recommended for students in the first year of their major.
LIT 300
Literary Theory
This course is an introduction to the major schools of contemporary critical theory, and an examination of principal exponents of these theories. The student will become familiar with the most important features of psychoanalytic criticism, Marxism and feminism and examine the meaning of structuralism and post-structuralism. In addition, the course affords an opportunity to practice applying the theories to specific literary texts.
LIT 360
Early British Literature
This course provides a historical approach to British literature, covering works from the Medieval period through the eighteenth century, with particular emphasis on one or more eras within that span. Students will read and discuss works by major authors, considering such aspects as the work's genre, context, and style. Specific themes, genres, or periods of focus may vary each term.
LIT 399
Literature in the Digital Age
This course is an introduction to the digital humanities and gives students project-based experience with tools and methodologies for digital editing, publishing, data visualization, or archival work with literary and cultural texts. No prior knowledge of coding or digital tools is required. Projects will be determined by student interests and will develop collaboratively. Recommended for students in their final year of study.
LIT 485
Senior Thesis in Literature
This one-semester course is an option for seniors who are majoring in English language and literature and who wish to have a graduate level research and writing experience in some chosen area of American, British, or world literature. Before registering for the course, students must formulate a written thesis proposal and locate a thesis advisor and second reader among English Department faculty, equipped with relevant expertise. The proposal will then be submitted for approval to the individual's advisory committee. Assuming the project is universally approved, the student will meet with one or more members of the committee on a bi-weekly basis to review progress on research and written work. The final result will be a scholarly essay of 40-60 pages, to be presented as an academic paper in a public forum at least three weeks before graduation. This course may be repeated up to one time for credit.
Total Credits: 120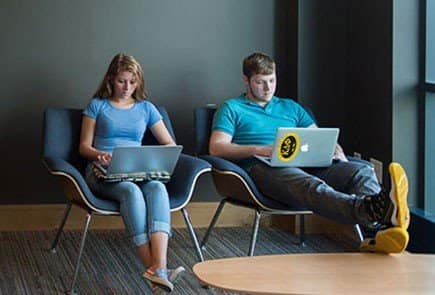 Campus Undergraduate Costs
Our Manchester campus aims to keep tuition and related costs low for our students so that you can pursue your degree and your goals.
Related Articles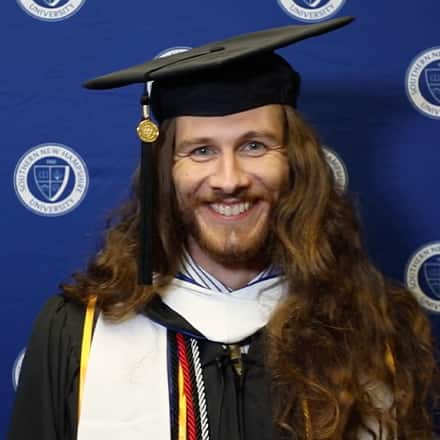 Lawrence Michael Mazza II traveled from Florida to New Hampshire to celebrate earning his bachelor's in English and creative writing. And he was celebrating another accomplishment, too — the start of his new career as a middle school English teacher.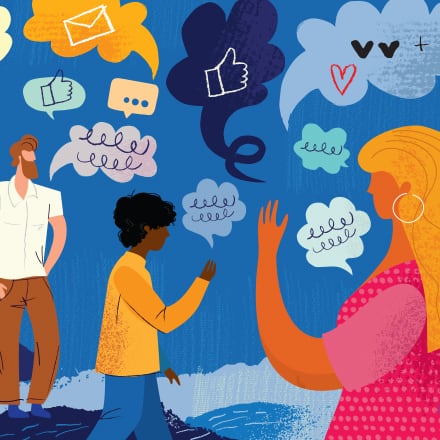 Everyone has their own communication style. Knowing what these styles look like — and how to identify them — can help you better communicate and work with other people. Learn how to leverage communication styles to communicate successfully across different mediums and cultures.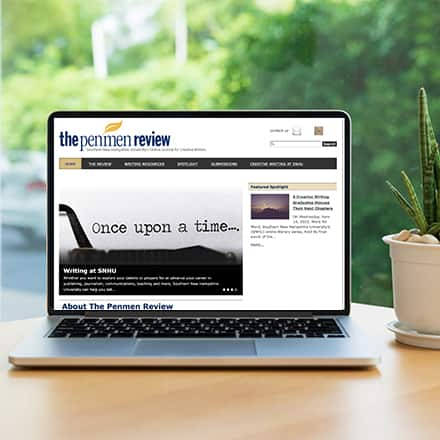 Southern New Hampshire University's online creative writing journal, The Penmen Review, publishes beginners and bestsellers alike. This year marks more than a decade since its inception. 
References
1 Bureau of Labor Statistics, U.S. Department of Labor, Occupational Outlook Handbook, on the Internet, at: https://www.bls.gov/ooh/field-of-degree/english/english-field-of-degree.htm (viewed April 5, 2021). Cited projections may not reflect local and/or short-term economic or job conditions and do not guarantee actual job growth.