Turn Your Passion into a Career with a Major in Graphic Design & Media Arts
Learn how to turn your artistic interests into a profession with a Bachelor of Arts in Graphic Design and Media Arts from Southern New Hampshire University.
Unlike fine arts schools, SNHU can expand your career options by enhancing your arts degree with courses in advertising, business, communication, marketing, psychology, technology and many other areas. You'll learn a range of valuable, career-oriented skills, including how to create:
Logos, logotypes and symbols
Advertisements and posters
Brochures and marketing materials
TV commercials and documentaries
Web sites
Interactive designs
Earn Your BA in Graphic Design and Media Arts for just $10K per year
The BA in Graphic Design and Media Arts is one of SNHU's Experience More programs. In these programs, you'll be on a more structured, career-focused pathway to your degree. Designed to incorporate industry experience and prepare you for the workplace more rapidly, at least 36 of your credits will be earned through experiential learning—which may include studio work, lab work, project-based courses, internships, or industry certifications.
You'll also learn through a mix of face-to-face classroom and online formats. That means less seat time in traditional classroom settings, and more time engaging with faculty members as project leads, internship advisors, or coaches.
See Yourself Succeed with a Major in Graphic Design & Media Arts
While creativity may come naturally to many, the process of applying it to tangible projects may not. At SNHU, we'll help you create against deadlines, workplace challenges and other parameters professionals in the "real world" encounter every day.
As a private, nonprofit university, SNHU has one mission - to help you see yourself succeed. The benefits of majoring in graphic design and media arts at SNHU include:
Supportive community. Join the SNHU campus community of students who are closely connected with faculty and staff dedicated to your success.
Affordability. It's our mission to make higher education more accessible. That's why, SNHU is one of the most affordable private, nonprofit universities in New Hampshire.
Innovative programs. Study abroad at little or no extra cost.
Accessible faculty. Learn from highly credentialed faculty who are experts in their fields and interact with you in the classroom, dining hall, fitness center and the stands.
Opportunity. Tap into our nationwide network of alumni and strong connections with employers for internship and career opportunities.
Campus experience. Enjoy more than 50 student clubs, champion Division II athletics and fun events on our 300-acre campus in Manchester, NH, named a "Best Place to Live" by Money magazine.
​Internships & Outcomes
Graphic design majors can find opportunities in a wide variety of industries, including print and web design, multimedia design, newspapers, magazines, Internet-hosting companies, broadcast television production studios, and corporate and nonprofit marketing departments. In fact, you'll find our BA graphic design and media arts alumni at a number of great companies, including:
WMUR-TV
BAE Systems
Timberland
Segway
Fox News Network
Raytheon
DYN
Silvertech
Graphic design majors will network with professionals through attendance at regional and national professional conferences as well as through program affiliations with AIGA and the New Hampshire Creative Club.
Curriculum
Begin your undergraduate degree with required courses from our General Education program. Then, choose from a variety of minors, explore coursework in other disciplines or opt to focus in three career-oriented subject areas:
Information Technology
Advertising
Video Production
Using the latest design technologies, the BA graphic design and media arts curriculum also provides ample opportunities for hands-on experience and collaboration through coursework and internships.
Along the way, benefit from SNHU's knowledge-rich faculty, which includes acclaimed media professionals who have made a name for themselves in their respective industries. They'll inform your classes with years of academic and on-the-job experience.
Courses To Prepare You For Your Career
SNHU's bachelor's in graphic design and media arts program includes:
General education
Degree-specific courses
General Education Program
Our programs are designed to equip you with the skills and insights you need to move forward. In recent years, employers have stressed the need for graduates with higher order skills - the skills that go beyond technical knowledge - such as:
Writing
Communication
Analysis
Problem solving
All bachelor's students are required to take general education classes. Through foundation, exploration and integration courses, students learn to think critically, creatively and collaboratively, giving you the edge employers are looking for.
View Full Curriculum in the Catalog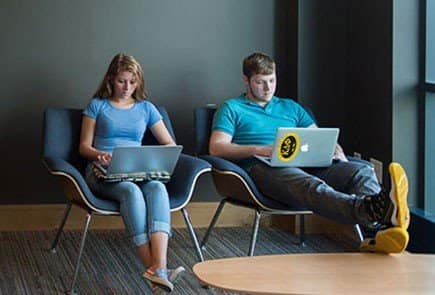 Our Manchester campus aims to keep tuition and related costs low for our students so that you can pursue your degree and your goals.