Turn Your Passion into a Career with a Major in Graphic Design & Media Arts
Learn how to turn your artistic interests into a profession with a Bachelor of Arts in Graphic Design and Media Arts from Southern New Hampshire University.
Unlike fine arts schools, SNHU can expand your career options by enhancing your arts degree with courses in advertising, business, communication, marketing, psychology, technology and many other areas. You'll learn a range of valuable, career-oriented skills, including how to create:
Logos, logotypes and symbols
Advertisements and posters
Brochures and marketing materials
TV commercials and documentaries
Web sites
Interactive designs
In this program, you'll be on a more structured, career-focused pathway to your degree. Designed to incorporate industry experience and prepare you for the workplace more rapidly, a number of your credits will be earned through experiential learning - which may include studio work, lab work, project-based courses, internships, or industry certifications.
You'll also learn through a mix of face-to-face classroom and online formats. That means less seat time in traditional classroom settings, and more time engaging with faculty members as project leads, internship advisors, or coaches.
See Yourself Succeed with a Major in Graphic Design & Media Arts
While creativity may come naturally to many, the process of applying it to tangible projects may not. At SNHU, we'll help you create against deadlines, workplace challenges and other parameters professionals in the "real world" encounter every day.
As a private, nonprofit university, SNHU has one mission - to help you see yourself succeed. The benefits of majoring in graphic design and media arts at SNHU include:
Supportive community. Join the SNHU campus community of students who are closely connected with faculty and staff dedicated to your success.
Affordability. It's our mission to make higher education more accessible. That's why, SNHU is one of the most affordable private, nonprofit universities in New Hampshire.
Accessible faculty. Learn from highly credentialed faculty who are experts in their fields and interact with you in the classroom, dining hall, fitness center and the stands.
Opportunity. Tap into our nationwide network of alumni and strong connections with employers for internship and career opportunities.
Campus experience. Enjoy more than 50 student clubs, champion Division II athletics and fun events on our 300-acre campus in Manchester, NH, named a "Best Place to Live" by Money magazine.
Internships & Outcomes
Graphic design majors can find opportunities in a wide variety of industries, including print and web design, multimedia design, newspapers, magazines, internet-hosting companies, broadcast television production studios, and corporate and nonprofit marketing departments.
Graphic design majors will network with professionals through a multitude of interactive settings from professional conferences, program affiliations and projects.
Curriculum
Begin your undergraduate degree with required courses from our General Education program. Then, as you complete your hands-on graphic design courses, you can also choose from a variety of minors that can help expand your career options, such as:
Digital Media Video Production
Game Art and Development
Social Media Marketing
Business Analytics
Using the latest design technologies, the BA graphic design and media arts curriculum also provides ample opportunities for hands-on experience and collaboration through coursework and internships.
Along the way, benefit from SNHU's knowledge-rich faculty, which includes acclaimed media professionals who have made a name for themselves in their respective industries. They'll inform your classes with years of academic and on-the-job experience.
Courses To Prepare You For Your Life & Career
SNHU's bachelor's in graphic design and media arts program includes:
General education courses
Degree-specific courses
General Education Program
SNHU's required general education program, known as The Commons, aims to guide you toward success in not only your academic career, but your personal and professional life too.
Throughout the curriculum, you'll gain some of the most in-demand skills in today's workplace, including:
Research and information analysis
Diverse audience communication
Critical thinking and ethical problem solving
Leadership, emotional intelligence and collaboration
This expertise will prove practical, transferable and invaluable as you grow in your career and contribute positively to society.
Beyond foundational skill development, the general education program also provides the benefit of allowing you to explore a wide range of fields outside of your intended major.
List of Courses
Courses May Include
BA in Graphic Design & Media Arts Campus
GRA 280
Design Thinking for Graphic Designers
In this course, students will practice using a design thinking process to develop user-centric, solution-based approaches to solve design challenges. Through this process, students will explore the various stages of design, begin generating design ideas and concepts, and create a design solution to address a design need.
GRA 310
Digital Graphic Design for the Web
This course focuses on digital graphic design theory and its application to web design. Students will learn about the technical requirements of professionally created web-related elements. Students will be focused on designing websites while considering functionality. Differences in designing for the desktop computer and mobile devices will be a topic for discussion and incorporated in exercises and projects.
GRA 330
Designing with Data
In this course, students will explore how graphic designers leverage data to inform their designs. Students will utilize data to design an infographic with various icons to convey a message.
GRA 340
Typography
Typography encompasses the language of type, typeface and character recognition, legibility, appropriate uses of scale and grid systems, and the individual visual dynamics of letterforms. In this course, students will learn how to work with type as a stand-alone design element and how to incorporate type successfully with imagery. Students will work on projects with increasing scope and complexity to gain an understanding of typographic form across a variety of media.
GRA 398
Graphic Design Studio III
Graphic Design Studio III will introduce students to working and interacting with culturally diverse audiences while allowing them the opportunity to develop and plan their capstone projects. Students will also have an option of assisting with upper-level capstone work. This part one of a two-term sequence.
GRA 470
User Interface and Experience
This course focuses on user experience, user interface design, and user-centered design concepts. Students will examine the use of advanced prototyping tools and techniques. Students will also learn aspects of usability testing. Students will go through the process of designing digital experiences that reflect principles of user experience and user-centered design.
GRA 497
Graphic Design Culmination Experience I
Graphic Design Culmination Experience I will allow students the opportunity to design and implement a substantial culminating project directly related to future professional or educational goals. This is part one of a two-term sequence.
GRA 498
Graphic Design Culmination Experience II
Graphic Design Culmination Experience II will allow students the opportunity to continue to design and implement a substantial culminating project directly related to future professional or educational goals. Students will present and defend their capstone project alongside a portfolio of their work as part of this course. This is part two of a two-term sequence.
Total Credits: 120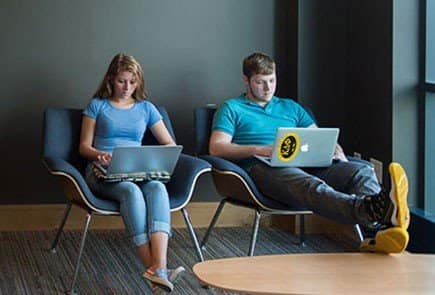 Campus Undergraduate Tuition
Our Manchester campus aims to keep tuition and related costs low for our students so that you can pursue your degree and your goals.
Related Articles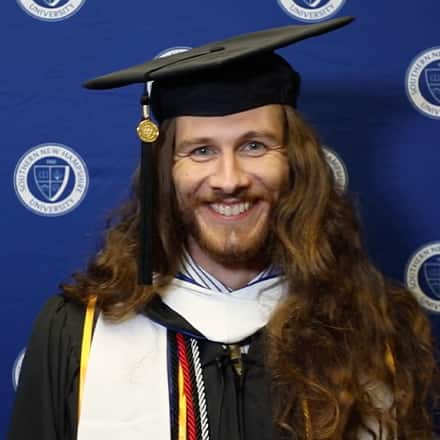 Lawrence Michael Mazza II traveled from Florida to New Hampshire to celebrate earning his bachelor's in English and creative writing. And he was celebrating another accomplishment, too — the start of his new career as a middle school English teacher.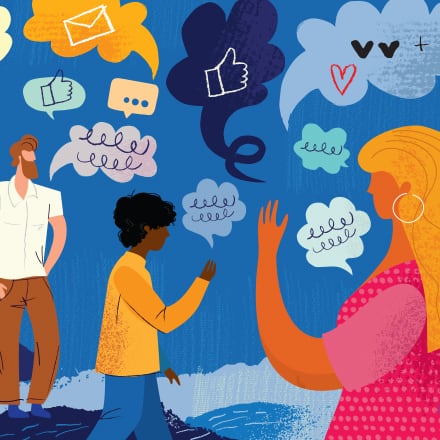 Everyone has their own communication style. Knowing what these styles look like — and how to identify them — can help you better communicate and work with other people. Learn how to leverage communication styles to communicate successfully across different mediums and cultures.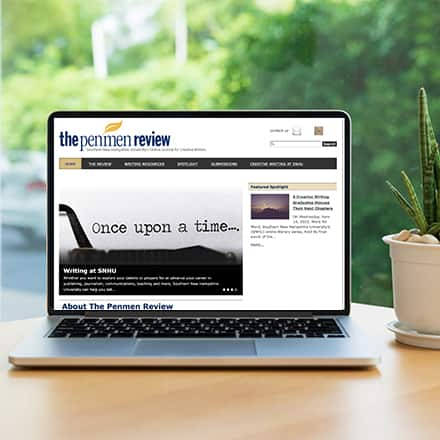 Southern New Hampshire University's online creative writing journal, The Penmen Review, publishes beginners and bestsellers alike. This year marks more than a decade since its inception.