Build a Solid Foundation for Future Success with a Construction Management Major from SNHU
A Bachelor of Science in Construction Management from Southern New Hampshire University is about learning every facet of the construction industry. You'll learn the business, management, and engineering principles that you need to construct buildings and large-scale infrastructures. The clients served by the construction industry range fall in both the public and private sectors, and bring together individuals skilled in a wide variety of trades.
The Construction Management program provides students with a solid background in the basic science, mathematics, and technical disciplines necessary to succeed in the field. These include graphics, surveying, construction equipment management, materials, planning and estimating, scheduling, and even project management. You will also learn relevant computer applications and software, as well as the fundamentals of business management and construction and contract law. By the end of this program, you will know the construction industry inside and out.
Earn Your BS in Construction Management for just $10K per year
The BS in Construction Management is one of SNHU's Experience More programs. In these programs, you'll be on a more structured, career-focused pathway to your degree. Designed to incorporate industry experience and prepare you for the workplace more rapidly, at least 36 of your credits will be earned through experiential learning—which may include studio work, lab work, project-based courses, internships, or industry certifications.
You'll also learn through a mix of face-to-face classroom and online formats. That means less seat time in traditional classroom settings, and more time engaging with faculty members as project leads, internship advisors, or coaches.
See Yourself Succeed in Construction Management
The construction field is broadly diversified, and a Construction Management degree from SNHU will prepare you to pursue many different avenues for future employment. Whether your goal is to pursue a career in the public or private sectors, whether you want to build commercial, residential, or industrial buildings, and whether you are interested in supervisory or technical roles, this program will prepare you for future success.
As a private, nonprofit university, SNHU has one mission - to help you see yourself succeed. The benefits of majoring in Construction Management at SNHU include:
Supportive community. Join the SNHU campus community of students who are closely connected with faculty and staff dedicated to your success.
Affordability. It's our mission to make higher education more accessible. That's why, SNHU is one of the most affordable private, nonprofit universities in New Hampshire.
Innovative programs. Study abroad at little or no extra cost.
Accessible faculty. Learn from highly credentialed faculty members who are experts in their fields and interact with you in the classroom, dining hall, fitness center, and anywhere else you need them.
Opportunity. Tap into our nationwide network of alumni and strong connections with employers for internship and career opportunities.
Campus experience. Enjoy more than 50 student clubs, Division II athletics, and fun events on our 300-acre campus in Manchester, N.H., named a "Best Place to Live" by Money magazine.
Internships & Outcomes
Graduates from SNHU's Construction Management program will be prepared for a wide variety of roles within the construction industry and well equipped with the knowledge necessary for a successful career. Graduates will have developed knowledge and problem solving skills, technical skills, and ethical conduct skills, and be able to demonstrate them.
With this degree, you will be able to approach construction decisions with an informed consideration of global and societal contexts and consequences, especially in situations where those decisions may have economic or environmental impact on the area.
Curriculum
Upon completion of the Construction Management degree program at Southern New Hampshire University, graduates should be able to:
apply knowledge of mathematics, science and construction management in their professional functions;
apply effective research and problem solving skills in construction management;
function on multi-disciplinary teams;
plan, organize, and control a construction project;
understand professional and ethical responsibility;
communicate effectively;
understand the impact of construction in a global, economic, environmental, and societal context;
recognize the need for and have the ability to engage in life-long learning;
be aware of contemporary issues and their potential impact on the construction industry.
Courses To Prepare You For Your Career
SNHU's bachelor's in construction management program includes:
General education
Business core
Degree-specific courses
General Education Program
Our programs are designed to equip you with the skills and insights you need to move forward. In recent years, employers have stressed the need for graduates with higher order skills - the skills that go beyond technical knowledge - such as:
Writing
Communication
Analysis
Problem solving
All undergraduate students are required to take general education classes. Through foundation, exploration and integration courses, students learn to think critically, creatively and collaboratively, giving you the edge employers are looking for.
Business Core Program
Programs in the School of Business require learners to complete the business core program, which includes a variety of business-specific courses. This program focuses on 10 core competencies to prepare you for success wherever you go.
View Full Curriculum in the Catalog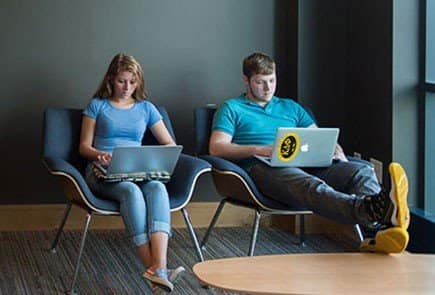 Our Manchester campus aims to keep tuition and related costs low for our students so that you can pursue your degree and your goals.
This program is not currently accredited by ACBSP. It may be ACBSP accredited when it is eligible. Consumer information is available on the College Navigator.