Learn the Art of Success with a Marketing Major from SNHU
Southern New Hampshire University's Bachelor of Science in Marketing major gives future marketing professionals the foundation to succeed in their chosen industry.
The coursework includes brand building, marketing campaign planning and analysis, and engaging target audiences through all the most modern media channels. Students acquire analysis, communication, critical thinking and decision-making skills, along with essential business skills.
Gain experience and skills through an internship or experiential-learning courses that encourage hands-on learning in the field of most interest to you. SNHU is here to support your degree pathway and offer on-the-job experience to help you leap into a career after graduation.
See Yourself Succeed in Marketing
Pursue your marketing major and get real-world work experience in the AdLab - one of only two student-run, on campus advertising companies in the country.
Put the skills and knowledge you learn into practice in professional scenarios, such as:
Creating and promoting an ebook
Developing social media strategies
Becoming a blogger, vlogger or podcaster
Speed selling
Role playing
Sales management case competitions
There are also endless opportunities for coaching, mentorships, real-world digital sales experience and internship opportunities, where students have become social media content creators and strategists, content managers, paid digital marketing strategists, email marketers and more.
As a private, nonprofit university, SNHU has one mission - to help you see yourself succeed. The benefits of majoring in marketing at SNHU include:
Supportive community. Join the SNHU campus community of students who are closely connected with faculty and staff dedicated to your success
Affordability. It's our mission to make higher education more accessible. That's why, SNHU is one of the most affordable private, nonprofit universities in New Hampshire.
Accessible faculty. Learn from highly credentialed faculty who are experts in their fields and interact with you in the classroom, dining hall, fitness center and the stands
Opportunity. Tap into our nationwide network of alumni and strong connections with employers for internship and career opportunities
Campus experience. Enjoy more than 50 student clubs, champion Division II athletics and fun events on our 300-acre campus in Manchester, N.H., named a "Best Place to Live" by Money magazine
Internships & Outcomes
Marketing majors graduate with a solid background in several aspects of marketing, including:
Advertising/social media/marketing communications
Customer relationship building
Market research
Product/brand management
Product purchasing/distribution
Strategic management
Retail management
Professional selling
When it's time to look for a job, you'll be able to tap into a large college alumni network for employment and internships.
Curriculum
All marketing majors study general management, finance, organizational behavior and information technology, and can select one or two minors in areas such as social media, communication, graphic design or finance. In addition, you may focus on career-oriented subject areas like:
Information technology
Marketing communication
Digital marketing
Courses To Prepare You For Your Career
SNHU's bachelor's in marketing program includes:
General education
Business core
Degree-specific courses
General Education Program
Our programs are designed to equip you with the skills and insights you need to move forward. In recent years, employers have stressed the need for graduates with higher order skills - the skills that go beyond technical knowledge - such as:
Writing
Communication
Analysis
Problem solving
All undergraduate students are required to take general education classes. Through foundation, exploration and integration courses, students learn to think critically, creatively and collaboratively, giving you the edge employers are looking for.
Business Core Program
Programs in the School of Business require learners to complete the business core program, which includes a variety of business-specific courses. This program focuses on 10 core competencies to prepare you for success wherever you go.
List of Courses
Courses May Include
BS in Marketing Campus
MKT 225
Digital Marketing
In this course students will be introduced to the different types of digital marketing channels and business functions using digital marketing technology and tools. Topics will focus on earned, paid, and owned media and the intersection of the three. The course will also emphasize development of a digital marketing strategy and its impact on the business.
MKT 270
Professional Selling
Selling is a real life skill that everyone uses every day no matter what the profession. We sell our personal brand to employers; our ideas to family members, friends and co-workers; and as sales professionals, we sell products and services to consumers and business customers. In this course, students will gain foundational knowledge of the sales process, its relationship to marketing, and develop skills necessary to succeed in professional selling. Students will explore inside and outside sales in varying organizational environments. Through authentic scenarios, students will analyze customer needs to develop value-added relationships and generate revenue for an organization.
MKT 337
Marketing Research
This course compares and contrasts secondary and primary research with emphasis on the latter. Students explore different types of primary research as well as the basic research methods. It focuses primarily on the survey.
MKT 345
Consumer Behavior
This course explores the behavior that consumers display in searching, purchasing, using,evaluating and disposing of products.
MKT 400
Strategic Brand Management
Examine the importance of a company's brand with a focus on the approaches to building, maintaining, growing, and salvaging a brand.
MKT 432
Strategic Marketing Planning (Capstone)
This is the capstone course of the undergraduate marketing curriculum. It focuses primarily on the decisions required of marketing executives as they seek to develop, implement and control integrated marketing programs. Students will be asked to apply their understanding of marketing principles covered in other marketing courses to solve specific company problems. Topics include a diversity of product, market and industry environments. Writing Intensive Course.
Total Credits: 120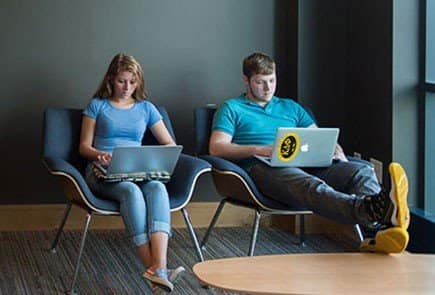 Campus Undergraduate Tuition
Our Manchester campus aims to keep tuition and related costs low for our students so that you can pursue your degree and your goals.
This program and its concentrations are accredited by the Accreditation Council for Business Schools and Programs (ACBSP). Student achievement data can be found on College Navigator.
Related Articles
If you have worked for a bad leader, you likely already have the answer to why good leadership matters. Good leadership can make the difference between enjoying your job and tolerating your job. Here are 10 qualities of a good leader that can benefit teams and organizations.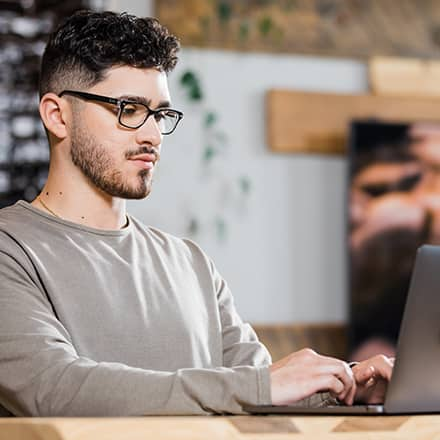 The fundamentals of digital marketing, or internet-based marketing efforts, refer to the guiding principles that can help lead your strategy and result in successful marketing campaigns. Digital marketing is all about sharing content with the aim of engaging and influencing potential customers.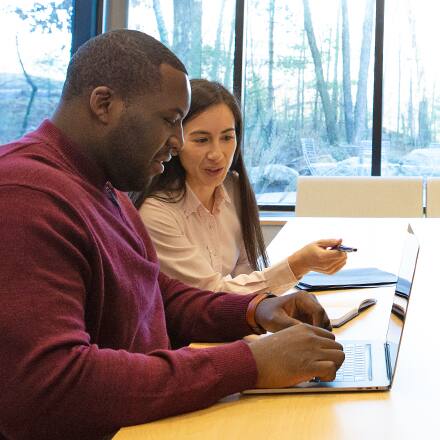 When it comes to pursuing an advanced business degree, you've got options. Two popular choices are the Master of Business Administration (MBA) and a Master of Science (MS). But which degree is right for you?