Athletics & Recreation Complex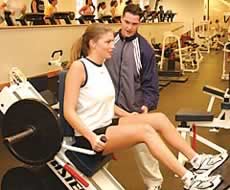 Outdoor facilities include four tennis courts, recently renovated baseball and softball diamonds, a lighted soccer/lacrosse field, practice fields and a 3.1 mile (5k) cross country course.

Athletics & Recreation Complex
Southern New Hampshire University's athletic complex is considered one of the finest in the region, and boasts a 5,500 square-foot fitness center containing state-of-the-art equipment as well as free weights and a climbing wall.
Additional recreational amenities include:
2,000-seat fieldhouse (with a function room that overlooks it)
an auxiliary gym with stage to accommodate a variety of university activities
a 25-meter six-lane swimming pool with a viewing gallery
racquetball court
mirrored exercise/dance room
training room
equipment room
several locker & team rooms
meeting rooms and offices
Athletic Facility Reservation Policy
All athletic facilities must be reserved through the athletic department.
Please contact the following offices for reservations:
Racquetball Court -individuals - Equipment Room 645.9658
Tennis Courts - individuals - Athletic Office 645.9604
Athletic Complex and Fields - s.stehl@snhu.edu
SNHU Fitness Center
The university's 5,500 square-foot Fitness Center is equipped with the latest in cardiovascular equipment, as well as, free weights and a 10-foot climbing wall. The center also has eight televisions, a 10-speaker sound system and a student lounge. The center is open daily to students, and staff members are available to familiarize you with the equipment.