Amy Irvine McHarg Named a Faculty Fellow to MFA Program
For better or for worse, author Amy Irvine McHarg—who has just been named a Faculty Fellow in Southern New Hampshire University's Low-Residency MFA in Fiction & Nonfiction program—is a child of the Mormon Sabbath, or at least as that day played out in the western Utah household in which she grew up.
"My father, who was from an illustrious line of Utah's earliest Latter Day Saints, had turned on the church," she said. "He couldn't understand why people would waste a day in a church when he was sure they'd find God on a good fishing stream, in the duck marsh—or out in the sagebrush. My mother fought with him every Sunday morning about whether we went with her or with him."
In a spiritual sense, Irvine McHarg went with her father, growing up to love Utah's red-rock country, becoming a writer who is also an outspoken environmental activist and a dogged opponent of what she sees as the Mormon Church's pro-development, anti-wilderness theology and politics. Her second book, "Trespass: Living At the Edge of the Promised Land" (Farrar, Strauss & Giroux, North Point Press, 2008), is partly an exploration of personal loss following her father's suicide, and partly an elegy for the ruin of our desert landscapes and the loss of our vital connection to the natural world.
It's also, however, a book about resolving that old argument between her parents, which in fact was an argument within herself. "What I found was that I had projected my own internal conflicts onto the Other—my own people and a way of life from which I felt terribly alienated," she said. "This is a problem for many environmental activists and writers—and until that dynamic shifts, I don't think we can really make any meaningful, lasting gains in protecting the natural world."
Irvine McHarg described that as "a painful lesson, and not really what I had intended to write when I started the book." But the result was a work compelling enough to win the Orion Book Award and the Colorado Book Award. In a starred review, Booklist characterized "Trespass" as "a penetrating critique of Mormon sovereignty," and called its author "bold and original in her thinking, candid and lyrical in expression." Irvine McHarg, continued Booklist, "joins red-rock heroes Edward Abbey and Terry Tempest Williams in breaking ranks and speaking up for the natural world." The Los Angeles times agreed, saying that "Trespass" "might very well be 'Desert Solitaire's' literary heir."
Irvine Mcharg's journalism and essays have appeared in Orion, Climbing, High Desert Journal, and in numerous Western, nature, and environmental anthologies. Her essay "Spectral Light" (Orion, January-February 2010/The Best American Science and Nature Writing of 2011) was a finalist for the Pen Award in Journalism. And her first book, "Making a Difference: Stories of How Our Outdoor Industry and Individuals Are Working to Preserve America's Natural Places" (Falcon, 2001), was one of three books featured in the Washington Post for Earth Day 2002.
Her next book, "Terra Firma," is forthcoming from Counterpoint Press and is also about the process of resolving arguments within herself – this time through the mechanism of dreams. "Digging into the unconscious is the greatest excavation of all, a landscape which, if we could roam it freely, would allow us to not be so fearful of wildness, both in nature and ourselves," she said. "I'm fascinated by the archetypes that come into the human psyche, and the way they come. They have so much to teach us."
As a Faculty Fellow at Southern New Hampshire University, McHarg will work towards earning an MFA in Nonfiction. She will be mentored by other faculty members at the same time that she assumes a partial teaching load herself. "Amy is going to be a wonderful asset to this program," said program director Diane Les Becquets. "She brings a background that further augments a particular strength of ours, which is outdoors and environmental writing. She's also an experienced teacher, and I just love the passion that she brings to everything she does, and her ability to communicate that passion."
For her own part, Irvine McHarg sees an opportunity at SNHU to help resolve another old argument—that between art and life, which Irvine McHarg says is really a specious dichotomy. "In many MFA programs, students and teachers alike can confuse the craft of writing with living fully in the world." But living fully and artistically does not happen solely behind the screen or the pen or by sequestering oneself in an isolated room. McHarg believes we should live in a way that is so sensual, so intimate, that we cannot help but write about it with the libido normally reserved for bodice rippers like 'Fifty Shades of Gray,'" she said. "What excites me about SNHU is that there is room for this kind of living and loving life. It's the kind of teaching and writing that will save the world."
Explore more content like this article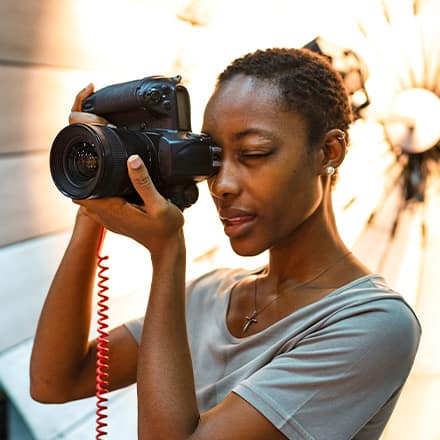 June 17, 2021
Photography is a wonderful medium for capturing reality, emotion, history and fantasy. Armed with the knowledge of camera technology, editing and equipment, and possibly paired with graphic design skills, you can make yourself marketable and your photography career nearly limitless.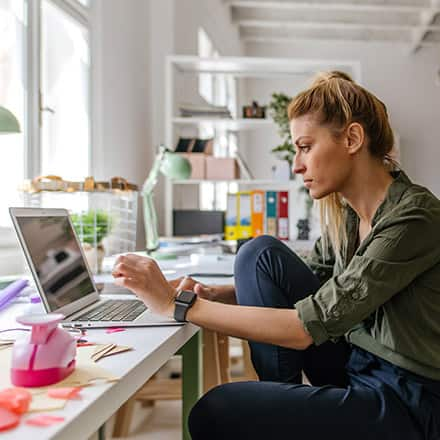 March 02, 2021
Graphic design is a great field to consider if you are interested in art, communications, and staying current with technology.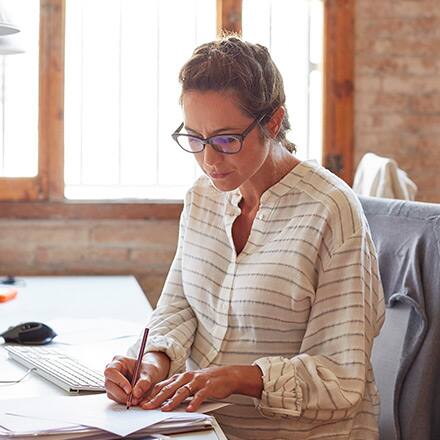 September 24, 2020
To become a copywriter you can consider earning a degree such as marketing, communications or creative writing and start building a portfolio of your work.