What Can You Do with a Master's in Nursing?

As healthcare becomes increasingly more complex, the responsibilities of nurses heighten, as does the need for continued education to fulfill those responsibilities. While completing an RN program was once adequate to fill many roles in nursing, now it's simply the price of admission to the healthcare system - and that may not be the case before long. As working nurses pursue further education in their field, many are turning to online nursing degrees to advance in their careers - and ultimately, transform healthcare delivery. If you've been considering returning to school for a master's in nursing, read on to learn why this vital step may well secure your future in healthcare.
The Shift In Healthcare
The changing face of healthcare, due in no small part to a shortage of physicians and a generation of baby boomers achieving greater longevity, has created the perfect storm of need and opportunity for nurses. While that need points to tremendous opportunity in diverse roles throughout myriad healthcare systems and in higher education, the demand for well-educated nurses continues to escalate in an attempt to keep pace with filling those roles.
The shift has not only created the need for nurses with advanced degrees, but also those to teach nurses returning to school. Many healthcare educators are of the boomer generation as well and have reached the age of retirement, leaving vast job openings in the wake of their exodus. The increase in nurses seeking credentials through face-to-face or online nursing degrees adds to the demand. Nurses proactive in attaining graduate-level degrees and beyond will be positioned to affect the future of nursing as educators or nurse leaders.
However, it's not just an aging population and the shortage of physicians facilitating the focus on higher levels of nursing education. The 2010 Institute of Medicine (IOM) report, "The Future of Nursing: Leading Change, Advancing Health," paid particular attention to academic progression within the nursing field, defining two major goals for 2020: an 80% baccalaureate-prepared nursing workforce and twice the number of nurses holding doctorates. The latter won't be possible without attainment first of a master's degree in nursing.
It's a challenge taken seriously industry-wide. A September 2014 American Association of Colleges survey, "Employment of Nurse Graduates," found that nearly 80% of employers are now requiring or expressing a strong preference for nurses with a minimum of a baccalaureate degree. The National Advisory Council on Nursing Education and Practice also recommends that at least two-thirds of the basic nurse workforce hold a bachelor's or higher degree in nursing. The American Association of Colleges of Nursing (AACN) "encourages all nurses to strive for higher levels of education to advance their capacity to enhance the quality of care available to the nation's varied patient populations."
Increasing complexities in healthcare coupled with an estimated 32 million Americans gaining healthcare insurance under the Affordable Care Act (ACA) has pushed the primary care provider shortage to heightened levels. The ACA has also put preventive primary care and care coordination services at the forefront, offering incentives to healthcare providers, as these measures have demonstrated better patient outcomes and a reduction in how often and how long patients experience hospital stays. Nurses with master's-level education and training are helping to fill this critical gap.
"There is a very strong shift from acute illness management to health prevention and promotion and wellness," said Dr. Sherrie Palmieri, DNP, MBA, RN, CPHQ, Chief Nursing Administrator and Associate Dean of Program Development for Southern New Hampshire University. She notes that ACA has also taken some of the care out of the acute care environment of hospitals and into the community.
The result is a massive shift in where nursing jobs are, with a steady upward flow in community rehabilitation centers, skilled nursing facilities, long-term care, physician practices and not-so-traditional environments, such as insurance companies and health plan providers. Advanced degrees in nursing increase benefits to patients, employers and communities tremendously. Nurses are also provided with the skills and knowledge to excel in their field through specialization and leadership skill development.
Leading Change
As working nurses further develop their skills through academic progression, they're not only advancing their knowledge but also leading change throughout their profession and the healthcare industry as a whole. The challenge then becomes balancing the responsibilities of a busy life - quite often consisting of long hours on duty and family/personal time - with the work required of a degree program. Online nursing degrees allow nurses the flexibility to increase their learning around the demands that life already presents.
"Because our accredited program was created by nurses for their peers, we understand the needs and challenges associated with working full time and continuing to advance in the nursing profession," said Palmieri. The BSN provides nurses with critical-thinking and leadership skills centered on patient care. An accelerated RN to MSN provides a seamless transition from a BSN to MSN, allowing nurses to save critical time and money.
Additionally, the university's nursing partnership with the Community College System of New Hampshire includes a dual-admission process, shared curricula development, tuition discounts, financial aid and shared advising and faculty, allowing nurses to easily evolve from a community college setting to an online nursing degree geared for success all the way through an MSN degree..
Benefits of MSN
Earning a master's degree in nursing brings many benefits, personal and professional. The breadth of knowledge adds to core basics, allowing a nurse to focus on new areas of achievement career-wise. There are opportunities to specialize in any number of high-demand areas, such as clinical nurse leadership and patient quality and safety.
Clinical nurse leaders are immersed in big picture patient care, working collaboratively to model and determine professional healthcare practices that benefit patients the most. At SNHU, the clinical nurse leader program adheres to the competencies and practice standards defined by the American Association of College of Nursing (AACN) specific to this critical role in the healthcare field. Graduates of this online nursing degree with the Clinical Nurse Leader concentration are eligible to sit for the national CNL exam offered by the Commission on Nurse Certification (CNC). According to AACN, "the CNL® certification is a mark of excellence that lets employers, patients and colleagues know that the CNL possesses the requisite knowledge and skills to practice in this unique capacity."
The master's in nursing with a concentration in patient quality and safety is based on competencies delineated in the Institute of Medicine report, "The Future of Nursing: Leading Change, Advocating Health," including critical thinking/critical decision-making, communication, ethics, professional development, nursing technology and resource management. This MSN degree provides an advanced education dedicated to healthcare systems and processes that focus on risk reduction, evidence-based practice, knowledge of the healthcare environment, leadership, accountability and improving the quality of care across an organization.
Beyond the reward of expanded knowledge, nurses with a master's degree have also broadened their range of opportunities and opened the door to increased earning power. "The employer interprets the additional credential as a highly desirable indicator of future performance, and assigns value to the degree holder accordingly," said Laurie Lewis, SNHU Career advisor.
Indeed.com indicates a substantial difference in the average salary of a nurse with an MSN ($88,000) vs. a nurse with just a bachelor's degree ($63,000). A recent Nurse Journal article reports that some of the best paying MSN jobs in nursing include that of a nurse consultant with an average salary of $125,000, a research nurse with an average salary of $90,000 and nurse administrator, with an average salary ranging well into six figures.
The pursuit of an MSN brings a sense of tremendous personal achievement, and the ability to make instant use of lessons learned in coursework in day-to-day work. Michelle Wiggett, an academic advisor in the MSN program, said, "Many of our courses, especially those pertaining to the patient quality and safety track, are really hitting the mark on what is currently being talked about in the field." She says students are learning new information in the classroom and are immediately able to apply it to their professional careers.
Take Advantage of Existing Skills and Experience
Attributes integral to successful nursing naturally lend themselves to the demands of a master's in nursing program - and will allow nurses to expand on those vital skills through the progression of graduate courses. The U.S. Bureau of Labor Statistics notes the qualities necessary to the nursing profession: critical-thinking skills, compassion, emotional stability, detail-oriented, organizational skills, physical stamina and speaking skills. The needs of the profession translate readily to the needs of pursuing an online nursing degree while working full-time in the field and give nurses a leg up on achieving success in their studies.
Jennifer Davis has been an RN for 15 years, seven of which were spent in the U.S. Army, working in Med/Surgical Critical Care and clinic settings. She exited the military in 2006, and has worked in outpatient recovery in Ambulatory Surgery Centers since. She's held positions as a floor nurse and charge nurse, pursuing her education and positions in leadership, while building on prior experience and existing skills. She, in fact, chose the online program to complete her MSN in part because of the acceptance of previous experience. Davis also paid attention to the university's high regard for military veterans.
Upon completion of her online MSN, she wants to utilize her leadership training in a positive manner. "I would like to work in nurse education or leadership arenas that motivate others to want to become nurses and address the healthcare needs of the future," said Davis.
The Desire to Inspire
A nurse for more than a dozen years, Les Rothrock was an emergency nurse for 10 of those years, half of that time working as a charge nurse. He's also worked as a quality nurse consultant in more recent times. It was during that time that he decided to return to school. The organization he was working for started looking at the education levels of their nurses as a means of promotion. He was reluctant to return to school because he felt his career was secure, and he has a lot of solid experience and was receiving training in other areas.
"What pushed me was the thought that I was learning many new things, but what I wanted was the credentials to back up what I was learning," said Rothrock, "and the satisfaction that I had earned it." He began researching graduate nursing programs nationwide, looking for a program that would fit his goals. Another concern was in finding a school that wasn't fly-by-night, but rather an online nursing degree that would lead people to feel he had graduated from a reputable school.
When he saw the online MSN program that focused on patient quality and safety, he became very interested. "No other program offered this. That was the turning point for me," Rothrock said. Having resigned his position a year ago at a large healthcare organization, he looked to SNHU Career for assistance in restructuring his resume. It paid off. He was contacted by a headhunter for an interview as a clinical risk manager/regulatory compliance nurse and has been working in this capacity for the past six months.
Rothrock's pursuit of an MSN is already making a difference. "The learning experience goes beyond being simply academic to practical in my everyday work," he said. "It has given me the edge to be better prepared and equipped in doing my job. I have learned how to research and problem solve issues in my work as well." He plans to move beyond his master's and complete certifications in Six Sigma and eventually work as a quality/risk consultant.
The school where he earned his associate degree in nursing recently contacted Rothrock. "They would love to take me on as a faculty member after I complete my master's," he said. "My biggest desire is to inspire other nurses in achieving beyond what they dreamed, to become what patients need today. A better-equipped nurse is better able to provide compassionate care and become an advocate for the patient and the profession."
The Value of Continuing Education
Advancing one's knowledge demonstrates a significant commitment to the field of study, and in an ever-changing workspace, such as healthcare, it enables nurses to stay abreast of new information leading to greater quality of patient care.
While holding a bachelor's in nursing demonstrates a nurse's commitment to a career, the master's degree locks that commitment in place, allowing nurses to pursue areas of specific interest often awakened in the field. A doctorate degree in nursing, only possible after completion of a master's in nursing, enables nurses to bring their expertise to the highest level.
Why an Online Nursing Degree Works
The beauty of an online nursing degree is the flexibility programs offer and the ability to meet and share knowledge and experience with nurses and nursing educators nationwide. Nurses can work around long shifts and personal responsibilities, earning a future filled with possibility without shortchanging present-day life.
At SNHU, students are viewed as respected colleagues who bring their own unique views of the world and nursing to the virtual classroom. They're seen as learners and valued learning resources. The online nursing programs are steeped in traditional academic systems, with the same level of quality and integrity in online courses. "Not only must the curriculum meet educational standards, but it has to be continuously updated to reflect advances in science, medicine and technology for our program to be relevant to today's practicing nurses," said Palmieri.
The demands of the healthcare industry - the largest single employer in the U.S. - have led to innovative solutions in removing barriers to advancement for working nurses. Graduates will be well prepared to take the helm in nursing education, administration, quality improvement, patient care and clinical leadership.
Determine Your Future
With many fields still experiencing slow growth in a challenging economy, healthcare remains a vital industry and the second largest employer in the U.S. The U.S. Bureau of Labor Statistics rates the job outlook in the nursing field as excellent, with employment expected to grow much faster than average job growth in all fields. By 2022, 19% more nursing jobs are expected to be available with an overall total of 3.2 million jobs. That translates roughly to a half-million new jobs in nursing.
With an influx of nurses scrambling to meet national recommendations of obtainment of a bachelor's degree by 2020, those holding an MSN will be in an optimal position to land plum leadership roles in healthcare. For those still considering what the benefits might be to earning an MSN, the answer is simple: Better opportunities, a higher salary, an opportunity to lead in healthcare or go into nursing education, and to help determine the future of healthcare and the quality of patient care.
If it's a question of time, it may well be the time to consider an online nursing degree that allows flexibility around busy lives, an appreciation and respect for skills and experience already acquired in the field and the ability to excel and advance in your career.
Pamme Boutselis is a writer and content director in higher education. Follow her on Twitter @pammeb or connect on LinkedIn.
Explore more content like this article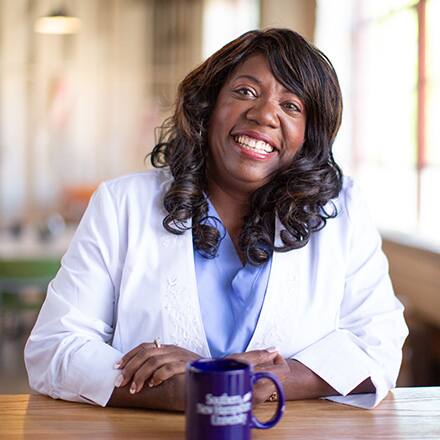 SNHU Nursing Programs Receive 10-Year CCNE Reaccreditation
November 21, 2019
SNHU online nursing programs recently received a 10-year reaccreditation from the Commission on Collegiate Nursing Education (CCNE), a professional accrediting agency that strives to promote the quality and integrity of baccalaureate and graduate nursing programs.
Healthcare Students Get to the HEaRT of Succession Planning
November 13, 2019
Teams of Southern New Hampshire University nursing and healthcare students recently tackled the challenge of succession planning for healthcare facilities in the latest Higher Education and Real-World Training Challenge.
Nursing Faculty Debra Gibbs: A Faculty Q&A
November 01, 2019
Backed by a nearly three-decade career caring for patients as a nurse, Debra Gibbs is also helping train future nurses as a faculty member in Southern New Hampshire University's master's in nursing program.