What to Expect as an Online Student
If you're a working adult with the desire to complete or begin a degree, your best option may be an online program. Whether you've taken courses in a traditional face-to-face environment or have never attended college, you're probably wondering what it's like to learn in an online setting. Here's what to expect as an online student at Southern New Hampshire University (SNHU).
The flexibility to start when you're ready
Unlike a traditional campus, where a student would experience two semesters a year, online terms at SNHU run eight weeks for undergraduate and ten weeks for graduate degree programs. With a rolling admission policy, you'll have the flexibility to begin a program throughout the year.
Dedicated support
Upon acceptance as an online student at SNHU, you'll be assigned a dedicated academic advisor. While your advisor may change as you progress through your program, you'll quickly learn that their mission remains the same: seeing you succeed and doing all that they can to help you reach your goals. Their role goes far beyond course recommendations and help with registration each term. Your advisor has your back, every step of the way, acting as a liaison with faculty, providing you with tools and resources to assist you in your coursework and serving as your first line of contact with whatever you need.
Savings on books
You'll be able to see all course material requirements in advance when you review your courses during the online registration process. This information will also be available in your course syllabus. SNHU's online bookstore offers competitive pricing on all course materials, forgoing the usual commission most universities receive from publishers and passing along those savings to students. Books and other course materials are often available in multiple formats, from hard copy to digital.
What to expect in coursework
As an online student, you'll find that each week brings a new learning module, broken out by specific assignments. Modules may include a discussion topic, chapter readings or other resource materials to view (such as videos or blog posts), an activity, exam or short paper. You'll use tools for group collaboration, journal entries or blog posts. You'll find guidelines and rubrics within each course to aid in your work. Faculty and advisors can assist with any questions and offer clarification as needed at any step long the way.
Making lasting connections
If you've never participated in an online course prior to this, you may wonder about interaction – and if (or how) you'll form relationships with classmates and faculty. Each course begins with an opportunity to 'meet' your instructor and classmates through an introductory discussion forum. As an online student, you'll quickly learn about who's in class with you, their backgrounds, the degree program they're in, what they hope to do with their degrees and what they hope to learn in that course. Many times, you'll connect with other students that you'll meet again in other courses. Your instructor is also a part of this forum, and it's the perfect time to learn more about who's leading your class.
At SNHU, there's also a private online community called SNHUconnect, which lets you meet online students worldwide and find others who share your interests. SNHUconnect gives you the opportunity to offer or seek advice, join study groups, celebrate successes and build relationships that last throughout your time as an online student and beyond.
You'll also have online resources right at your fingertips, such as SNHU's Shapiro Library, which offers everything you need to successfully complete research projects, from 24/7 online chat with librarians to how to choose research topics, evaluate sources, receive presentation and writing assistance and understand source citation. You'll find articles, ebooks and a host of other resource materials online at the Shapiro Library and information on free tutoring assistance, too.
When you're ready to map out your career path, or need help updating your resume or kicking off an effective job search, SNHU Career will be by your side, every step of the way. You'll have the dedicated support of an SNHU Career advisor, who's there to help with all your career-related needs, even after graduation. SNHU Career's blog offers tips and advice several times a week, and you'll be able to interact with others through their regular tweet chats and webinars.
Here's how to do it
Most likely you're thinking that this all sounds great, but your biggest concern is this: How will I do it? I've got a busy life to deal with, my job, my family and a million responsibilities. How can I fit school in, too?
Here's a look at how some of our online students – people like you – are working toward their degrees:
Marcel Fluckiger is a senior manager for an international remote services company who had gone as far as he could go without an advanced degree. His goal was to earn a degree so he could find a new position closer to his home, wife and daughters. He was traveling four out of every six weeks for work, so he appreciated the flexibility of SNHU's online programs. But the support, interest and insight of instructors made the biggest difference, pushing him to work even harder than he thought he could – and making SNHU "a great place for aspiring professionals like myself."
With one year of college under her belt, Amy Hull had to leave school due to life circumstances and couldn't seem to make her way back. "I wanted to go back to school, but I could never figure out how to balance home life and attending class in a traditional setting," she said. As an online student at SNHU, she's finally finishing the degree she started long ago.
"My academic advisor faithfully checks in with me through email and phone calls each semester, extending words of congratulations and offers of help," Hull said. "I am proud of myself every day, and grateful to Southern New Hampshire University, who gave me the tools to make my dream come true!"
Stephanie Blair had been out of high school for more than 10 years when she decided to return to school. She wanted a career change and knew the only way it would happen was with a degree. While she sometimes finds it hectic working full-time and attending school as an online student, she knows it has to be done.
"SNHU has been so helpful, from walking me through getting set up, my advisor calling, checking on me and helping me get registered for classes," said Blair. "There are so many services that this school offers, it blows my mind. I am so happy I decided to go to school."
Whether you want to start a degree program, finish one you began long ago or pursue additional education to help you on your career path, becoming an online student may be the way to go. With over 200 online programs and all the support you need to succeed, SNHU makes it more than possible to earn a degree. Isn't it time you committed to realizing your dreams?
Pamme Boutselis is a writer and content director in higher education. Follow her on Twitter @pammeb or connect on LinkedIn.
Explore more content like this article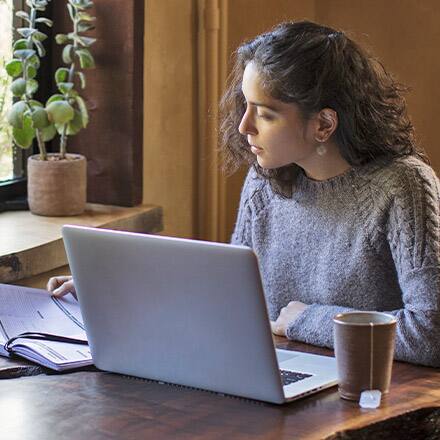 What's the Difference Between a Bachelor's Degree and a Master's?
July 06, 2020
Bachelor's degree and master's degree programs differ in the number of credit hours required and in their depth of content focus. A master's degree can build upon the skills you learned in your bachelor's degree and help you advance your career in many fields.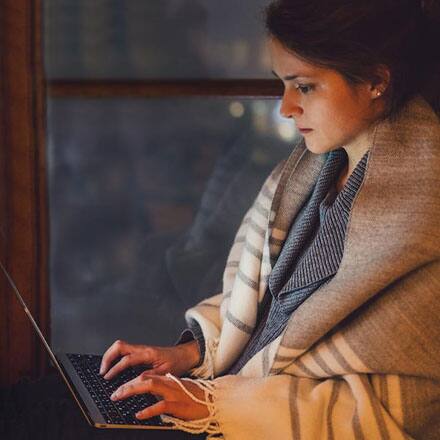 How Much Sleep Should a College Student Get?
June 24, 2020
Whether it's extracurricular activities, family or work, college students have a lot to focus on. For your health and academic success you need more than just a few hours of sleep.
How Long Does it Take to Get an Associate Degree?
June 12, 2020
While an associate degree is often referred to as a 2-year college degree, it doesn't mean it will take you that long to graduate. By choosing programs that offer liberal transfer policies, flexible online options and more frequent semesters, you can greatly reduce the amount of time it takes.