Good Reasons for Leaving a Job
The "dream job" you were so excited to land now causes you to daydream about a better job: one that offers better pay, greater responsibility, and more creativity. Is the grass truly greener in a different position or at a new company? Recent statistics show that up to 60% of Americans are considering leaving their jobs. The worst thing to do is jump ship for the wrong reasons and regret it later, nor should you stay in a job that doesn't allow you to grow personally or professionally. Members of the SNHU Career team discuss good reasons for leaving a job and dispel common "scripts" that keep employees stuck.
Ask Yourself the Key Questions
Career advisor Lindsey Levesque gives four major reasons to help someone determine whether or not it's time to start looking for a new role.
Am I content more often than I am not at work?
Do I feel valued and understood for my contributions?
Is there room for my continued growth and development?
Am I being compensated according to my skills and experience?
Levesque stresses that there is no "one-size-fits-all" approach to making the decision to move on. Nor should employees discount other roles within the same company before severing ties.
"Have you always had your eye on a certain department because you love how the team works or how they spend the majority of their time?" Levesque said. "Be sure to network, hold informational interviews, and ask your current supervisor for support in advocating for this change."
She adds that looking for a new role within your organization is great because you are a known culture fit. If you are transparent with your current supervisor about your goals, this too will allow you to grow your skill set on the job and get internal recommendations.
Strive for the Ideal Job Fit
A job description might sound perfect on paper, but it's not enough to take another job without ensuring your personality complements the culture. Levesque said that while you should explore ways to improve your relationship with your current manager and team before considering leaving a job, there are ways to ensure that your next supervisor is better than your last.
"While on paper a job posting might seem like an ideal fit, it's crucial you do your research on that organization and bring specific questions about aspects of the work, structure and culture of the organization with you to the interview," she said. "Just because you may get offered a job, it doesn't mean that you have to accept it if you know it won't make you happy."
Levesque urges job seekers to first focus on what's most important in the next role and then ask culture-based questions during the interview to help uncover what members of the organization value and how they interact with one another.
Follow Your Passion to Expand Your Horizons
Career advisor Rich Grant works with accounting, finance and economic students. He encourages them to look for good opportunities for growth when changing jobs. Trying to move up the corporate ladder within the same company can prove to be tricky, especially if you work in an organization that doesn't offer enough training and professional development.
Grant worked for a major national retailer for 17 years before his role was eliminated, which he calls a "brutally tough experience." Still, he said that when one door shuts another one opens.
"When you start getting up to around 15 years in a company, you can ask yourself: Am I too comfortable? Is this what I really want to do?" he said. "Maybe you want to stretch yourself and try other things in life."
Employees who worked at several companies often have broader perspectives and savvy about the outside world, Grant said. He urges jobseekers to consider companies that offer international opportunities to develop a greater understanding of the world.
Don't Believe the Scripts that Keep Employees Stuck
How often have you heard some of the common scripts noted below? While each may be true in some circumstances, be sure you're not taking any of these statements as a truth to hold you back from what you really want for your career.
Don't leave a job for less or not enough pay, a lateral position, or one that doesn't offer benefits equal to the one you already have.
It's difficult to get a new job after age 40, 50, or 60.
You need the "right" degree or experience to get a new job.
Never leave a job without another one lined up.
Charise Wilson, a business development specialist and former director of career services, said personal circumstances play a strong role in whether or not employees should follow these scripts.
In fact, Wilson said that taking a job that offered "lateral pay" helped her transition from an executive assistant to a career services role. After leaving the executive assistant role, Wilson said she was promoted to a management position in less than two years.
"You have everything to gain if you decide to take a lateral move to do something that piques your interest," she said.
In terms of looking at lower or equal pay as reasons NOT to take a new job, Wilson stresses that employees should look at the total benefits package instead of putting parameters around a number or percentage. Perks like tuition reimbursement or flex time, for example, can make a job that pays the same or a little less more appealing in the long term.
"If you are trying to break into a new field, or want to do something you are more passionate about, does it really matter if you have to take a small step back if you love what you do?" Wilson said. "Erika Taylor, author of "Moving Forward," is quoted as having said, 'Sometimes you have to take a step back to move forward.' I believe this is true."
It's OK to Leave a Job without Another One (In Some Cases)
The most obvious reason to leave a job right away is if you are in a toxic environment and it's abusive - and if you're no longer being treated respectfully, Grant said. Still, it's important to have a plan. If you are lacking industry experience in your field or don't have the savings to tide you over, you might want to think twice.
You are instantaneously more marketable if you can show you are actively participating in the workforce, Levesque said. It's important to be able to show that you are using your time to grow and positively contribute -whether through school, volunteering or freelancing/consulting.
Angelique Kim, a business development partner who works with employers to build partnerships to enhance the career outcomes of SNHU students and graduates throughout the country said that if you leave a job for any reason it's most important to remain engaged.
"It is important to stay active either through going to another job, volunteering, starting a business, joining a professional organization, or going to school in order to avoid gaps in your resume," she said. "Employers would prefer to see candidates that have been engaged and continue to develop skills."
Krysten Godfrey Maddocks '11 is a writer and marketing/communication professional. Connect with her on LinkedIn.
Explore more content like this article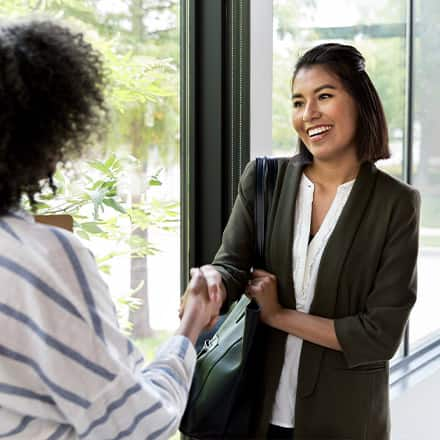 February 09, 2021
You can prepare for an interview by researching the company and the person interviewing you. Study the job description and consider what the employer is looking for, and how your skills and experience could help. Make sure to jot down potential talking points and questions, dress in business attire and pack a few copies of your resume, references and pens.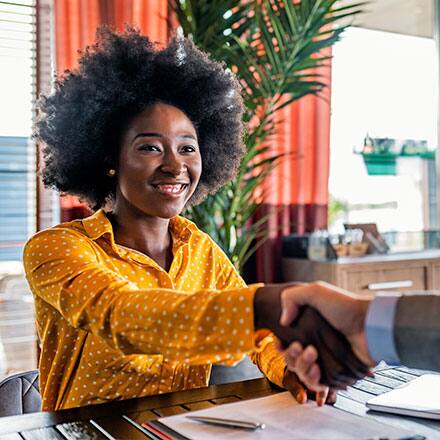 February 05, 2021
Your personal brand is the entirety of how you present yourself in the world. It encompasses who you are as a person, employee or expert in your field. Your personal brand can be the linchpin in achieving your professional goals, and give fuller picture of who you are to your potential employer.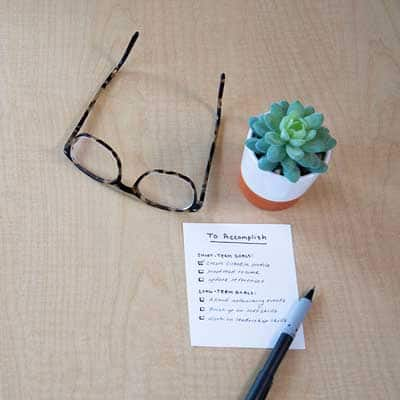 August 20, 2020
Picturing where you would like to see yourself go in your career is the starting point for laying out a game plan for achieving your dreams.