Earn your STEM MBA
Efficiency – An MBA in as few as 12 months
Affordability – Low tuition rates
Convenience – No GRE/GMAT required
Experience – Earn industry-recognized credentials
Focus – STEM Designated CIP Code
Expertise – Instructors with real-world experience
STEM MBA Overview
At Southern New Hampshire University, our STEM MBA is a STEM CIP Code-designated degree that signals the high-level business skills that are sought by employers. As a new addition to the SNHU MBA program, this STEM-designated MBA incorporates technology skills, data analytics and the ability to apply STEM principles to business problems and functions. By completing a STEM MBA from SNHU, graduates can enter the job market prepared for careers that bridge the gap between STEM and business management.
Additionally, if you're an international student, this program is designed to set you up for success with OPT options, including a potential 24-month extension to your post-completion OPT, allowing up to 36 months of temporary employment in the United States. This means even more time to gain work experience without the need for an H-1B visa.
See Yourself Succeed with an MBA from SNHU
With the rapid evolution of technology and information, today's business environment requires professionals to adapt to change on the fly, assess resource constraints strategically and provide solutions to complex problems. SNHU's STEM MBA program enhances the skillsets you'll need when pursuing a career path in the business world. This MBA option also ensures you'll be learning from industry professionals who will help prepare you to pursue a STEM-focused business career here in the United States.
As a private, nonprofit university, SNHU has one mission - to help you see yourself succeed. The benefits of earning your MBA at SNHU include:
Affordability. SNHU is one of the most affordable private, nonprofit universities in New Hampshire.
Efficiency and flexibility. Complete your graduate degree on campus in 12-18 months, with 3-4 courses per 16-week term.
Accessible faculty. Learn from highly credentialed faculty who are experts in their fields and interact with you in the classroom, dining hall, fitness center and the stands.
Accreditation. Programs are accredited by multiple governing agencies, including the New England Commission of Higher Education and the Accreditation Council for Business Schools and Programs.
Academic heritage. Southern New Hampshire University was established in 1932 and has been offering an MBA program for more than 40 years, graduating thousands of successful business professionals.
Easy application. No GMAT or GRE required for admission.
Student support. Count on the ongoing support of dedicated academic and career advisors specialized in your area of study.
Networking. Seek tips and career opportunities from a nationwide network that includes successful alumni within such companies as Liberty Mutual Insurance, Fidelity Investments, U.S. Departments of Defense and Armed Forces, State Street Corporation, IBM, AT&T, General Dynamics, Verizon, United Healthcare, Boston Scientific, Pfizer, Oracle and more.
Supportive community. Join the SNHU campus community of students who are closely connected with faculty and staff committed to your success.
Admission Requirements
SNHU requires an undergraduate Grade Point Average (GPA) of 2.75 (or equivalent) for admission. If you are an international student in need of a visa to study on campus, please see our international admission requirements.
Acceptance decisions are made on a rolling basis throughout the year for our three term starts in August, January, and May. You can apply at any time and get a decision within two weeks of submitting all required materials. To apply, simply complete our online application form.
Career Outlook
For domestic and international students alike, the demand for STEM-trained graduates is projected to increase over the next five years. Expertise in this industry is in high demand. In fact, according to the U.S. Bureau of Labor Statistics, STEM-related jobs will grow 10.8% by 2030 with an average median wage of $95,420. Employees with a master's degree earn 18% more on average than those with only a bachelor's degree, according to the BLS.
Additionally, as the demand for STEM jobs continues to grow, so does the demand for candidates with both business and STEM-oriented experience. An MBA degree with a STEM designation will uniquely prepare you for traditional business-oriented careers as well as management careers in technology, analytics or any other data-driven sector of the economy. After earning this degree, you could pursue roles in data analytics, auditing, risk management, computer information systems, project management, operations and more.
Curriculum
The curriculum for our STEM MBA consists of graduate-level courses which will help prepare you to succeed in the world of STEM. Due to its STEM-designated CIP code, the curriculum could be especially appealing to international students looking to pursue STEM-focused career paths.
Full Course Catalog
View Full Curriculum in the Catalog
MBA STEM
List of Courses
Courses May Include
STEM MBA
MBA 500
Building Business Leaders
This course will provide the student with a comprehensive look at the alignment between an organization's vision, mission, values, culture and strategies. The student will demonstrate the ability to evaluate both internal and external factors impacting business sustainability. The internal factors will include an understanding of key financial statements, forecasting and the identification and review of key performance indicators.
MBA 504
Applied Business Statistics
This course will focus on the application of statistical techniques to analyze data in order to make critical business decisions. Starting with an overview of how to use and interpret descriptive statistics, students will be challenged to think critically and derive significance from a large volume of data and how this data can be used to determine causes, forecast the future, and measure performance. Using these tools, the student may develop the information needed to increase productivity, identify opportunities for improvements and assist leadership in making sound judgements.
QSO 511
Business Analytics
This course will provide you with the fundamental concepts and tools needed to understand the emerging role of business analytics in organizations. You will learn how to apply basic business analytics tools in a spreadsheet environment, and how to communicate with analytics professionals to effectively use and interpret analytic models and results for making better business decisions.
MBA 530
Leading People and Organizations
Impactful leaders have the ability to define direction, understand their uniqueness, communicate effectively, and use emotional intelligence to lead people, teams, and organizations. Students will explore leadership theories, issues, and trends, while also applying evidence-based methodologies and tools to assess and elevate their personal leadership plan. By connecting leadership theories and methodologies to trends, challenges, and opportunities facing leadership, this course will help students to effectively lead and empower others.
MBA 540
Organizational Strategy in a Global Environment
Impactful leaders leverage business intelligence to make ethical decisions, solve complex problems, and craft strategic direction to improve organizational performance and agility in a dynamic global business environment. Students develop context and understanding of how organizations formulate a strategic direction and organize all business functions to complement each other to achieve organizational objectives. Students develop the strategy know-how to assess, inform, and form interconnected functional and organizational strategic direction.
MBA 580
Innovation and Strategy for High-Performance Organizations
High performance organizational leaders cultivate innovative thinking and processes and their application to developing successful business strategies. Students will analyze the attributes of innovative thinkers and cultures and how organizational structure and policy can promote or inhibit innovation. The course will explore the market and technology forces that drive the adoption of innovation and the tools and methods--such as risk analysis, economic analysis, statistics, and forecasting--to drive the analysis, selection, and implementation of innovative products and processes.
MBA 620
Measuring Success in an Organization
Effective leaders need a comprehensive understanding of financial and management accounting principles, analytical techniques, and computer-based tools. Students will prepare, monitor, and evaluate financial and accounting reports and metrics and present their findings and recommendations. From reporting to planning, students will develop an acute awareness of a perpetually changing business environment and how entities measure its success, challenges and resources.
MBA 645
Optimizing Brands
Organizational leaders balance brand management and its relationship with impactful marketing strategies. Students will study the key brand elements of identity, trust, and building habit-forming brand experiences. By applying market research, target market identification, customer trends in the marketplace, and ethical considerations, students will develop a marketing strategy for an organization.
MBA 687
Leading Organizational Change
Leadership requires the understanding of human intelligence and how individuals function within an organization to achieve winning results. In this course, students will explore how to develop a workforce to actualize business goals and objectives and study how to manage organizational change through communication strategies that reduce risk, address employee dissatisfaction and apprehension, and increase strategic alignment among leaders, managers and employees. This course will emphasize the blending of financial and human capital resources to effectively complete organizational change and proffer solutions that are strategic and balanced.
MBA 699
Strategic Opportunity Management
Impactful leaders move strategic initiatives forward with innovation, collaboration, and informed, data-driven decision-making. In this course, students will assess conditions, processes, and resources that impact how leaders design adaptive strategies, using emotional and business intelligence to manage strategic objectives. Students will solve complex problems, manage opportunities, and build sustainable stakeholder relationships.
Total Credits: 30
Graduate Tuition
Earning your degree is a smart choice to advance your career, and investing in an affordable program increases your ROI. We keep our costs low to remove barriers between you and your goals.
This program and its concentrations are accredited by the Accreditation Council for Business Schools and Programs (ACBSP). Student achievement data can be found on College Navigator.
Related Articles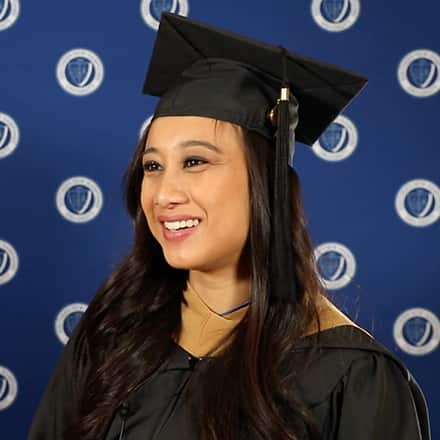 When Melanie Martinez '23MBA earned her Master's of Business Administration (MBA), she had a particular career path in mind. That's why she chose a concentration in music business. Thanks to her degree, now she's volunteering at a music company in Chicago and planning to move on up on the ranks.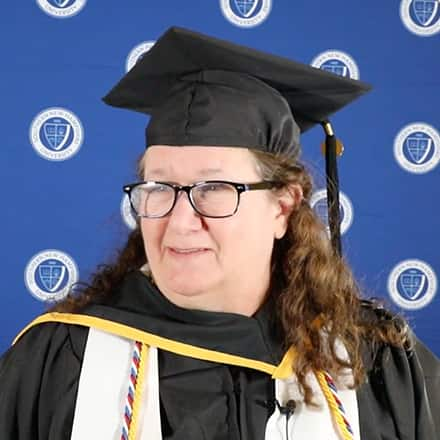 Pamela Judd earned an associate degree in business administration from SNHU while balancing work, kids — and 15 grandchildren. As the first person in her family to graduate with a college degree, she's hoping to serve as an inspiration to her family.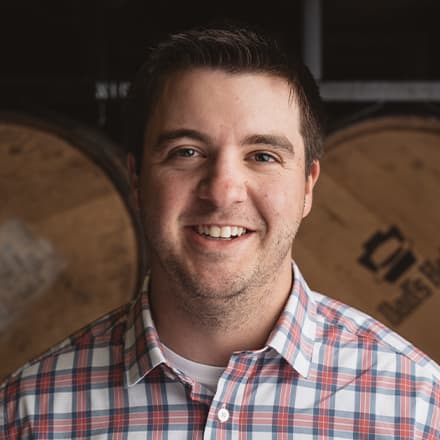 Stephen Hearn wanted more than his bachelor's degree. He wanted to become a Certified Public Accountant, so he looked for a "reputable" business school and found SNHU's master's in accounting program.