Get in the Game as a Sport Management Major at SNHU
If you have a passion for sports, as a participant or fan, earning your Bachelor of Science in Sport Management at Southern New Hampshire University can help turn your passion into a career. The sport management major can prepare you for a successful career in the dynamic sports industry. A curriculum of sport management, business and liberal arts courses - combined with valuable sports-related field experiences - gives you a solid foundation for a sport management career.
Our sport management major graduates have found career opportunities in professional sports, sports and fitness clubs, golf clubs, ski areas, education, the media and community recreation organizations.
If you are interested in taking this program online, see our Online Bachelor's in Sport Management.
See Yourself Succeed in Sport Management
In 2014, the sports market in North America was worth $60.5 billion. Current projections by PriceWaterhouseCooper expect it to reach $73.5 billion by 2019. The growth of sports as a major industry has increased the need and opportunity for well-trained professional managers. As an undergraduate sport management major, you'll emerge from the degree program with a well-rounded business education and the sport management skills essential in the field. Your coursework and field experience will expand your expertise in:
Employing written and oral communication to educate and persuade audiences
Using critical and creative thinking to handle sport management issues individually and in a team Utilizing marketing techniques and creating marketing plans
Identifying key legal issues and responsibilities in the sports world
Understanding human behavior and sociocultural issues in a sports context Managing a variety of sports facilities
Utilizing traditional and new methods for generating sports revenue
Putting sport management practices into action in real-world settings
As a private, nonprofit university, SNHU has one mission - to help you see yourself succeed. The benefits of earning your bachelor's degree in sport management at SNHU include:
Supportive community. Join the SNHU campus community of students who are closely connected with faculty and staff dedicated to your success
Affordability. It's our mission to make higher education more accessible. That's why, SNHU is one of the most affordable private, nonprofit universities in New Hampshire.
Innovative programs. Study abroad at little or no extra cost
Accessible faculty. Learn from highly credentialed faculty who are experts in their fields and interact with you in the classroom, dining hall, fitness center and the stands
Opportunity. Tap into our nationwide network of alumni and strong connections with employers for internship and career opportunities
Campus experience. Enjoy more than 50 student clubs, champion Division II athletics and fun events on our 300-acre campus in Manchester, N.H., named a "Best Place to Live" by Money magazine
Internships & Outcomes
With your BS in Sport Management degree in hand, you'll have a variety of career options. Many with degrees in the field of sports management find careers in the areas of marketing, sales and administration. After earning your sport management degree, you may find career opportunities in the sports and recreation sector as a:
Marketing assistant
Sales manager
Media relations assistant
Special events coordinator
Promotions manager
Guest relations specialist
Tournament director
Sports information director
Athletic director
Facilities manager
Graduates of SNHU's sport management programs have enjoyed success at a range of sports-related organizations, including:
Boston Bruins
Boston Celtics
United States Olympic Committee
Manchester Monarchs
New Hampshire Fisher Cats
Reebok
America East Conference
Northeast-10 Conference
Eastern College Athletic Conference
YMCAs
Boys & Girls Clubs
Gunstock Ski Area
New Hampshire Golf Association
Job opportunities in athletic management, marketing, sales, public relations and other positions are expected to grow, according to the U.S. Bureau of Labor Statistics. For example, it is projected that the employment of public relations specialists will grow by 6% from 2014 to 2024.
Curriculum
The BS in Sport Management curriculum focuses on the skills you'll need to realize your career goals. The curriculum includes a core of nine sport management courses as well as business and liberal arts courses, providing you with a well-rounded background.
The sport management major curriculum culminates in a six-credit sport management internship taken over two terms. This opportunity enables you to earn practical experience in a variety of sports, fitness and recreational industries, so you can apply what you've learned in the classroom.
Courses To Prepare You For Your Career
SNHU's bachelor's in sport management program includes:
General education
Business core
Degree-specific courses
General Education Program
Our programs are designed to equip you with the skills and insights you need to move forward. In recent years, employers have stressed the need for graduates with higher order skills - the skills that go beyond technical knowledge - such as:
Writing
Communication
Analysis
Problem solving
All undergraduate students are required to take general education classes. Through foundation, exploration and integration courses, students learn to think critically, creatively and collaboratively, giving you the edge employers are looking for.
Business Core Program
Programs in the School of Business require learners to complete the business core program, which includes a variety of business-specific courses. This program focuses on 10 core competencies to prepare you for success wherever you go.
List of Courses
Courses May Include
BS in Sport Management Campus
SPT 111
Introduction to Sport Management
This introductory course emphasizes the management principles related to the business of sports. It includes personnel, programs, marketing, media, financial management and an overview of career possibilities in this growing field.
SPT 201
Governance/Management of Sport Organizations
This course is designed to provide students with a basic understanding of the role of governance structures and management in sport organizations. The primary aim is to familiarize students with a basic understanding of organizational structures used in the management and governance of sport. Topics and issues discussed will involve organizational theory, behavior, and governance structures used in amateur, professional, and international sport organizations; and to provide students with an overview of the sport industry, and the issues encountered by managers of sport organizations and how management techniques can be applied to effectively address these issues.
SPT 208
Sport Marketing
Students study current sports marketing problems and apply marketing techniques to develop an effective sports marketing plan. Writing Intensive Course.
SPT 333
Sport, Society, and Ethics
This course examines the major issues and controversies of sport in society. Students will develop an appreciation of the ways sport in society contributes to analyzing and understanding human behavior in sports contexts; and a basic understanding of the theories and principles related to socio-cultural issues and ethics and morality in the sport industry.
SPT 461
Seminar in Sport Management (Capstone)
This course serves as the capstone course for the sport management major and concentration. Students will apply the knowledge and skills obtained from courses in order to solve problems that a sport manager is likely to encounter. Instructor permission required.
SPT 465
Global Sport Business
This course develops a basic theoretical and applied understanding of international business principles as applied to the global sport industry. Several key areas of international business, as they relate to sport business, are explored including the scale, scope and organization of global sport, globalization, internationalization, cultural aspects, international marketing, financial/political/economic risk, human rights, ethical dimensions, role of media, technology/products, professional sport leagues and governance. The course will be delivered from an entrepreneurial and business development perspective encouraging students to think and act strategically when considering sport business in a global context. Class discussions and exercises will focus on assisting the student in establishing a conceptual and applied understanding of these major content areas using relevant text, multi-media. The outcomes will be to develop the skills necessary to function as a professional manager in the international sport business market place. In addition, the student will be exposed to a team working environment in order to foster authentic management interaction skills.
Total Credits: 120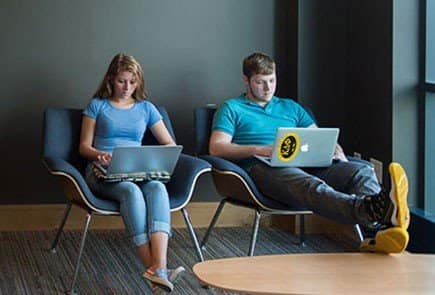 Campus Undergraduate Tuition
Our Manchester campus aims to keep tuition and related costs low for our students so that you can pursue your degree and your goals.
This program and its concentrations are accredited by the Accreditation Council for Business Schools and Programs (ACBSP). Student achievement data can be found on College Navigator.