Online Nursing Degrees
Southern New Hampshire University answered the call in 1995 to begin making higher education more accessible to working adults. And in the early 2010s, it did the same for nursing education.
A pioneer in innovative online education, our programs meet the demands of the nursing profession and address the needs for prepared nurses in such areas as:
Education
Administration
Quality improvement
Patient care
Clinical leadership
Evidence-based practice
Leadership
Global health
Equitable care
Our online nursing programs, developed by doctoral-prepared nursing faculty, feature curricula based on new standards for the 21st-century healthcare industry as defined in the Institute of Medicine report ''The Future of Nursing: Leading Change, Advancing Health.''
Heroes Behind the Scrubs: SNHU Nurse Leaders Share Their Stories
Nurse leaders at Southern New Hampshire University participated in a roundtable discussion about the role nurses play in transforming healthcare. With 7% job growth projected through 2029 - that's over 221,000 registered nurse roles that could be filled - there's quite the demand to change the lives of others.1 And yours, as well.
Our Nursing Philosophy
At Southern New Hampshire University, we view the students in our online nursing programs as respected colleagues who come to the learning environment with their own unique views of the world and nursing.
Students are valued for the contributions they bring to the learning environment and are appreciated for their diverse values and beliefs. Students are viewed as both learners and learning resources.
Mission of the Department of Nursing
The mission of the Department of Nursing programs flows from the mission and vision of Southern New Hampshire University.
Our mission is to empower students to be successful nurse leaders, prepared to promote a culture of health within a diverse society and responsive to meet the challenges of an ever-evolving healthcare system. This mission is fulfilled through innovative programs responsive to the needs of adult learners in an online environment.
The program provides the nursing professional with the knowledge, attitude, skills and behaviors to lead patient-centered collaborative healthcare. Graduates are prepared to apply theory-guided, culturally competent, evidence-based professional nursing practices to improve the well-being of diverse populations within complex healthcare systems at the local, national and international levels.
Nursing Curriculum Conceptual Framework
Builds upon prior nursing knowledge to provide a broad knowledge base for evidence-based, clinically competent, professional practice in the care of individuals, groups, families, communities and populations
Prepares nursing leaders in professional roles and attributes
Develops nurses into empowered change agents ready for successful integration into the dynamic, complex healthcare system within a global context
CCSNH Nursing Partnership
Our nursing partnerships include a seamless academic pathway for transferring community college credits, a tuition discount and financial aid.
If you are a graduate of a New Hampshire community college nursing program interested in learning more about the online BSN and online MSN programs or the accelerated RN to MSN, contact an SNHU admission counselor for more information.
CCNE Accredited Nursing Program
The baccalaureate degree program in nursing and the master's degree program in nursing at Southern New Hampshire University are accredited by the Commission on Collegiate Nursing Education, 655 K Street NW, Suite 750, Washington, DC 20001, 202.887.6791.
ANCC Accredited Provider
At Southern New Hampshire University, we're committed to your success — even beyond graduation. That's why we're committed to delivering accredited continuing education for nurses and healthcare professionals. From one-hour webinars to multi-day conferences and more, these opportunities are built to help you continue to meet the needs of communities across the globe.
Visit our SNHU continuing education page to learn more.
Southern New Hampshire University is accredited as a provider of nursing continuing professional development by the American Nurses Credentialing Center's (ANCC) Commission on Accreditation.
HEaRT Experiential Learning
Looking to gain professional healthcare experience, even before you graduate? Do it with HEaRT.
Specially designed for learners in healthcare and nursing, HEaRT (Higher Education and Real World Training) is a powerful experiential learning opportunity at SNHU. These online, asynchronous, voluntary experiences help connect students with employers to help solve real-world business problems – so you can be ready to make an impact in your field.
Frequently Asked Questions
How can I become a registered nurse?
Becoming licensed as a registered nurse (RN) requires an associate degree, bachelor's degree or diploma, any of which require in-person training and labs as well as significant clinical hours completed at a healthcare facility for clinical experience.2
After successfully completing a pre-licensure program in the form of a diploma, ADN or four-year BSN program, graduates must sit for the National Council Licensure Examination (NCLEX). The exam is taken at a Pearson test center, with locations around the country and some internationally as well3. You must pass the NCLEX for licensure.
Once achieving nursing licensure, registered nurses should consider continuing their education. Due to the fast-paced and evolving needs of healthcare, there is an increasing demand for nurses with further education and training that comes from a bachelor's or master's degree.1 This increasing demand is emphasized by healthcare organizations.
An online nursing degree can be the best choice for those already working as a registered nurse, as it offers work-life flexibility. At Southern New Hampshire University, there are no set meeting times, and resources like the technology help desk and chat with a librarian are available 24/7. Asynchronous classes mean you can complete your tests and assignments on your own time and keep your life more balanced than a traditional classroom format would allow.
SNHU offers 4 specialty tracks for an MSN, including nurse educator and clinical nurse leader. SNHU's online nursing programs can be the right fit for experienced nurses looking to expand their education and career.
What is the best online school for nursing?
The best online nursing school is the one that fits your needs. Time, cost and style will influence which school is the best choice for you.
If you have credits to transfer and make finishing your degree easier, it's important to see if the school you're interested in will accept those credits – and how many. Southern New Hampshire University accepts up to 90 credits toward your bachelor's degree. This means you can earn 45 credits for your RN license and up to 45 more for academic experiences like general education courses or other nursing courses. SNHU also accepts up to 12 graduate credits toward master's degree programs.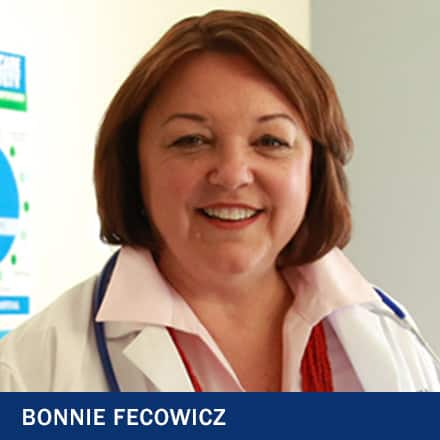 If you want to specialize in a certain area, find a school that offers the program you want and see if it's designed in a way that works for you. For example, at SNHU, you can choose from 4 MSN tracks. Our online courses are flexible and affordable, making them a great choice for working nurses.
You can also choose to earn your degree faster with SNHU's accelerated RN to MSN online program pathway. There are 3 options for the accelerated path: a generalist MSN degree, becoming a nurse educator and becoming a clinical nurse leader (CNL).
Bonnie Fecowicz '12 '16MSN applies the knowledge she learned from the program at her full-time position. "At Southern New Hampshire University, the quality of the program has allowed me to advance my career into more diverse roles as a director of nursing," Fecowicz said. "I use everything I learned every day in my position."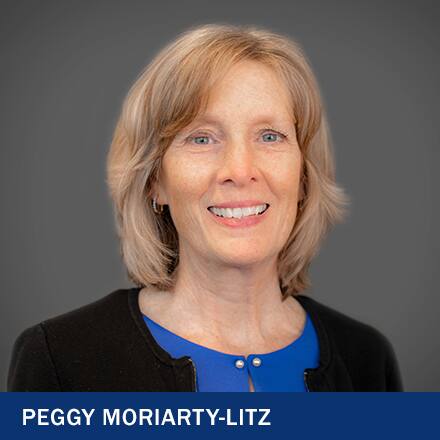 Financial aid and transfer credits can make the cost of earning your nursing degree that much more affordable. SNHU has a dedicated financial services team to help you make a plan for your needs, and there are scholarships and grants available exclusively for online students.
Our nursing program is accredited by the Commission on Collegiate Nursing Education (CCNE). Dr. Peggy Moriarty-Litz, chief nursing administrator and executive director of nursing programs at SNHU, expresses why this is important: "This shows evidence of our commitment to the needs of the communities we serve by creating educational opportunities that produce competent nurses."
SNHU's online nursing program was designed by nurses for nurses - the curriculum is created to make your path to success as simple and accessible as possible.
How much are online nursing programs?
Online nursing degrees can be a very affordable option. When you add in the possibility of scholarships or grants, you could reduce the cost even more.
At Southern New Hampshire University, earning your bachelor's degree in nursing costs $330 per credit, but you may be able to transfer up to 90 credits and lower the cost – 45 credits for your RN license and 45 from previous educational experience. Should you transfer in all 90 credits, it could cost you only $9,900 in tuition to earn your BSN.
For a 39-credit master's degree, you could transfer up to 12 graduate credits, with the remaining courses being $637 per credit.
You can also have a conversation with a Student Financial Services counselor to develop a plan to find the best way to make your education affordable – whether that's through financial aid or the creation of a customized payment plan. SNHU also offers a discount up to 30% for active-duty service members and their spouses.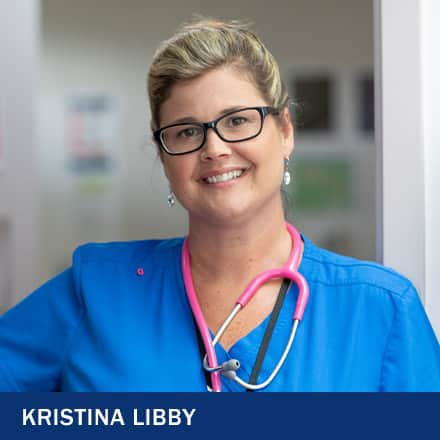 Alumni from community college partners and employees of partnered organizations also receive tuition discounts.
Kristina Libby '17 is able to give back thanks to the affordability of her bachelor's degree at SNHU. "I literally was shocked," she said. "I ran to my husband with my computer and I said, 'Look, look, we can do this,' because all of the programs around here at the state schools, we would have had to take out a second mortgage. It was not possible – and Southern New Hampshire University was affordable."
Do employers care if you earn your nursing degree online?
An accredited degree is always reputable – no matter how you earn it.
Southern New Hampshire University is accredited by the New England Commission of Higher Education and the nursing program is accredited by the Commission on Collegiate Nursing Education (CCNE).
SNHU nursing programs are offered in an online format. Given nursing is a hands-on practice profession, our nursing programs will require certain hours of clinical practice be completed at an in-person location, and you can combine the key competencies and skills gained in person with the convenience of an online classroom.
This is especially helpful for those already in the workforce, which "the majority of our students [are]," said Lisa Urban, associate chief nursing administrator. "They're already registered nurses and come to us to complete their bachelor's degree and/or master's degrees." The flexibility of online classes makes balancing your work, home and academic life possible.
What qualifications do you need to become a nurse?
The first step to obtaining the credentials to become a nurse is to earn, at minimum, either an associate degree from an accredited nursing school, such as a community college, or a diploma from a program offered by a certified medical center or hospital. Nursing students and graduates of New Hampshire's community colleges have pathway options as part of SNHU's community college nursing partnership. Nursing students outside of New Hampshire may find that their local community college has a partnership with SNHU, as well.
How long does it take to become a nurse?
Though it's possible to start working professionally as a nurse in as little as two years, the type of nursing career you choose can affect the amount of time it takes to complete the necessary schooling. Generally, becoming a CNA or LPN requires fewer years of learning than becoming an RN or a nursing leader does. Regardless, there are three main steps to complete in the process of becoming a nurse:
Earning a nursing degree from an accredited university or institution
Taking the National Council Licensure Examination (NCLEX)
Applying for licensure in your state
Earning an associate degree in nursing is typically the most efficient and affordable path to becoming an RN. ADN programs help prepare you for the NCLEX licensure exam and are usually only a two-year program. Though a BSN is almost always a longer time commitment at around four years, nurses with bachelor's degrees are in high demand, and the credential can set you apart from other applicants.
Can you get your RN license online?
No, the NCLEX exam to become a registered nurse (RN) must be taken at a Pearson center, available across the country and in some international locations.3
All practicing nurses must be licensed, but the minimum education requirement for the test is either an associate degree or a diploma given by an accredited program, usually offered by hospitals and other medical centers.1
What are the different levels of nursing degrees?
The options for education reflect what a dynamic field nursing is. Prospective students wanting to break into the profession have many different options of degrees they can earn.
The different levels of nursing degrees are:
Associate Degree in Nursing (ADN)
Bachelor of Science in Nursing (BSN)
Master of Science in Nursing (MSN)
Doctor of Nursing Practice (DNP)
Even if you plan on earning a bachelor's or master's, an associate degree is a great first step in any nursing education journey. Many associate degrees take between 18 months to 3 years to finish, allowing students to take the National Council Licensure Examination (NCLEX) and earn their RN licensure sooner than with a traditional degree.
A BSN can either be a path to your RN, or your road to obtaining further qualifications in your field. A BSN is typically a 4-year degree that incorporates more theory into its curriculum. Many employers are starting to place more value on candidates who have earned their BSN.
An MSN and DNP are both advanced-level nursing degrees. Though not required to have a career in the field, they further build upon your knowledge and can allow you to specialize even further. They are great opportunities for people already working in their field to continue cultivating their knowledge.
Knowing about the degree levels can help you make an informed decision about which one will most benefit your career path.
What are the different types of nurses?
Nurses are the most employed profession in healthcare, and there's a large variety of specific nursing jobs to choose from. Some of the most common types of nurses are Certified Nursing Assistants (CNA), Licensed Practical Nurse (LPN) and RN (Registered Nurse). There are also many options for specialty nurses that work in certain environments, such as labor and delivery nurses, home care delivery nurses and surgical assistant nurses.

Often, your chosen nursing career dictates your responsibilities in your role. For example, a clinical nurse supervisor typically schedules hours, delegates patient assignments and monitors other nurses' performance. A nurse educator works to create educational programs to train medical staff and improve patient care.

There are hundreds of other nursing career paths, so whatever your interest, you can find a role that suits your unique passions and skill sets.
An MSN is an academic degree that prepares nurses to take on more advanced roles and responsibilities in their field. The Master of Science in Nursing typically takes about two years to complete, though time to completion can be shortened through RN-to-BSN or RN-to-MSN pathways.
Often nurses pursuing an MSN have goals related to leadership or specialty positions such as health policy consultants and nurse educator roles. No matter your end goal, earning your MSN is a great way to diversify your career options.
How do you become a nurse?
Nursing is a fast-growing field with many opportunities for those looking to break into the industry. Though becoming a registered nurse is a common first step, it is important to first identify your goals to make sure you are finding opportunities to prepare yourself for the career you want.
One thing remains the same no matter what type of career you have in mind: candidates are expected to complete at least an ADN or BSN from an accredited institution and also be licensed by their state. In addition to these credentials, having hands-on clinical experience is also a requirement.
An ADN may be a good option if you want to get started in the field right away, as it is shorter than a BSN and emphasizes information and experiences that assist students in passing the National Council Licensure Examination (NCLEX). However, a BSN can help you stand out to employers as well as provide you with more in-depth coverage of nursing theory.
The next step after completing a nursing degree is getting licensed in your state. Though states differ in their eligibility requirements, all nurses must sit for the NCLEX licensing exam. Upon passing the exam, you must apply to your state's board of nursing to become an officially registered nurse.
How do you become a nurse practitioner?
Becoming a nurse practitioner opens up more flexibility for a nurse and allows them to practice independently and choose the population that they work with. Nurse practitioners must be licensed RNs and have completed an advanced degree, such as an MSN or DNP. During these programs, students take specific nurse practitioner courses.
After graduating from an advanced degree program, nurses must pass a specialized nurse practitioner exam and complete a certain amount of supervised clinical practice hours.
What's the difference between an RN and BSN?
A BSN is the abbreviation for a Bachelor of Science in Nursing, while RN stands for Registered Nurse. The biggest difference between an RN and an BSN is that a BSN is a college degree, and an RN is a licensed medical professional who has passed the qualifications to be officially registered as a nurse. RN programs typically focus on hands-on practical knowledge, while a BSN expands upon clinical knowledge with theory and research.
Though you can become an RN without earning your BSN, many employers prefer candidates who are graduates of accredited and state-approved nursing schools. Earning your BSN can open up many paths toward advancement and specialization in the nursing field.
References
Sources & Citations (1, 2, 3)
1 Bureau of Labor Statistics, U.S. Department of Labor, on the internet, at https://www.bls.gov/ooh/healthcare/registered-nurses.htm (viewed January 13, 2020)
2 Online ADN Programs, Nursing.org, on the internet, at https://www.nursing.org/online-programs/adn/ (viewed May 6, 2020)
3 NCLEX & Other Exams, National Council of State Boards of Nursing, on the internet, at https://www.ncsbn.org/nclex.htm (viewed May 4, 2020)