Explore a World of Opportunity
Welcome to Southern New Hampshire University (SNHU), an affordable and accessible university located on a beautiful 300-acre campus in Manchester, New Hampshire. From our diverse portfolio of programs and our large alumni network, to our multicultural clubs, organizations and student support services, you will have all the support you need. If you are looking for fun things to do, our campus is a short distance to downtown Manchester and only an hour from Boston. And, if you would like to explore nature, our campus is close to the many oceans, lakes, rivers and mountains our state provides.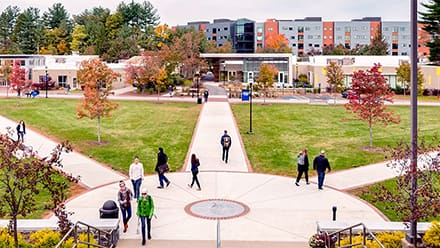 Join an upcoming virtual event:
Whether you are looking for general information, wish to learn more about the application process, or you have been accepted and have questions for our representatives, we are here to help and have various virtual event options to choose from.
International Student Admission, Cost and Services
Build Your Community at SNHU
At Southern New Hampshire University, we want you to feel at home. Learn more about the international student experience on campus and how students have built connections in and out of the classroom.
What Our International Students Are Saying
Kirsten, Penmen Guide
"I am from Cape Town, South Africa. I spent a year in the US in 2020 as an Au Pair for a family in Manchester, New Hampshire. After spending a year in the US, I realized how many opportunities I would have here, so I decided to study at SNHU. I love History and English and would love to be a teacher after my studies. "