From Average to Excellent: How to Evaluate Managers and Help Them Improve

Idea in brief:
Mediocre managers are easy to overlook but their departments can drag down profitability. How do you evaluate managers to sort the so-so from the excellent? This article describes what to look for.
This is a tale of two managers, working at the same organization.
One manager is perfectly fine. She worked in a similar department before being promoted, and she is deeply familiar with the tasks her direct reports perform every day. Her team hits its targets. The department has some employee churn, but she hires and onboards new employees efficiently. Everyone is up to date on required training, and she gets annual employee evaluations done without drama. She ticks all the boxes, and her department is chugging along.
The other manager is not a box ticker. He is constantly reorganizing his department to play to his employees' strengths and ambitions. He steps in when employees are struggling. He takes promising employees under his wing and mentors them, advocating on their behalf to his own supervisors. At least one of his team has already been hired away to another department in the company and another is on the way to being a manager.
Suppose it's your job to evaluate these managers. Which would you rather have at your organization?
Managing is about people
There probably isn't enough information to evaluate which manager is better, since we don't know what kinds of results the second example is getting.
But the reliable box tickers aren't necessarily the best managers, because they tend to prioritize tasks and targets over people. That's a problem if the box-ticking approach to management can cost an organization good employees.
According to a Gallup report, 1 in 2 employees have left a job to get away from a manager at some point in their career. And, according to SHRM, 11% of U.S. employees who left a job last year were driven away by a manager.
What makes an excellent manager?
Excellent managers do more than go through the motions of managing a team's tasks. They get to know their team members, learn what makes them tick and nurture the talents of each employee.
High-impact managers build a culture of continuous improvement, bringing up the next group of leaders so the organization can grow its own talent pool.
1. Excellent managers make the most of their team's talents
Take the example of Michelle, a Walgreens store manager profiled in the Harvard Business Review.
Walgreens has a system for setting up and running its stores where the employee is responsible for stocking an aisle. But when Michelle hired a quiet young man who excelled at inventory but didn't like interacting with customers, she had to adjust.
The rest of the profile describes how Michelle changed the way the store was run to cater to his strengths. This approach also benefited other people on the team, who, for example, didn't like their inventory duties.
2. Excellent managers encourage team members to grow and learn
Jessica Matthias is a McDonald's floor supervisor and earned an Associate of Arts in General Studies with a Specialization in Business from Southern New Hampshire University (SNHU). Jessica earned her degree through McDonald's Archways to Opportunity program, which partners with SNHU's College for America, and she encourages her direct reports to do the same.
"We provide $2,500 per year to eligible crew, and the tuition for the College for America program is only $3,000 per year," she said in a profile.
"When I tell people they only have to pay $500 out of pocket per year for a college degree, their faces light up. As a manager, I have a lot of love for my people and want to see them reach their potential."
3. Excellent managers train the next generation of leaders
Cumberland Farms training manager Tammy Kruger, a College for America graduate, won Store Manager of the Year. But because she had her sights set on upper management — and was working toward her degree — her supervisors noticed. They began supporting her growth toward leadership positions.
4. Excellent managers have room to maneuver
A high-touch, person-focused approach to management is hard to duplicate. It can also potentially put excellent managers in conflict with their organizations.
In the previous example, Walgreens has a system, but the individual store manager Michelle had the leeway to do what works for that location. But some businesses are resistant to change.
Founder- and family-owned businesses, according to HBR research, tend to want to control how a department is run. Because of that, the leadership in those organizations tends to employ weaker managers.
That's a mistake. Excellent managers need the freedom to run their departments.
5. Excellent managers personalize
A great company leader rallies everyone around a unified set of values. Great managers, however, have to get personal. They are curious about what's important to individuals, what their strengths are and what their communication and learning styles are.
How to evaluate managers
You probably already know if you have a bad manager. Employees talk, and if HR has gotten involved, you're already aware.
But how do you tell the excellent managers from their run-of-the-mill peers? This can make a huge difference in customer experience, product innovation and turnover and, therefore, in profitability.
It may seem like a challenge to sift good managers from average, but there are a few concrete metrics you can look at to find your excellent managers.
1. Understand the turnover
Bad managers have high turnover rates that may be easy to see compared to excellent managers. But how do you spot the so-so management practices that could be improved?
Look at the reasons why employees are leaving a department. Are they being promoted within the company? Are they going on to better jobs because they were mentored?
For example, if they are they are leaving for better pay at another company, that may not be in the control of an individual manager. But if they are leaving for better career opportunities, that may indicate a leak that a more proactive manager could stop.
2. Find out how often employees are getting feedback from supervisors
Great managers are also likely to be talking to their employees a lot. There's a reason why the annual performance review is on the decline: According to Gallup, employees who get daily feedback from supervisors are three times more likely to be engaged than those who receive feedback once a year.
3. Look at participation in continuing education and training opportunities
Investing in tuition assistance and other learning opportunities doesn't do any good if your employees don't participate. That is influenced by many factors, but frontline managers are a big part of it.
The best managers create a culture of continuous improvement. If your company offers opportunities for learning, additional training, or higher education, find out who is taking advantage of those opportunities. Low participation may suggest the kind of box ticker described in the introduction.
Support managers to get better
A culture of continuous improvement includes the managers. Your best managers have been taking advantage of training and continuing education programs.
If they aren't already, it may be time to step up and give them the kind of support they've been offering to their employees.
For example, you can offer them access to online MBA programs, which will help them be more effective leaders, or a Six Sigma graduate certificate, which will prepare them to be better project managers. Both of these degrees will make your managers even more valuable to your organization.
Contact the Workforce Partnerships team at Southern New Hampshire University to learn about our tailored learning solutions.
Explore more content like this article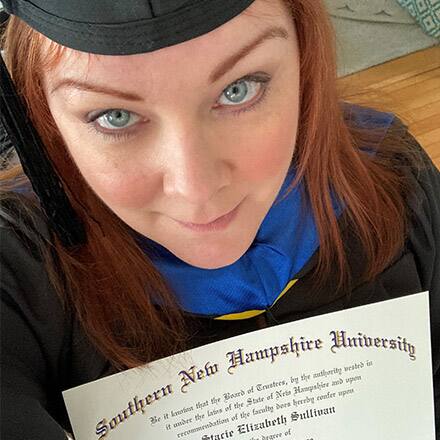 September 08, 2020
For years, Stacie Sullivan '19 felt stuck in her career, sensing her opportunities to advance were limited. After a series of challenging life events, Sullivan enrolled in the BS in Health Information Management program at SNHU.
July 01, 2020
Just a year after she decided to go back to school, Shereka Johnson-Bean '20 is preparing to submit the final project for her bachelor's degree.
June 12, 2020
Shannon Griffin's first job was as a crew member at a McDonald's restaurant. She's still working at McDonald's, but her role is a whole lot different thanks to her hard work and the degrees from SNHU.