SNHU Online Career Counseling: Helping Students Achieve Great Things
There's a multitude of reasons for returning to school to earn a degree. Some are personal goals, but for many, the potential degree is tied to career advancement or entering an entirely new field. At Southern New Hampshire University (SNHU), online degree students have the support and assistance of dedicated career advisors nationwide, who are eager to help students on their way to achieving great things -- and online career counseling is available long after graduation day, too.
What's In It for You?
Students and alumni benefit from online career counseling, with personalized assistance in creating career goals, cover letters and resumes, learning about in-person and social networking, interview skills, elevator pitches and more. The best part is, these free services don't end at graduation. Once you're part of the SNHU community, you'll benefit from these valuable resources long past your days as an online student.
SNHU Career hosts regular webinars that feature helpful tips and advice, along with leading career chats on Twitter and posting insightful information on blogs several times a week. Regardless of the activity, however, the goal remains the same: seeing SNHU students succeed in reaching their career goals.
With more than 30 SNHU Career team members located across the U.S., students have the opportunity to connect not only virtually, but also often in person and at special events throughout the country. Let's meet some of the folks dedicated to career success.
Taking the Job Search to a New Level
Career advisor Kim Coffey works primarily with students in human resources, organizational leadership, management and online MBA graduate programs. Located in New Hampshire, she has been instrumental in helping students who were unemployed find new work. But Coffey said that the best part is not just that they found new work, but rather "work in their field, which is extremely rewarding."
She especially loved assisting a student, who was able to best students from MIT and Harvard for an organizational leadership development program at BAE Systems. This was a long process, which proved extremely gratifying. "She received a job offer within a day of interviewing, after they mentioned how it would be one to two weeks before anyone heard," said Coffey.
In working with students at the graduate level, she's found that many have a bit of a work history and are trying to change their career path. As a result, they need a lot of help in tailoring their resume to the new industry they're targeting. Coffey said that many need assistance with the actual job search, since they are more familiar with the industry they've worked in and not necessarily the one they now seek.
"They don't know the best websites or keywords to use when searching for a job in the new industry that they are interested in," she said. "I love showing students new ways to think about keywords for jobs and new websites to look at to aid in the job search."
While she loves providing online career counseling virtually to students, working with them on mock interviews and other skills, Coffey truly enjoys the in-person meetings as well. She has many local students she works with, as well as some in Hawaii and Alaska, too.
One Size Does Not Fit All
Sonja Moffett is a SNHU Career advisor in Michigan who works with students in the criminal justice and justice studies programs. She finds that many don't realize that one size does not fit all when it comes to resumes, and she enjoys helping students understand how to differentiate themselves from their competition.
"Resumes need to be customized for each job for which they apply and only punctuate the skills desired by that company," said Moffett.
Part of her role also involves facilitation of informational webinars with other members of the SNHU Career webinar team. "I strongly encourage students to attend these sessions where they may interact with the moderation team and ask questions that directly impact their success as a job seeker," Moffett said.
Helping Students Succeed with Internships
Darrin Heald is an internship specialist for the SNHU Career team. As such, he facilitates the approval process for internships that seek academic credit. He particularly likes working with online students to design internship responsibilities that will provide them with the experience and knowledge that aligns with their learning goals for the internships.
Heald works both in southern New Hampshire offices and remotely from northern New Hampshire. One part of his job is facilitating the internship opportunities that come with SNHU's partnership with Major League Soccer (MLS). The first student that he was able to place in an internship with MLS had come to the U.S. five years ago with the goal of one day working with professional soccer.
"When he received the internship offer, he came back to me to thank me and told me that his life goal had been achieved," said Heald. "Just knowing that I have a small part in helping students achieve their career goals keeps me going each day!"
Connecting Students to Mentors and Allies
A big part of the college experience is broadening your network, finding mentors and allies within the industry you hope to advance in. As part of its online career counseling role, SNHU Career is there to help you connect. The team lead for SNHU Career Connections, Angelika Maryniak, helps build connections for students and alumni to assist them in obtaining employment.
"My team is responsible for connecting students for informational interviews," Maryniak said. "These interactions provide participants with advice from individuals in their field of interest. They also get insider information that they might not have had otherwise." The Career Connections team provides support to SNHU Career advisors, and by the time students reach this team, they're ready for an informational interview with a professional.
Students and alumni are invited to write blog posts about their careers and areas of expertise, which not only gives readers valuable information, but also allows the writers to beef up their resumes with tangible experience.
SNHU Career is also active in SNHUconnect, the online community for online students, faculty and staff. "We have Career Communities in SNHUconnect that provides an online forum where students can connect with others in their geographical area to ask career questions," said Maryniak.
She's especially excited about the very first SNHU Career Regional Hiring Fair, which will be held in Houston, Texas, in March.
As a Career Connections specialist, Tamrah Rouleau finds opportunities that allow unemployed and underemployed students to connect with happily employed students and alumni for a variety of career-related benefits. "This includes providing opportunities for informational interviews, professional networking, event attendance and even blog writing," she said. "If a student wants to be involved and engaged, we help them to do so."
Rouleau especially enjoys connecting new students to other students and alumni in their field through informational interviews. "This has led to great conversations, but more importantly has helped our new students gain a better understanding of their field, the job market and gain confidence throughout the process," she said.
Most of the students that Rouleau offers online career counseling to are looking for real-life answers to their questions from a peer or alumni, who have traveled down the same career path they are looking to travel. "Others are really trying to get a better understanding of the types of jobs in their field and the day-to-day responsibilities in that particular position," said Rouleau. "We try to find opportunities to share the experience and expertise of our employed students and alumni with those who are currently seeking."
How Passion Leads to Possibilities
Career advisor Danielle Dalton is located in the bay area of northern California, and she provides online career counseling to many graduate students in the marketing, public relations and communication programs. She loves reinforcing student dreams.
"My favorite conversations are with students who know what they want to do, but need someone to take the time to hash that dream out into manageable pieces," said Dalton. "I love being able to help a student understand that their dreams are achievable and that I can help them see the steps needed to get there." She finds this especially rewarding if students have never had someone tell them they can accomplish what they want, and she values that part of her job.
Some of the students that Dalton works with are interested in a mid-life job change or after they've spent more than 20 years in a specific industry. "These students are scared to make the change, but I like to harness their passion so that they can understand that this is possible," she said. "I like to speak with them about the pros and cons, and oftentimes having this conversation helps them to not be so afraid to go for it, and see the logic behind their decisions as well."
Increase Visibility and Connections
Career advisor Rich Grant also works on the webinar team, helping to create and deliver assistive resources. He's active as a SNHU Career blog writer and works with students in the accounting and finance programs.
Located in southern Maine, he enjoys helping students advance in the job search process, whether it's empowering them through improved resumes or improving interview skills, which often lead to job offers.
"I've helped students get jobs by helping them do a better job of promoting their transferrable skills and by encouraging them to be more assertive in their networking activities," said Grant.
He finds that while many students do have a LinkedIn profile, they aren't taking full advantage of LinkedIn's features. "I show students how to use functions in LinkedIn that they might not even be aware of, such as Find Alumni, groups, following companies and advanced search, where you can search on several variables at the same time," Grant said.
The best advice that Grant feels he can offer students through online career counseling is to be visible, either in person or on professional social media. "Attend professional events, set up informational interviews, be active in LinkedIn groups or within SNHUconnect clubs and groups, participate in #SNHUCareerChat and other Twitter chats that align to your career interests," he said.
Faryal Humkar is a career advisor for master's in information technology, game design and graphic design online students. She's also the host of the team's monthly #SNHUCareerChat on Twitter, which allows students to connect with career advisors, employers and alumni to discuss specific career-related topics. Located in Los Angeles, California, she works with students to gain internships, full-time jobs and advancement within their current organizations.
"Many students are concerned with the stability of the job market," said Humkar. "I assist them with tailoring their resume to be a marketing tool when applying to jobs and internships."
She also reviews their LinkedIn profiles to ensure they are on the radar of job recruiters. Once they've landed an interview, "We schedule a mock interview to make sure they are set up for success," she said.
Building Relationships
Career advisor Cait Glennen works with online STEM students in the geoscience, environmental science, mathematics and data programs, along with marketing, communication, master's in economics, political science, public administration, community economic development and MBA quantitative analysis. Based in Manchester, New Hampshire, Glennen originally hails from East Tennessee.
She spoke of the relationships that career advisors build with their students and how excited they are to help them achieve career goals. One of her proudest moments in online career counseling was helping a student, who went from being close to bankruptcy to being employed in her field making nearly $50,000 a year in just nine weeks. "She wasn't even through her program yet," Glennen said.
Students often sell themselves short. "By digging deeper and showing a genuine interest in what's behind the information on the resume, you generally find out that our students are actually superheroes," she said.
Most of all, Glennen wishes all students knew just how much SNHU Career can help them with their career goals - and that they can help them regardless of geography. "We're a free service, we are invested in your success and we are knowledgeable about our programs."
Charise Wilson is a business development specialist with SNHU Career, supporting students in online creative writing, English, history, human resources, business and project management at the undergraduate and graduate level. She helps online students secure employment opportunities within their fields of interest. A big part of Wilson's job involves making connections with employers to facilitate those opportunities. She also contributes to the SNHU Career blog and manages employer spotlights.
Located in Rhode Island, Wilson has helped many students obtain internships, along with teaching and writing jobs, but one student in particular demonstrated the power of working with SNHU Career in a note she wrote to Wilson. Amber Box, who lives in Texas, was ambitious in working toward career goals, taking full advantage of the webinars and advice she received through SNHU Career since beginning her undergraduate degree in 2013.
Box had been successful in gaining writing and editing work experience in tandem with working on her online undergraduate degree. She knew that going into an online master's program, she would still be missing the actual teaching experience she'd need to become a college instructor upon graduation. The biggest challenge was that in order to land a teaching position, it seemed as though she'd have to have prior experience.
She turned to Wilson, who introduced her to SNHU Career's Ready2Refer program. Wilson helped her polish her resume and find the job that she was looking for.
"That in itself was a challenge, since I needed something nearby, part time and flexible enough for me to still be able to go to school, care for my three children and manage the many projects I was juggling," Box said. "But she was confident in me, and that made me confident in myself. It didn't take long for her to work her magic, and, in fact, within two weeks of our original contact, she helped me secure a job as a teacher!"
Box said she couldn't say enough about how instrumental Wilson had been in helping her through this process.
Dedicated Military Support
When a military servicemember, veteran or military spouse becomes an online student at SNHU, they quickly realize that there's military-specific, dedicated support available every step of the way, from admission to academic and career advising. What's particularly unique about the staff providing support for military-affiliated students is that each person comes from a military background, too. The benefit is that they understand what military students are experiencing and how they can best serve their needs.
Jackie Loren is one of the military career advisors at SNHU, located in Manchester, New Hampshire. In this role, Loren often provides military students with online career counseling early in their degree program to assess what they hope to do in their post-service career, as well as better understand how their academic program ties into future employment opportunities. She also spends a lot of time helping servicemembers translate their military training and experiences into civilian equivalency.
"For military students seeking to transition from their military service to civilian employment, the transition phase is long and difficult on many fronts," Loren said. "Hiring a veteran is one thing, but keep them employed is even more challenging and I believe we play a huge role in this process becoming successful."
She said that they start with in-depth exploration of their knowledge, skills, abilities and values, and they support them early in their degree program, in collaboration with the online student's military career advisor who has walked in their shoes.
Military career advisors, like Loren, can support military students, individually, prior to employment with an understanding of what they did while serving, and through job shadows, internships and with mentors that can help them navigate a new environment. "Early intervention and lifelong support make the deinstitutionalization of each veteran a process they can succeed at," said Loren.
Support that Lasts a Lifetime
SNHU Career can play a vital role for online students throughout their degree program, providing support, advice and tools to help them reach their career goals. This doesn't end, however, at graduation. That same support extends well beyond and allows everyone in the SNHU community to remain connected and proactive in planning for long-term career success.
Pamme Boutselis is a writer and content director in higher education. Follow her on Twitter @pammeb or connect on LinkedIn.
Explore more content like this article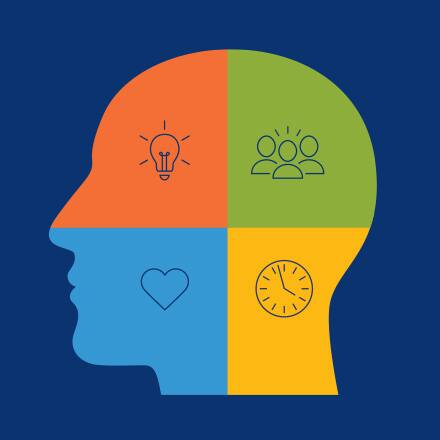 What is Psychometrics? How Assessments Help Make Hiring Decisions
November 14, 2019
Psychometrics refers to the field in psychology related to testing, measurement, and assessment. Using psychometrics, employers are able to make some hiring and staffing decisions based on the information provided from tools such as personality tests.
Work Culture: Fostering a Sense of Belonging
October 17, 2019
We're individuals, but we all have an innate desire to belong to something bigger than ourselves. It's important to foster a sense of belonging so people in your organization bring their authentic selves and positively impact engagement, productivity and overall innovation.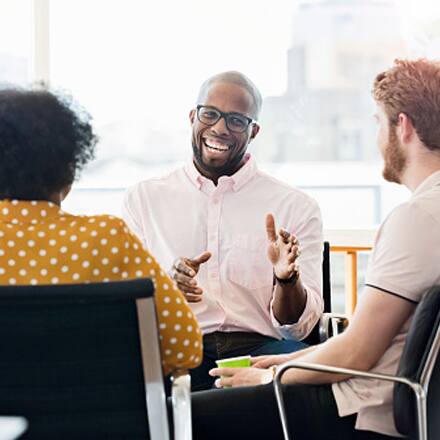 A Typical Marketing Career Path? It's Atypical.
October 10, 2019
Who makes up a marketing team? Think it's a group of professionals with years of training in writing and design – a group you'd like to join if only you had your marketing degree? Think again. Today's typical marketing team is a patchwork of people with completely atypical career paths.