Inspire Employee Learning with Programs That Build Toward a Degree

Employer learning and development (L&D) programs may not achieve the participation they want when employees don't see the value in it or don't see the bigger picture of how their own role affects the company's mission. Through attitude and action, leadership can send the message that continued education is both valued by the company and valuable to the employee.
One way to engage adult learners is to build L&D around credit-bearing programs that allow employees to progress toward a degree.
Help employees understand the long-term value
The benefits a company realizes when its employees participate in L&D programs are easy to see: rather than spend more time and money on recruiting new hires; the business can train and upskill its existing workforce. Participation in L&D programs improves retention rates as well as the overall management and leadership pipeline within the company.
But what's in it for the employee? It is unlikely they will feel engaged about L&D if they have the impression it is just training that the business needs them to complete. They need to connect it to their own values.
Answering this question is imperative to getting employees to view continued learning as an opportunity rather than a "have to do." Employees need to see the correlation between learning, their role and the overall organization. Employees must understand why education and training will make their jobs more satisfying — that they can become better communicators, more agile thinkers and more empowered to make complicated decisions.
Employees should hear from management how an L&D program may lead to more interesting tasks using more complex systems. They should also be presented with a future in which they can envision themselves advancing within the company.
Why employees embrace credit-bearing programs
In the short term, employees may value a more immediate and tangible benefit. For a working adult who wasn't able to attend college when they were young, a degree may feel forever out of reach. The ability to steadily accumulate credits toward a degree is powerful.
For example, James Gennetti, a 15-year veteran at Comcast, discovered that despite an impressive amount of experience and training in his field, he was losing jobs to people with more formal education. The prospect of a degree motivated him to enroll in Comcast's tuition assistance program, which is offered in partnership with College for America at Southern New Hampshire University.
Similarly, John Guy, a quality technician at Medtronic, decided to take advantage of his company's partnership with College for America because, as he said, "There are doors in the modern workplace that simply will not open without an educational credential. Experience is preferred, but education is required."
Classes focused on teamwork, critical thinking, psychology and business communications can be immediately put to use in frontline workers' day-to-day dealings, while moving them steadily toward an Associate of Arts in General Studies with a concentration in customer experience. An operational manager or public relations specialist can develop skills in monitoring materials or controlling resources while working toward a Bachelor of Arts in Management with a focus on public administration.
Inspire employees' participation with attainable goals
Notably, students point out that their programs' extreme flexibility was essential to making the additional workload manageable.
"If things come up, which they always do, this program is very flexible," Guy said. "I can pull in or push out due dates whenever I need to. Now I have no problem at all working College for America into my schedule."
Before participating, employees must see the goals of an L&D program as not only important and relevant but achievable. They should be able to visualize a reasonable path that runs through completing modules, earning the credits and ultimately attaining a degree.
An L&D program that appeals to employees, is developed to fit the specific needs of its participants. Lessons teach skills that are immediately applicable to the workplace and real-life scenarios. Modules are available online, designed to fit into the busy schedules of working students, yet real-life support is readily available. A competency-based approach allows participants to apply knowledge promptly to their workplace experiences.
Tuition-assistance options can ensure finances don't create a barrier. Executives can openly celebrate employees who successfully earn their degrees so that on-the-fence employees feel inspired to sign up, further encouraging those who may have been on the fence about participating.
Successful L&D programs, with the support of their educational partners, usually provide clear information regarding opportunities, coach employees through the process, help to manage scheduling conflicts and check in regularly through meetings and support groups.
Your L&D is competing with "very busy"
At work, your employees are balancing customers, long to-do lists and urgent deadlines. At home, they are often managing family care commitments. It's easy to see why an employee won't prioritize learning activities. If it has any sense of "must do" to it, it won't appeal to their ambition to contribute to the company's mission.
Employers shouldn't give up on offering L&D programs. It just means they must be more proactive in showing the value of these educational opportunities. Make it credit-bearing, make it attainable, make it flexible and make it applicable to their own current work and career goals.
Explore more content like this article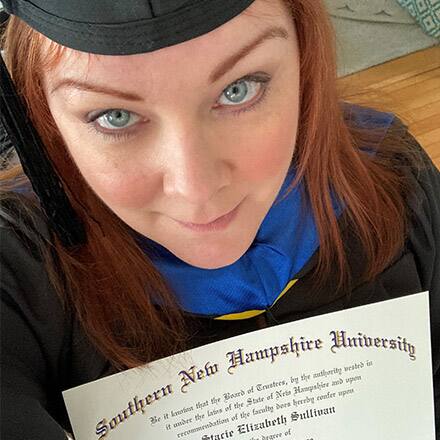 September 08, 2020
For years, Stacie Sullivan '19 felt stuck in her career, sensing her opportunities to advance were limited. After a series of challenging life events, Sullivan enrolled in the BS in Health Information Management program at SNHU.
July 01, 2020
Just a year after she decided to go back to school, Shereka Johnson-Bean '20 is preparing to submit the final project for her bachelor's degree.
June 12, 2020
Shannon Griffin's first job was as a crew member at a McDonald's restaurant. She's still working at McDonald's, but her role is a whole lot different thanks to her hard work and the degrees from SNHU.