Picture an Online Degree at Your Own Pace
It might seem daunting to start on a path toward a new career with nothing more than your computer, but that shouldn't hold you back. Online learning does not try to reproduce a traditional classroom setting. Instead, students can go about their business while learning only when it makes sense for them, and at a pace that fits.
Here are two student success stories that prove earning an online degree at your own pace is possible.
Tracey Balanced Classes, a Full-Time Job and 5 Children
Many online students choose the non-traditional path because they have other obligations in their lives that make the on campus experience an unrealistic option. For some people with full-time jobs and families, as well as others who simply do not live close enough to their desired colleges, online learning allows them to earn an online degree at their own pace.
For instance, Tracey Burraston, an online student at Southern New Hampshire University, must balance not only a full-time job and the duties of a mother to her five children, but also the pressures of living in a rural location. Despite these obstacles, she can still use her free time to tackle her online education in chunks. Even when a snowstorm threatened to knock out her Internet connection, Burraston's student advisor was there to make sure she could continue working toward her online degree at her own pace.
"Living in such a rural area, I really needed an online program that would fit my life," Burraston said. "[My advisor] immediately got back to me. She was able to do whatever we needed to do to get it fixed. At that moment, it was clear to me that SNHU was committed to my success."
Devon Worked on Assigned Projects at Her own pace
Some say it is best to complete your work evenly throughout the course, but there are those occasions when life gets in the way and you only have time to study in a few large chunks per week. While an on campus degree program requires you to show up to class regularly despite what's going on in the rest of your life, many online programs allow you to submit your work at your own pace.
"Earning an online degree at your own pace has never been easier."
Devon Haynie, a reporter for U.S. News and World Report and a former online student herself, explained how there were some days where her familial and work obligations meant she didn't have the time or energy to listen to online lectures or complete assigned projects. However, her online course gave her the option to work on these tasks whenever she had time with a final due date at the end of the semester. This allowed Haynie to enjoy time with friends and family over the holidays while still getting all of her work passed in on time.
"One of the great things about online learning is that I didn't have to wait long for my feedback," Haynie said. "My instructor got back to me within two days with good news: I got a 100%."
Earning an online degree at your own pace has never been easier if you find the college and program that's right for you. The question is: What's keeping you from taking the first step toward a new career?
Pamme Boutselis is a writer and content director in higher education. Follow her on Twitter @pammeb or connect on LinkedIn.
Explore more content like this article
How to Study: 9 Study Tips to Boost Learning
March 27, 2020
Once you've determined what to study in college, the challenge becomes how to study effectively. Luckily, there are plenty of science-backed study habits that can help you boost your learning, improve retention and help you succeed in your degree program.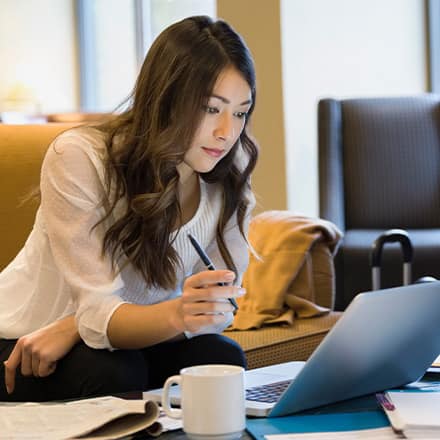 What is a Scholarly Source?
March 26, 2020
If you're not sure how to identify a scholarly source when conducting research, rest assured that you're not alone. Here are some important clues and techniques to help you identify which sources are credible, academic, and above all, scholarly.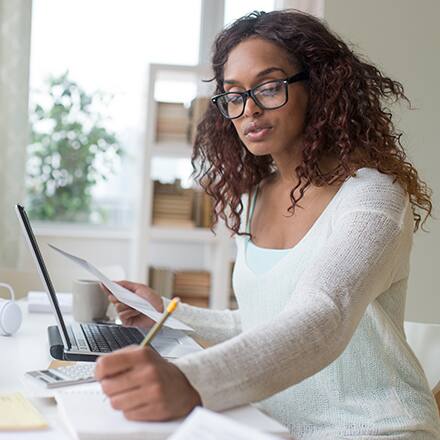 How to Get a Master's Degree
March 25, 2020
Interested in starting a new career or advancing in your current field? Boosting your career potential is one of the benefits of a master's degree. See yourself succeed by exploring how to get a master's degree, from the admission process to master's degree requirements for graduation.