What Is Data Analytics?
When it comes to improving the efficiency and effectiveness of business operations, there are few resources as impactful in the 21st century as big data. These enormous data sets are being leveraged across a variety of fields to discover associations, trends and patterns that can significantly improve an organization's performance and potential profitability. As more and more information is collected, insights are revealed that allow companies to make the best decisions for both their business and consumers.
As a result, data professionals are becoming increasingly valuable in the workplace. With information playing such an important role in businesses practices, having the skills and knowledge to understand and make use of big data will help you succeed in a career in this field.
Whether you're already working in a data position or are simply in a field that could benefit from better information strategies, you can improve your career prospects with a deeper understanding of big data through a Bachelor of Data Analytics or Master of Science in Data Analytics. While the bachelor's degree can position you for a variety of jobs across diverse industries, the master's will allow you to delve into more specialized work at a higher level.
What Is Data Analytics?
Data analytics is the field that analyzes data sets and draws conclusions using the information that they provide. It's a growing strategy that's used in a variety of industries, from finance to healthcare. As a member of the data analytics field, your major challenge is not just drawing conclusions from numbers, but figuring out ways to analyze and use the information as fast as it's being collected.
As the ways that information is gathered and stored rapidly change, companies need employees who are up to date with the most current methods of handling these numbers and have an eye for future needs. This demand is becoming increasingly apparent across a number of fields. Organizations are gathering, analyzing and leveraging more data than ever before to ensure that their decisions are data-driven.
With this increased importance comes greater demand for industry professionals who can deftly and efficiently manage the information. Positions like data analysts, market research analysts and operation analysts are on the rise. In fact, the U.S. Bureau of Labor Statistics reported that jobs for database administrators, who make a median annual salary of $80,280, are expected to increase by 11% between 2014 and 2024.* Jobs for market research analysts, who earn an average annual salary of $61,290, are projected to increase by 19% during that same period, according to BLS data. Hortonworks CEO Rob Bearden told CNBC data analysts can earn $125,000 right out of school. The network named the position one of the "sexiest" jobs of the 21st century.
If you're working with data in your current position or looking to start an exciting new career analyzing numbers, consider earning a master's in data analytics. However, when you choose to pursue this degree, you aren't limited to positions specifically in this area. Related fields, such as data science, data mining and data architecture use similar strategies that could benefit from a deeper understanding of data analytics.
What Is Data Science?
Data science is an interdisciplinary field that extracts specific insights from sets of data. It's very similar to data analytics in that both examine raw data for the purpose of improving workplace practices. However, while data analytics focuses more on collecting, reporting, summarizing and interpreting these numbers, data science goes a step further and extrapolates the data, making predictions about future trends and suggesting new best practices for companies and industries.
In 2014, WIRED magazine ran an article titled "Tell Your Kids to be Data Scientists, Not Doctors." The attention-grabbing piece by Linda Burtch, the managing director of Burtch Works Executive Recruiting, discussed the company's report that found data scientists earned more on average than both doctors and lawyers, two positions that have traditionally been viewed as the pinnacle of the American Dream. It's a clear reflection of the growing importance of data in the marketplace.
There are many ways to enter the field of data science. Some professionals enroll in an online master's in data analytics to gain a deeper understanding of the field. Others earn workplace experience and perhaps add to their knowledge with a certificate on the topic.
Your Online Master of Science in Data Analytics
An online MS in Data Analytics lets you dive deep into this area of study, which will keep you on the cutting edge of data collection and analysis. The degree gives you the ability to help organizations increase the efficiency of their operations and gather and interpret numbers more efficiently. While pursuing your master's, you'll also be instructed in relevant topics for translating analytic skills to the workplace, such as how to present data and manage projects.
An online master's in data science is recognized as a Professional Science Master's program by the Professional Science Master's (PSM) national office. The program was specially designed to combine advanced math and science knowledge with the practical skills that you'll need to enjoy a successful career in the field after graduation.
With the flexibility of an online program, you can earn your degree from any place at any time. It's a great option if you're a professional in the field looking to increase your knowledge and skill set to pursue a promotion or new position. Whether you're working full-time or balancing other responsibilities outside of academia, an online program can fit into your existing schedule.
Pursuing A Career in Data Analytics
An online data analytics master's degree can not only equip you with the knowledge and skills you need to succeed in this field but also provide career resources to assist in your post-graduation job pursuits.
After graduating from medical school in Ecuador, Maria Corral moved to the United States and decided to look for a job in healthcare while she worked on her English. She became a clinical research assistant, but after 10 years and three promotions, she was ready for something new. When she accepted a position with Yale University, she saw the opportunity to advance her career by pursuing a Master of Science in Data Analytics.
"As an associate research scientist for a research group...my career was focused on data information and technology. So, I decided to study to be more knowledgeable in this field," Corral said.
Like Corral, you can advance your career with a deeper knowledge of data information and technology in almost any field.
*Job market data from the U.S. Bureau of Labor Statistics Occupational Outlook Handbook is intended to provide insight on occupational opportunities and is not to be construed as a guarantee of salary or job title. SNHU cannot guarantee employment.
Effective June 30, 2020, SNHU programs no longer hold PSM affiliation.
Explore more content like this article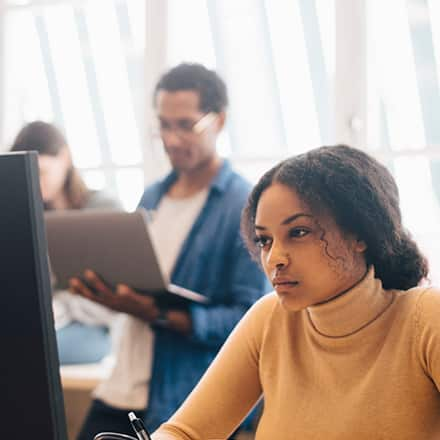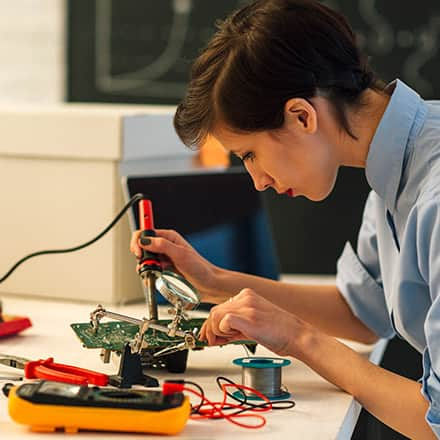 What Does an Electrical Engineer Do?
June 23, 2020
Electrical engineers keep our world running, developing everything from the power plants that provide our homes with electricity to the microchips inside our smart phones.
How to Become a Web Designer
June 16, 2020
A career in web development combines their skills in graphic design with programming and problem-solving, in a dynamic career that offers creative challenges on many levels.