From Refugee to Graduate with an Online Degree in Criminal Justice
Bara Alkafil '16 was just five when a relief organization flew her family out of the Middle East and to America, but she has a few clear, strong memories of that time. Some of them are even beautiful.
She remembers the sky. Having fled Saddam Hussein's reign in Iraq, her family was eventually housed in a refugee camp in Saudi Arabia along the Iraqi border. The mud building had thin metal roofs over the bedrooms, but what served as a common room was open to the sky. Alkafil sometimes slept there and recalls too many stars to even remember which ones she had already counted. "I was old enough to remember certain things. I would remember some of the good moments," said Alkafil, now a Dearborn, Mich., resident. "The sky was unbelievable. The atmosphere was so clear. It was not polluted."
But the good moments were few. "There was nothing else that was beautiful about living as a refugee," she said.
Her family's journey from being a target of the government, because they were Shia Muslims in Hussein's Iraq, to Southern New Hampshire University and the completion of her online degree in criminal justice almost defies logic. But Alkafil's journey isn't over. Right now, even she doesn't know where it ends.
Flight
By Alkafil's estimation, families like hers were at war with Hussein and the brutal dictatorship he imposed on the country for three decades by the time she was born in 1989. Anger at Saddam helped fuel an uprising against his government in the northern and southern regions of the country, according to a policy brief issued by the Migration Policy Institute in 2003, ahead of America's second invasion of Iraq. In March 1991, Saddam appointed his cousin, Ali Hasan Majid - who was already reviled for his use of chemical weapons against Kurdish citizens - to be in charge of the government's response in the Shi'ite-dominated south of Iraq.
"The revenge was characteristically brutal with public executions, bombarding of city centers, and wholesale destruction of homes and mosques," according to the policy brief. Some estimates put the number of southern Iraqi killed from March to September 1991 at 200,000, according to the brief.
Alkafil's family lived in Basra in the country's southeast region near the Persian Gulf and the borders of Iran, Kuwait and Saudi Arabia. The family found itself on what she described as a government-maintained kill list. When an uncle was killed, the rest of the Alkafil family fled with the tens of thousands of other citizens. The rebellions were crushed. Somewhere between 40,000 and 100,000 Shi'ites escaped to Iran. Another 37,000 were displaced to Saudi Arabia.
Alkafil was 2 years old in 1991 when her family made its way, on foot, to neighboring Saudi Arabia, which for the Shi'ite Alkafil family was something akin to jumping from the fire to the frying pan. The Saudi army first brought the refugees to a government building where they were detained. Alkafil doesn't remember the trip, but her mother and others told stories later - how city residents spit and cursed at the refugees and threw their shoes at them, a sign of great disrespect in many Middle Eastern cultures. "It was just complete hate," Alkafil said.
Eventually it was decided the refugees, thousands of them, would be housed in an encampment in the desert along the border of the two countries called Rafha, where they spent the next four-and-a-half years. A collection of mud houses was erected and, in time, neighborhoods of sorts formed. The Red Cross brought food and water but conditions were still horrible, Alkafil said. There wasn't enough to eat. She remembers her mother picking lice out of her hair and then killing them with kerosene. "It was just a desert. Nobody lived there," she said. "It's not a life anyone wanted to live."
American workers began to come to the camp. It was then the young Alkafil began hearing about America. Compared to her life up until then, it quite literally sounded like heaven, enough that when a Baltimore-based relief organization, World Relief, arranged for the Alkafil family to immigrate to the United States, Alkafil thought she was escaping hell. "I was like, 'I'm getting out of hell and getting into heaven,'" she said. The family flew into Hartsfield-Jackson Atlanta International Airport on June 20, 1995. Alkafil was 5 and not only remembers the family's arrival but still can't adequately describe it. "The feeling, I can never even begin to explain it. Just - life was different," she said.
Adjusting
It's difficult to overstate how much life improved for Alkafil and her family after leaving the Saudi desert. As she put it, it was when they were able to begin dreaming of something more than the next good meal, to plan for something other than basic survival. "Life is just - I can't even explain it. I was living in fear, like we were going to die," Alkafil said. "Now we start dreaming. We start going to school. We start living like human beings."
Workers from World Relief continued their support of the Alkafil family as they settled into life in the United States. The agency helped the family apply for government assistance, helped them get necessary immunizations and walked them through enrolling the young Alkafils in school. She remembers two women in particular, a woman named Claire and another named Lisa, who would visit the family often and bring them food and share meals with the extended Alkafil family. One of them still works for the organization and stays in touch with family members who remained in the Atlanta area, Alkafil said.
But there were still many challenges. Alkafil wasn't used to even basic aspects of life in Western civilization, especially indoor plumbing. The language, of course, was foreign as well. Her mother and sister were stared at and questioned for wearing hijabs in the Southern heat. It sometimes felt like a third rejection, Alkafil said. Her family had fled for their lives in Iraq, clawed a basic level of survival in the Saudi refugee camp and felt adrift in a foreign land in America. "We struggled because it was just a different kind of lifestyle. It was a good one, but it was so hard," she said. "Sometimes we felt like there was never a place for us. When I get emotional, it's because it's so hard living in a world where you feel like you don't belong because you're different."
Dearborn
Somewhere along the way, Alkafil's father, Jafer Alkafil, learned about Dearborn, which has the highest concentration of Arab-Americans in the country, along with the largest mosque in the United States. About one-third of the city's roughly 95,000 residents are Arab, Muslim or both.
"The city is just amazing, honestly," Alkafil said. "It's exactly who we are. We are Arab-Americans and this was the perfect place to grow up."
Where once Alkafil's life consisted of no more than surviving the day, she now is able to create goals - and she speaks passionately about what she hopes to achieve. They're goals that she's held for a long time, nearly as long as she can remember. While Alkafil isn't exactly sure what she will do next, in some ways her goals haven't changed - and now with her online degree in criminal justice, she can begin making them a reality. Alkafil has a drive to help people, particularly those who have been displaced as she was. Watching the current refugee crisis in Syria and Europe is difficult. She wants to become a lawyer some day, though law school is not in the cards for now with three young children. "You always want to give something back. I want to give back to someone like me who struggled in the Syrian war," she said. "I got to live the American dream, and I wish everyone gets to live their dream. I never gave up on my dream. I wanted to finish school."
Alkafil said one of her "biggest opportunities" was the chance to enroll at SNHU, which was able to accept all of the 90 undergraduate credits she had already earned and finish her online degree in criminal justice. "The school was exactly what I needed to finish my degree," she said. "The flexibility of attending class whenever I wanted was the highlight of my whole degree and it was the reason behind what kept my momentum going."
Alkafil said one of the most positive experiences she had at SNHU were classes taught by active-duty and retired police officers. "Whenever they discussed what happens in the real world, it made me want to learn more about law enforcement," she said. "Every time I had an officer as a teacher, I knew it was going to be a 'good' semester."
She chose criminal justice, she said, because it will allow her to help people the way she and the rest of her family were helped so many years ago. "It is because of people's ability to help one another and serve justice (that) I am no longer a refugee and (am) a citizen of the greatest country in the world," she said.
Having earned her online degree in criminal justice, Alkafil said she wants to earn a graduate degree and someday work for the United Nations, perhaps as a human resources officer in Iraq. "I would love to improve Iraq with the help of the UN. I know that is very difficult but not impossible," she said. "It is because of the efforts of the United Nations that refugees are protected. The UN serves as the court of the world, continuously striving to protect (human) rights."
It was SNHU, Alkafil said, that gave her the opportunity to begin down the road to that dream, starting with her online degree in criminal justice. "I knew I needed to go to school." she said. "The school really provided me with an opportunity no school could have. The instructors, the timing, just everything."
Now, sometimes Alkafil thinks about just how drastically her life has changed. Thousands of miles from the refugee camp where she spent such difficult years as a young child, on a recent Sunday she was outside the home she owns with her husband of eight years gardening with her two daughters and one son.
"I'm so, so grateful. I can't even explain to you. I'm just blessed. I'm just blessed to have this lifestyle and it makes me want to help so many people and not just work for the paycheck," she said. "It just makes me think that life has so much more to offer. I believe that in some way, you should give back."
For Alkafil, an online BS in Criminal Justice was one part of her path to doing just that.
Joe Cote is a staff writer at Southern New Hampshire University. Follow him on Twitter @JoeCo2323.
Explore more content like this article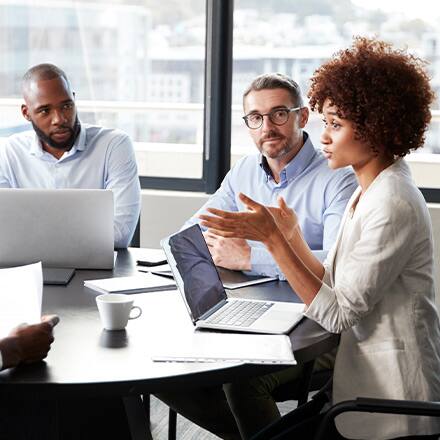 July 02, 2021
If you're a fan of crime dramas, you're not alone. From "Dragnet" in the 1950s to "NCIS" today, the work lives of criminal justice professionals have gripped viewers. For some, crime television can light a spark that turns into an enriching career.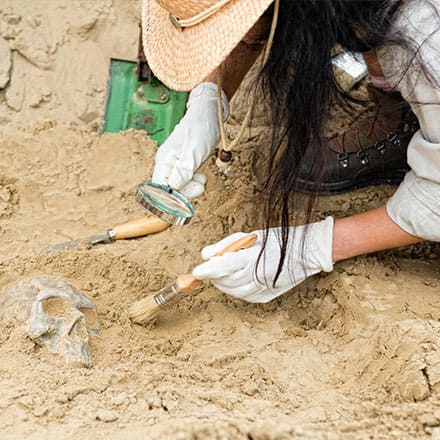 June 25, 2021
If you love learning and are curious about the people and world around you, you might consider a degree in anthropology and explore how you can fill roles in both the public and private sectors, working in business, health care, advocacy and more.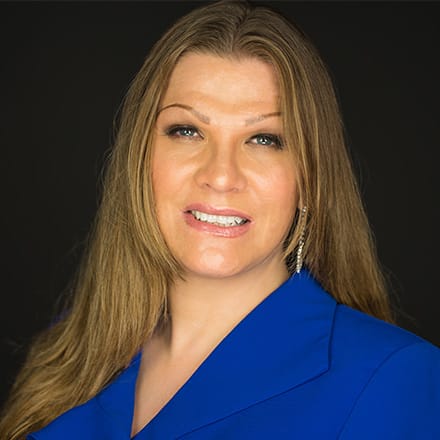 June 01, 2021
Dr. Stacee Reicherzer is a nationally known transgender psychotherapist, educator and writer, who serves as clinical faculty of the mental health counseling program at SNHU, who recently shared her insights on otherness.