Success Rings Out at SNHU Career
The simple golden bell with a short black handle on Pauline Christakis' desk doesn't look like much. It probably wouldn't occasion much comment if not for what its raucous peal represents for Southern New Hampshire University online students and the two dozen or so career advisors who work in SNHU Career.
But when Christakis holds the bell up above her head and lets it ring - sometimes several times a day - everyone knows an online SNHU student or graduate has reached an important goal: landing a job thanks in part to the SNHU degree they've worked so hard to earn.
"I think it's important for students to know that even though we may not meet in person, we're celebrating every single win and student success story. We get really excited to ring this bell," said Christakis, one of four of SNHU Career's career advising team leads.
Christakis took over as a team lead about three years ago, when the team was much smaller, and she wanted to find a way to let other departments in the university's Manchester, NH, Millyard offices know when students landed the job. So when students and grads called their career advisor to tell them they had landed the job they'd worked so hard for, Christakis started ringing her bell. "It became a quick tradition for our team in recognition of how much we care about our students and their successful attainment of the goals, even after graduation," she said.
Comprehensive Career Search Assistance
A SNHU Career advisor reaches out to every SNHU student in the year before his or her targeted graduation date to connect with them to talk about their career options and goals, and to educate them on the slew of services available to them. The process begins with Ready2Refer, which takes students through a three-step process beginning with career exploration. Career advisors then work with students to write or improve their resume and cover letters. In some ways, that's the easy part, Christakis said. The part that comes next is critical. "The interview is extremely important. And then what you do after the interview and then, you know, how you network with people in the industry and that community," she said. "That's something job-seekers don't always think about. It's our job to educate our students on the job market trends and actions to take that they may not consider otherwise."
SNHU Career does that by offering mock interviews and job-search assistance, among other things. There are also free weekly webinars on a wide range of employment-related topics, including everything from Basics of Professional Networking and How to Conduct an Effective Job Search to Using Social Media in Your Job Search and Salary Negotiation.
The 11 career advisors, including three who work specifically with military students, are joined by another eight career advisors who work remotely at various cities across the country. Another seven members of the group are on the Business Development and Internship team. That team works with companies across the U.S. to establish partnerships with employers who are interested in hiring SNHU graduates. Career advisors can then easily connect students with employers in their region and field, Christakis said. "We work to build relationships with employers in the geographic locations where our students live, and we share information on the job prospects and potential salaries in that area," she said.
The final portion of SNHU Career's services are the three team members who work on Career Connections. The team works with SNHU alumni who have already found success in their career and are interested in giving back to current students. The Career Connections team finds graduates willing to do informational interviews with soon-to-be graduates interested in their field. The team, along with Business Development, also hosts regional events around the country, such as the SNHU Career Houston Hiring Fair held recently, Christakis said.
A Unique Combination of Skills
Beyond the programs and services SNHU Career offers, Christakis said the true key to the program's success is the people who work directly with the students and graduates working to improve their careers. Advisors like Kim Coffey have to have a unique combination of enthusiasm and compassion combined with the ability to give job searchers sometimes hard truths about their approach to finding a new position. "The great talent our career advisors have is finding out what motivates the student and also getting to the root of 'What specific resources will you need and steps will you have to take to achieve your career goal?'" Christakis said.
Advisors and students work closely together on things like resumes and interviewing skills. They also talk about the importance of body language and non-verbal communication skills during the interviewing process. That means they have to have built a strong and honest relationship with the student, one in which the student knows his or her career advisor has their best interest in mind and wants them to be successful. "Career advisors are compassionate cheerleaders and subject matter experts who work to motivate and support their students," she said. "In addition, they need to be very intentional and firm and really understand how to get their students from point A to point B to point C and hold them accountable as a partner in the process."
Coffey said it's the most rewarding work she's done. "Now I get the opportunity to be that person that I wish I'd had when I was in college. And then it's so rewarding when they get a job. They get really excited about it and you're one of the first people they call - maybe right behind their mom," she said. "There's no greater feeling, I think. I get really excited when my students tell me about, you know, interviews they've had, jobs they're getting - even when you just help a student figure out what they want to do or at least put them on the right path. I don't think I've ever felt more rewarded."
The benefits and services offered by SNHU Career are also available to alumni for life. Coffey said the idea is that career advisors aren't just helping students find a job, but are also giving them skills they'll be able to use forever. "We like to make sure that they learn from us so they don't need us. So we're here for them and support them as much as possible but we also want them to be able to do this years from now," Coffey said. "But we're always here too, being a lifetime benefit."
More Than a Bell
Christakis' bell, while a small thing in the grand scheme, has become a popular and emblematic part of all that SNHU Career does. "I think it's just a symbol of SNHU Career in general because we have such a positive energy around here and it's the cherry on top of the sundae, pretty much," career advisor Ryan Chapman said. "It's just a great feeling."
Brian Vas, assistant vice president of career advising for SNHU Career, said while the ringing of the bell is a celebratory symbol, it's also emblematic of why SNHU Career and SNHU itself exists: to help motivated people finish their education and launch or advance in a career that makes them happy and successful. "Did you get the job you came here for? Did you get the outcome you came here for?" he said. "The really positive thing about the bell is we see the whole floor celebrating."
Now the bell is taking on a life of its own, Coffey said. Students on the phone can hear the bell - "It's really loud," Coffey said - and ask about it. "Which usually gets the student on the phone really excited, too, though, like, 'I want that to be me.' So they get all excited," she said. "We all start talking about it and we're all really excited when someone's student gets a job. So it's a really cool moment for everyone to just stop what they're doing and be like, 'Great. Good job.' It's so great to be able to help students."
Joe Cote is a staff writer at Southern New Hampshire University. Follow him on Twitter @JoeCo2323.
Explore more content like this article
Ticket Sales 'Crash Course' Helps SNHU Grad Land MLS Job
August 13, 2019
As an undergraduate sports management major at SNHU, Aaron Therrien didn't turn down any opportunities. He worked as a residential advisor and completed four internships among other activities. That drive hasn't diminished since he graduated and has already led to a job at D.C. United.
New Apprenticeship Program Offers Students Experiential Learning
July 29, 2019
Amanda Menke '19 knew she wanted industry experience before graduating with a BA in Communication, but she didn't have time to fit an internship into her schedule. So, when she received an email about a digital marketing apprenticeship program, she decided to give it a try.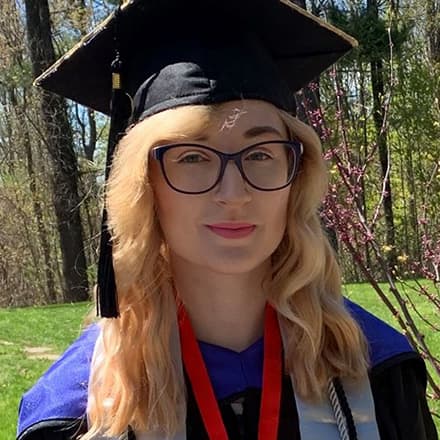 History Student Enters Field with Museum Internship
June 26, 2019
Less than two years ago, Elizabeth Gitschier '19 decided to leave nursing school to pursue her interest in history. After shifting career goals, it was especially important to her that she completed an internship before earning a bachelor's degree in history.