What is a Liberal Arts Degree and What Can You Do With It?
A liberal arts degree offers foundational knowledge across many different subject areas. Liberal arts students will find themselves exposed to ideas and topics that range from art to science and math. A liberal arts degree provides general knowledge and career-relevant skills that prepare you for a range of professions.
A liberal arts degree includes the study of history, literature, writing, philosophy, sociology, psychology, creative arts and more. Liberal arts programs are designed to help you formulate compelling arguments, communicate well and solve problems.
Studying liberal arts can equip you "with a myriad of colors to paint with to create a vibrant career picture," said
Torian Parker
, a career advisor at Southern New Hampshire University (SNHU). That's because the degree programs are designed to develop
soft skills
such as:
Creativity
Collaboration
Effective communication
Critical Thinking
"With these skills, liberal arts (majors) have a unique opportunity to enter varying career paths through a holistic approach," Parker said. Earning a liberal arts degree can be an effective way to show employers you have the skills necessary to be an asset in a range of fields.
What Exactly Does Liberal Arts Mean?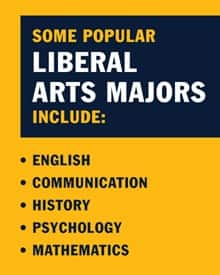 Liberal arts is a broad term that can be encompass everything from theater arts to economics.
As a discipline, these subjects are intended to give you general knowledge and the ability to think critically and learn any subject – instead of specific skills needed for a technical profession. Instead, liberal arts sharpen your research, writing and critical thinking skills.
As to what you can do with a degree in liberal arts, the benefits go far beyond the specific subject knowledge from a particular degree. When it's time to enter the job market, liberal arts majors have a huge array of possibilities available to them, including many in science, technology, engineering and mathematics (STEM) and business.
What is a Liberal Arts Degree Good For?
With further training, nearly all liberal arts degrees can lead to careers in education, allowing graduates – with the right qualifications – to share their passion with others. These degrees also lend themselves well to further studies and research. Many liberal arts majors are also interested in giving back and connecting with people, which leads them to careers in politics, public service and other helping professions.
These are some of the more traditional paths for liberal arts majors, but graduates can be found in nearly all industries and professions. Their ability to think critically, adapt quickly and solve problems is in demand in STEM and business fields where liberal arts graduates may find their niche in areas such as marketing, sales, strategy or relationship-driven work such as customer relations and account management.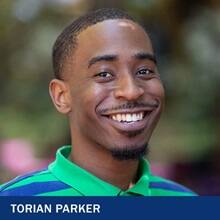 Their skills in reading, research and making complex information digestible can help them get up to speed quickly on technical subjects, even when they may not have a formal technical background.
Liberal arts majors often know how to connect with others and can excel at adding the "human touch" to whichever field they enter. "Liberal arts (majors) approach problems in the workplace and the world from a unique vantage point by tapping into the humanistic qualities and dynamics at times overlooked due to a narrowed and single approach to problem-solving," Parker said.
What Jobs Can You Get with a Liberal Arts Degree?
You can look forward to entering a number of careers in business, government, education and healthcare thanks to the transferable skills a liberal arts education provides. Below are some popular majors and career paths you can consider.
Communication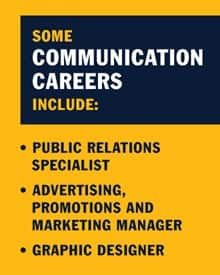 With a communication degree, you can learn key skills to work in industries such as journalism, public relations, advertising and more. Coursework in public speaking and graphic design helps you come to work prepared to deliver presentations, create publications and reports, and convey messages through digital media.
Some jobs in the communications field include:
Public Relations Specialist: Are you interested in shaping the public perception of a company, organization or product? Drawing upon their strong speaking and writing skills, public relations professionals craft media releases and develop social media programs to increase awareness and measure engagement. They earned a median annual salary of $62,810 in 2020, according to the U.S. Bureau of Labor Statistics (BLS).
Advertising, Promotions and Marketing Manager: Boost interest in various products and services across industries as an advertising, promotions or marketing manager. Professionals in these roles plan paid advertising campaigns across radio, television, web and other media; develop corporate or product-based websites and create promotional campaigns. The median annual salary for advertising, promotions and marketing managers was $141,490 in 2020, according to BLS.
Graphic Designer: Are you able to tell a compelling story through infographics and photography? Graphic designers draw upon their creativity and artistic skills to create visual concepts for corporate websites, media outlets and print publications. They earned a median annual salary of $53,380 in 2020, according to BLS.
Learn what else you can do with a communications degree.
English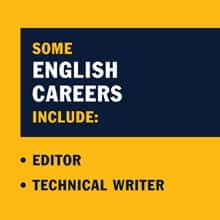 English majors specializing in English language and literature take courses in history, social science and literary theory and are prepared for jobs as writers, historians or museum curators. With related paths such as a bachelor's in creative writing or journalism, you can focus on storytelling in nonfiction, news, fiction, screenwriting or poetry genres.
The curriculum is also designed to prepare you for jobs in public relations, film, theater and advertising, to name a few.
Some jobs in the field include:
Editor: Do you exhibit strong writing skills and attention to detail? Editors work in a variety of industries and support both print and online publications. They earned a median salary of $63,400 in 2020, according to BLS.
Technical Writer: Technical writers create instruction manuals, web content and other supporting documents for products and services. They earned a median salary of $74,650 in 2020, according to BLS.
Learn what else you can do with an English degree.
History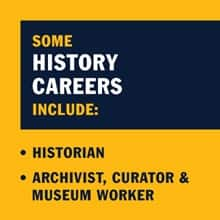 Understanding the past is key to helping organizations interpret significant historical events and prepare for the future. Drawing upon your strong research and analytical skills, you may be able to work as a curator, historical interpreter or policy advisor with the help of a history degree.
Although history majors often work in politics, they are also qualified to work in other roles in business, journalism, law or education. A major in history can prepare you for law school, as well.
Some jobs in the history field include:
Historian: Historians research, analyze, interpret and write about the past by studying historical documents and sources, according to BLS. You can find work in museums, archives, historical societies and research organizations. Historians earned a median salary of $63,100 in 2020, according to BLS.
Archivist, Curator and Museum Worker: Archivists review, process, catalog and preserve historically valuable records. Curators oversee art collections and historical artifacts and may present their research on behalf of an institution. Museum technicians and conservators restore objects and documents and prepare museum collections and exhibits, according to BLS. They earned a median salary of $52,140 in 2020, according to BLS.
Learn what else you can do with a history degree.
Psychology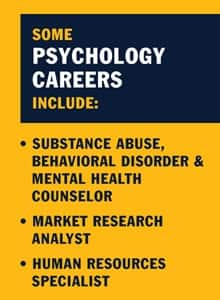 The study of the human mind, a psychology degree focuses on human behavior and how to apply concepts to social and organizational issues that affect us globally. You can look forward to pursuing roles in human resources, market research and social services. Some jobs in the field include:
Substance Abuse, Behavioral Disorder and Mental Health Counselor: In this role, you can help individuals recover from alcoholism, drug addiction, eating disorders, mental health issues or other mental or behavioral problems. They earned a median salary of $47,660 in 2020, according to BLS. Additional education and licensure is usually required for these roles.
Market Research Analyst: Strong analytical and critical thinking skills help market research analysts determine what products people want, who will buy them and what price they are willing to pay. They earned a median salary of $65,810 in 2020, according to BLS.
Human Resources Specialist: If you are interested in resolving employee conflicts, interviewing, hiring and retaining employees, you might enjoy working as a human resource specialist. To be successful, you need strong interpersonal and communication skills. Human resource specialists earned a median salary of $63,490 in 2020, according to BLS.
Learn what else you can do with a psychology degree.
Sociology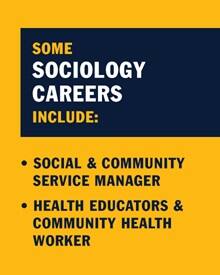 Focused on social behavior and how people behave in groups, sociology coursework includes history, religion, geography and social science research, to name a few. In this field, you can gain an understand of society's historical, economic and political issues and how people can work together to solve problems. Roles open to sociology majors include jobs in social services, criminal justice or public health. Some positions in the field include:
Social and Community Service Manager: Working in one of the "helping professions" requires you to identify and evaluate programs that meet the needs of special populations such as veterans, the elderly or children. You may also focus on serving people affected by substance abuse or poverty. They earned a median annual salary of $69,600 in 2020, according to BLS.
Health Educators and Community Health Worker: To be successful in one of these roles, you need strong interpersonal and communications skills to develop and evaluate health programs and create materials on various health topics. Health educators and community health workers work in hospitals, government and non-profit organizations. They earned a median annual salary of $48,140 in 2020, according to BLS.
Learn what else you can do with a sociology degree.
What are the Benefits of a Liberal Arts Education?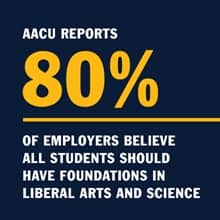 Pursuing a degree in the liberal arts helps you succeed in a fast-paced world that requires individuals to develop creative solutions today to solve the complex challenges of the future.
It's no surprise, then, that business leaders are speaking out in defense of these foundational subjects. Harvard Business Review looked at three books about how the humanities prepare students. Humanities, the books' authors contended, are about the ability to learn, ask the right questions, identify the real problem and never lose sight of real human needs.
An Associate of American Colleges and Universities (AACU) survey found that 80% of employers believe all students should have foundations in liberal arts and sciences (AACU PDF source).
"Learners need a strong foundation in the liberal arts, which provides a foundation for enhancing their verbal and written communications, critical thinking and ethics for career success," said Tom Patria, a career advisor at SNHU.
Soft skills are essential to being a good leader, communicator and critical thinker and are often developed in general education courses. The implications of a liberal arts background extend far beyond that, though.
Foreign languages teach another way to view language itself. This translates into an employee who can move seamlessly between computers, employers and customers, better understanding each perspective, limitations and needs. Philosophy encourages logic and inquiry, which translates into an employee who effectively assesses unexpected situations.
Does Liberal Arts Include Science?
Basic math and science are also part of the traditional arts. The problem solving, analysis and observation skills established in those subjects are essential for a lasting career when artificial intelligence (AI) and other new technologies are causing future changes in the workplace.
The Future of Liberal Arts in the Workforce
Consider this – the job market changes quickly, and the most in-demand skills in the future may very well be the humanities. Automation and AI are affecting more and more industries. But skills like critical thinking, relationship-building and storytelling resist automation and will continue to be needed in the workforce.
The Humanities Indicators report from the American Academy of Arts & Sciences shows that the number of humanities degrees conferred in 2018 was 2% below the previous year and 14.1% below the highest number of degrees conferred in a single year – back in 2012. And yet, competencies developed through foundational subjects, such as getting a liberal arts degree, matter more than ever.
Automation and AI have limits because of unanticipated nuances to a task or its human and emotional elements. AI needs capable humans to manage and pull the best from it.
Today's highly digitized, AI-supported environments have a heightened need for employees with interpersonal skills, nimble minds and the ability to work alongside machine learning.
AI is being used to a remarkable effect in nearly every sector. For example, companies in the healthcare and insurance industries can gather data to determine customers' rates via the Internet of Things (IoT) sensors that capture one's driving and lifestyle habits. A virtual claims adjuster can even minimize fraud as it handles settlement and payment following an accident.
And yet, a frightened driver calling their car insurance company from a ditch on the side of the highway wants to speak to a human. That customer service representative must be able to listen sympathetically, gather the relevant information and clearly instruct the driver on immediate next steps. At that moment, the insurance company needs employees with problem-solving and communication skills.
In a doctor's office or hospital, AI can collect and process more comprehensive and accurate data than a human could ever hope to. But rather than replace the nurses and office administrators, this automated capability frees them to focus on what they do best — educating patients and providing unique support and communication.
Pressure to compete for STEM careers continues to grow in a world increasingly supported by and reliant on technology. Liberal arts studies emphasize enduring skills in an era when technology and automation will increasingly replace workers, according to Dr. Ruth Lahti, associate vice president of liberal arts, social sciences and counseling at SNHU.
Soft skills are still relevant in the workplace, and students who can demonstrate their creativity in areas such as writing, communication, critical thinking and collaboration, will continue to be attractive to employers. There is a growing trend for experts in the "digital humanities," who can bring digital resources into their research, teaching and publishing to make scholarship more accessible to others, Lahti said.
Preparing for the Workforce
Although they're well-equipped for many different roles, liberal arts majors may have a less clear-cut road to the perfect job than some graduates. Here are some suggestions for liberal arts majors entering the job market.
Build Your Personal Brand: Liberal arts students are adept at storytelling and communicating complex ideas. When it's time to enter the job market they need to harness those skills to tell their own story, and they can do that through establishing a personal brand.
Think Outside of the Box: Be willing to explore different industries with an open mind and gain new skills and knowledge. Publishing houses are not the only employer of English majors; your background and willingness to learn can be beneficial in other job markets as well. "As a liberal arts major myself, how you apply your education to your career growth is entirely up to you," said Ryan Bernier, an SNHU career advisor.
Diversify Your Skill Set: Since liberal arts majors can be helpful in many fields, one way to stand out from other applicants is to learn new topics and skills transferrable to your industry or organization of interest. For example, if you're a communication major looking to work for a technology company, you might consider building on your vocabulary and understanding of the subject with an IT elective. You could also subscribe to technology journals to stay up-to-date on industry news.
Why Do Employers Like a Liberal Arts Education?
In his book, "You Can Do Anything: The Surprising Power of a 'Useless' Liberal Arts Education," Forbes contributing editor George Anders writes that companies look for five key qualities in potential employees:
Eagerness to tackle uncharted areas
Ability to solve murky problems
Well-honed analytic methods
Keen awareness of group dynamics
Ability to inspire and persuade others
"It just seemed as if there was this tremendous disconnect between public rhetoric that said 'you've got to go the STEM route and there is no route but STEM,' and then all of these interesting new job openings that were coming up for people with liberal arts degrees," Anders said in a USA TODAY College story. "It was this hidden strength of the economy that nobody wanted to write about or talk about."
Rebecca LeBoeuf '18 is a writer at Southern New Hampshire University. Connect with her on LinkedIn.
Explore more content like this article
October 20, 2021
Interested in starting a new job or advancing in your current field? An Associate of Arts (AA) degree can give you the broad-based education and in-demand career skills you need to reach your goals. Learn more about earning an AA degree and what you can do with one.
October 07, 2021
A communications major is a great way to prepare yourself for a career in fields ranging from media relations and journalism to marketing, corporate communications and many more.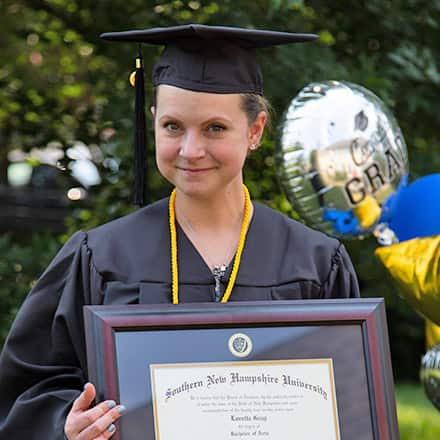 September 15, 2021
Loretta Gray started her college career in 1997, but finances took her away shortly after. Just a few weeks ago, the two-time cancer survivor completed her bachelor's degree in history. Little did she know, her husband and SNHU were planning a special diploma delivery for her.