What is a Liberal Arts Degree
And What Can You Do With It?
A liberal arts degree offers foundational knowledge across many different subject areas, from art, philosophy and language to history, science and math. A liberal arts degree provides general knowledge and career-relevant skills that prepare you for a range of professions.

Understanding the Numbers
When reviewing job growth and salary information, it's important to remember that actual numbers can vary due to many different factors — like years of experience in the role, industry of employment, geographic location, worker skill and economic conditions. Cited projections do not guarantee actual salary or job growth.
A liberal arts degree includes the study of history, literature, writing, philosophy, sociology, psychology, creative arts and more. These programs are designed to help you formulate compelling arguments, communicate well and solve problems.
Studying liberal arts can equip you "with a myriad of colors to paint with to create a vibrant career picture," said Torian Parker, an instructional designer and former career advisor at Southern New Hampshire University (SNHU). That's because the degree programs are designed to develop soft skills such as:
Collaboration
Creativity
Critical Thinking
Effective communication
"With these skills, (you) have a unique opportunity to enter varying career paths through a holistic approach," Parker said. Earning a liberal arts degree can be an effective way to show employers you have the skills necessary to be an asset in a range of fields.
What Exactly is a Liberal Arts Degree?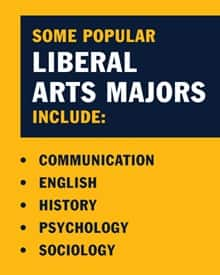 Liberal arts is a broad term that can encompass everything from theater arts to economics.
These disciplines are intended to give you general knowledge and the ability to think critically and learn any subject. Instead of focusing on specific skills needed for a technical profession, liberal arts sharpen your research, writing and critical thinking skills.
As to what you can do with this education, the benefits go far beyond the specific subject knowledge from a particular degree. When it's time to enter the job market, these majors have a huge array of possibilities available to them, including many in science, technology, engineering and mathematics (STEM) and business.
What is a Liberal Arts Degree Good For?
With further training, nearly all liberal arts degrees can lead to careers in education, allowing graduates — with the right qualifications — to share their passion with others.
These degrees also lend themselves well to further studies and research. Many liberal arts majors are also interested in giving back and connecting with people, which leads them to careers in politics, public service and other helping professions.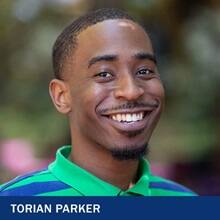 These are some of the more traditional paths for liberal arts majors, but graduates can be found in nearly all industries and professions. Their ability to think critically, adapt quickly and solve problems is in demand in STEM and business fields where liberal arts graduates may find their niche in areas such as marketing, sales, strategy or relationship-driven work such as customer relations and account management.
Their skills in reading, research and making complex information digestible can help them get up to speed quickly on technical subjects, even when they may not have a formal technical background.
Graduates from these majors often know how to connect with others and can excel at adding the "human touch" to whichever field they enter.
"Liberal arts (majors) approach problems in the workplace and the world from a unique vantage point by tapping into the humanistic qualities and dynamics at times overlooked due to a narrowed and single approach to problem-solving," Parker said.
What are Some Careers in Liberal Arts?
You can look forward to entering a number of careers in business, government, education and healthcare thanks to the transferable skills this education provides. Below are some popular majors and positions to consider while determining what career is right for you.
Communication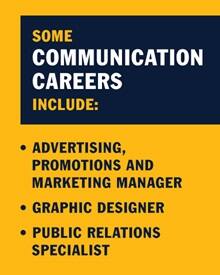 With a communication degree, you can learn key skills to work in industries such as journalism, public relations, advertising and more. Coursework in public speaking and graphic design helps you come to work prepared to deliver presentations, create publications and reports, and convey messages through digital media.
Some jobs in the communications field include: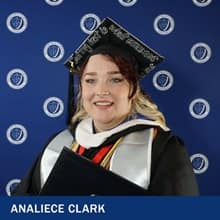 Analiece Clark '23 earned her bachelor's in communication from SNHU while working as an emergency medical technician (EMT.) Thanks to her studies, she's transitioning into a new role.
"Now that I've finished my job as an EMT, (my workplace is) helping me move over to a job in public relations," Clark said. "Hopefully I can move on up and see where it will take me."
Discover what else you can do with a communications degree.
English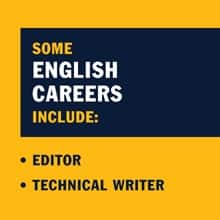 English degree majors specializing in English language and literature take courses in history, social science and literary theory and are prepared for jobs as writers, historians or museum curators. With related paths such as a creative writing or journalism, you can focus on storytelling in nonfiction, news, fiction, screenwriting or poetry genres.
The curriculum is also designed to prepare you for jobs in public relations, film, theater and advertising, to name a few.
Some jobs in the field include: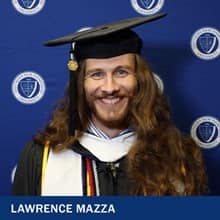 Lawrence Michael Mazza II '22 secured a teaching position after earning his bachelor's degree in English and creative writing.
"I started teaching middle school English (...)" Mazza said. "All thanks to my degree at SNHU."
Discover what else you can do with an English degree.
History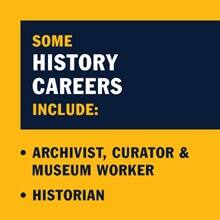 Understanding the past is key to helping organizations interpret significant historical events and prepare for the future. Drawing upon your strong research and analytical skills, you may be able to work as a curator, historical interpreter or policy advisor with the help of a history degree.
Although history majors often work in politics, they are also qualified to work in other jobs in business, journalism, law or education. A major in history can prepare you for law school, as well.
Some jobs in the history field include:
---
---
After working a job he didn't enjoy, John Roos '18 earned a bachelor's in history and turned his passion into his profession.
When SNHU Career Services suggested an internship, Roos sought opportunities to gain experience and launched his career in park services. "I've been able to use my degree in history on a daily basis in my new jobs — giving tours, talking to people about the history of the park and what's gone on around it," said Roos.
These days, Roos is much happier with his career path. "Now that I have my degree from SNHU, I'm working in my dream job," he said.
Discover what else you can do with a history degree.
Psychology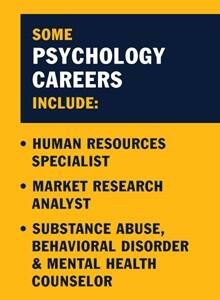 The study of the human mind, a psychology degree focuses on human behavior and how to apply concepts to social and organizational issues that affect us globally. You can look forward to pursuing roles in human resources, market research and social services. Some jobs in the field include: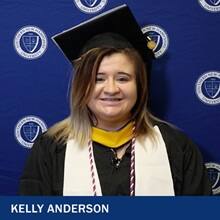 Kelly Anderson '22G earned her master's degree in forensic psychology from SNHU, and she's not planning to stop there.
"I'm hoping to next get my doctorate and then work in the forensic field with either the police (or) FBI," Anderson said.
Discover what else you can do with a psychology degree.
Sociology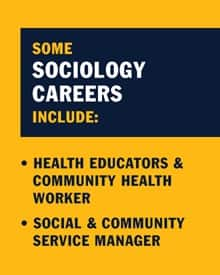 Focused on social behavior and how people behave in groups, sociology coursework includes history, religion, geography and social science research, to name a few. In this field, you can gain an understanding of society's historical, economic and political issues and how people can work together to solve problems. Roles open to sociology degree majors include jobs in social services, criminal justice or public health. Some positions in the field include: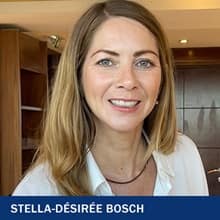 Stella-Désirée Bosch '23 earned a degree in sociology from SNHU to advance her organization benefiting children in Cambodia.
"I initially pursued this bachelor's in order to give credibility and gain greater awareness in regards to the work I have provided through Sreyka Smile," Bosch said. "I enjoyed every piece of information I learned during my studies."
Discover what else you can do with a sociology degree.
What are the Benefits of a Liberal Arts Education?
Pursuing a degree in the liberal arts helps you succeed in a fast-paced world that requires individuals to develop creative solutions today to solve the complex challenges of the future.
It's no surprise, then, that business leaders are speaking out in defense of these foundational subjects. Harvard Business Review looked at three books about how the humanities prepare students. Humanities, the books' authors contended, are about the ability to learn, ask the right questions, identify the real problem and never lose sight of real human needs.
An Associate of American Colleges and Universities (AAC&U) survey found that the learning outcomes of contemporary liberal education, including the liberal arts, are valued as "somewhat" or "very important" to nine out of 10 employers.
These subjects provide a strong foundation for learners to enhance their written and verbal communication and critical thinking skills.
Soft skills are essential to being a good leader, communicator and critical thinker and are often developed in general education courses. The implications of this background extend far beyond that, though.
Foreign languages teach another way to view language itself. This translates into an employee who can move seamlessly between computers, employers and customers, better understanding each perspective, limitations and needs. Philosophy encourages logic and inquiry, which translates into an employee who effectively assesses unexpected situations.
Does Liberal Arts Include Science?
Basic math and science are also part of the traditional arts. The problem solving, analysis and observation skills established in those subjects are essential for a lasting career when artificial intelligence (AI) and other new technologies are causing future changes in the workplace.
The Future of Liberal Arts in the Workforce
Consider this — the job market changes quickly, and the most in-demand skills in the future may very well be the humanities. Automation and AI are affecting more and more industries. But skills like critical thinking, relationship-building and storytelling resist automation and will continue to be needed in the workforce.
Between 2012 and 2020, the number of bachelor's degrees conferred in humanities subjects fell almost 16% according to a 2022 issue of Dædalus, the Journal of the American Academy of Arts & Sciences. And yet, competencies developed through foundational subjects, such as getting a liberal arts degree, matter more than ever.
Automation and AI have limits because of unanticipated nuances to a task or its human and emotional elements. AI needs capable humans to manage and pull the best from it.
Today's highly digitized, AI-supported environments have a heightened need for employees with interpersonal skills, nimble minds and the ability to work alongside machine learning.
AI is being used to a remarkable effect in nearly every sector. For example, companies in the healthcare and insurance industries can gather data to determine customers' rates via the Internet of Things (IoT) sensors that capture one's driving and lifestyle habits. A virtual claims adjuster can even minimize fraud as it handles settlement and payment following an accident.
And yet, a frightened driver calling their car insurance company from a ditch on the side of the highway wants to speak to a human. That customer service representative must be able to listen sympathetically, gather the relevant information and clearly instruct the driver on immediate next steps. At that moment, the insurance company needs employees with problem-solving and communication skills.
In a doctor's office or hospital, AI can collect and process more comprehensive and accurate data than a human could ever hope to. But rather than replace the nurses and office administrators, this automated capability frees them to focus on what they do best — educating patients and providing unique support and communication.
Pressure to compete for STEM careers continues to grow in a world increasingly supported by and reliant on technology.
A liberal arts background is particularly valuable in developing skills that machines can't replicate. Soft skills are still relevant in the workplace, and students who can demonstrate their creativity in areas such as writing, communication, critical thinking and collaboration, will continue to be attractive to employers.
Preparing for the Workforce
Although they're well-equipped for many different roles, liberal arts majors may have a less clear-cut road to the perfect job than some graduates. Here are some suggestions for entering the job market after earning a degree in this field of study:
Why Do Employers Like a Liberal Arts Education?
In his book, "You Can Do Anything: The Surprising Power of a 'Useless' Liberal Arts Education," Forbes contributing editor George Anders writes that companies look for five key qualities in potential employees:
Ability to inspire and persuade others
Ability to solve murky problems
Eagerness to tackle uncharted areas
Keen awareness of group dynamics
Well-honed analytic methods
"It just seemed as if there was this tremendous disconnect between public rhetoric that said 'you've got to go the STEM route and there is no route but STEM,' and then all of these interesting new job openings that were coming up for people with liberal arts degrees," Anders said in a USA TODAY College story. "It was this hidden strength of the economy that nobody wanted to write about or talk about."
A degree can change your life. Find the SNHU liberal arts program that can best help you meet your goals.
Rebecca LeBoeuf '18 '22G is a writer at Southern New Hampshire University. Connect with her on LinkedIn.
Explore more content like this article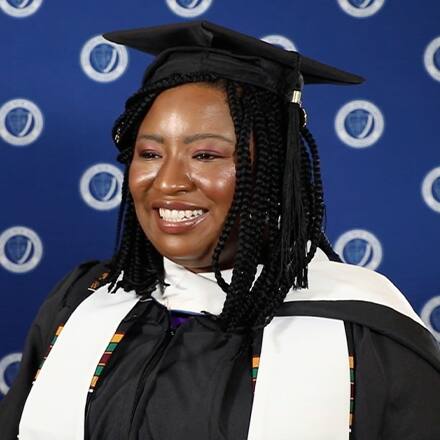 When Adanze Chukwuocha '23G earned her bachelor's degree, it wasn't in a subject that she truly enjoyed. So, she decided she wasn't done – and that her next degree would be different. That's when she started an MA in English and Creative Writing from Southern New Hampshire University (SNHU).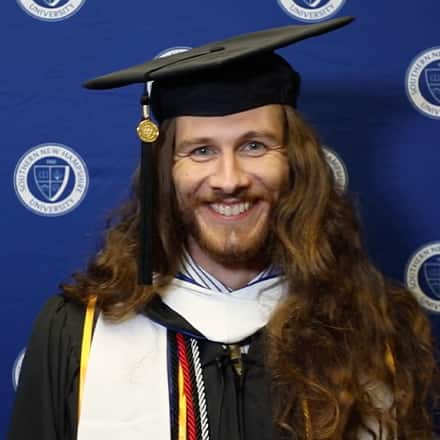 Lawrence Michael Mazza II traveled from Florida to New Hampshire to celebrate earning his bachelor's in English and creative writing. And he was celebrating another accomplishment, too — the start of his new career as a middle school English teacher.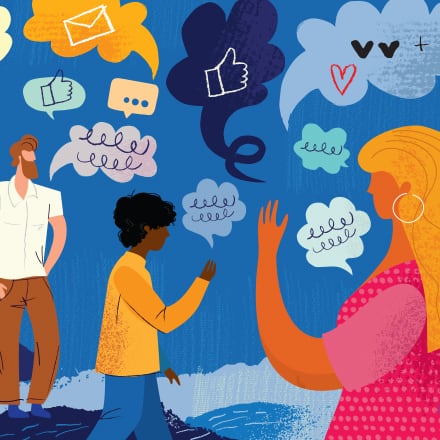 Everyone has their own communication style. Knowing what these styles look like — and how to identify them — can help you better communicate and work with other people. Learn how to leverage communication styles to communicate successfully across different mediums and cultures.
About Southern New Hampshire University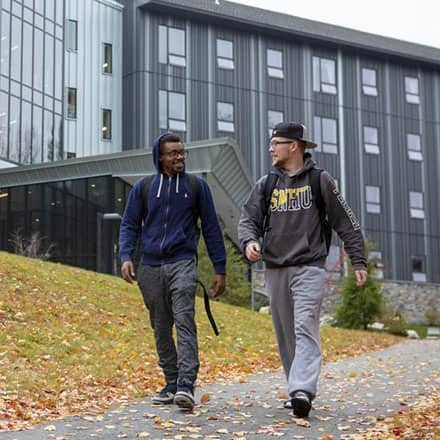 SNHU is a nonprofit, accredited university with a mission to make high-quality education more accessible and affordable for everyone.
Founded in 1932, and online since 1995, we've helped countless students reach their goals with flexible, career-focused programs. Our 300-acre campus in Manchester, NH is home to over 3,000 students, and we serve over 135,000 students online. Visit our about SNHU page to learn more about our mission, accreditations, leadership team, national recognitions and awards.