Roundtable Discussion with the Women Who Rule in STEM at SNHU
She may, in jest, refer to herself as the queen of STEM, but Gwen Britton, executive director of online STEM programs at Southern New Hampshire University, is clearly one of the women who rule in STEM at SNHU. Britton and several other educators, along with nearly 30 female graduate and undergraduate students, are heading to Orlando, Fla., for the annual Grace Hopper Celebration of Women in Computing on Oct. 4-6. In the week prior, a group of these mighty female STEM leaders got together to reflect on their own journeys and the hopes they have for students.
The roundtable discussion included Angie Foss, associate dean of operations and innovation at SNHU's College of Engineering, Technology and Aeronautics (CETA); Gaynelle Swann, associate dean of academics for CETA; Deborah Trottier, assistant director of academic operations (CETA); Jennifer McInnis, mechanical engineering faculty (CETA); Ann Marie Moynihan, associate dean of faculty, online technology programs; Melissa Donovan, associate dean of faculty for online mathematics and data analytics; Yan Xiang, dean of academic programs (CETA); Lauren Provost, assistant director of academic support for online STEM programs; and Britton.
Many of these women showed early aptitude in STEM subjects, yet hadn't considered a career in an associated field until a teacher or parent pointed them in that direction. After all, the term STEM, an abbreviation for science, technology, engineering and mathematics, wouldn't be coined for a decade or two - and a woman interested in STEM fields entered a male-dominated career path, generally finding the need to blaze her own way.
The premise of a STEM event for females, such as the Grace Hopper conference, the world's largest gathering of women technologists, would have seemed a creation of science fiction. This sold-out, three-day event includes technology competitions, career opportunities, specialized tracks focused on computer systems engineering, data science, interactive media, organization transformation, artificial intelligence, human computer interaction, IoT/wearable technology, security/privacy, software engineering and more.
SNHU students vied for a spot in the group attending the 2017 conference, submitting essays about why they should be selected to attend this year's Grace Hopper Celebration. Like the women behind STEM degree programs at SNHU and those presenting at Grace Hopper, the students hope to not only make their mark in their chosen field, but also encourage others to follow in their path.
For Dana Palm, earning a bachelor's in information technology, attending the conference offers an opportunity to see women firsthand who "have their left their mark on the IT field and are now encouraging women like me to carve out our own path. ... As I move through my professional career beyond school, I will encourage more young women and girls that the technology field is a place for women too, not just men."
Ellen Rozenblum is already anticipating how she will pay forward her opportunities as she advances in the IT field. She looks forward to mentoring other young women as they embark on careers in the field, and "I am hopeful that I will be in a position to provide that needed guidance." Rozenblum is earning a bachelor's in information technology with a concentration in web design and development.
The Grace Hopper Celebration is just one of the conferences and events available to SNHU students. It not only supports and encourages women in STEM but also provides valuable opportunities for learning, networking and careers. SNHU students attend Grace Hopper as well as the Women in Cybersecurity (WiCyS) conference and National Cyber League competitions. They are also involved in MentorNet and the National Center for Women in IT (NCWIT).
When asked why events like Grace Hopper matter for women today, Foss said, "All of a sudden, clarity comes and you understand why you do what you do. ... You get inspired by other women, you learn about really cool technology. ... It's one of the most important events. ... It's so valuable."
Britton spoke of the connection student attendees quickly develop: "They come from different backgrounds, they're different ages, they're from different areas of the country, and they're just in this really awkward, 'OK, now we have to be friends, OK?' But within probably the first five minutes, the entire aura and disposition of everyone changes," she said. "And suddenly ... they start telling each other stories, and they're learning more and more about each other. So within the first two hours, they are BFFs, and they are walking around and they're bonding. But here's the cool part about this: We're planting the seed, and they're growing, and they're planting the seed with others. So we are paying it forward by going to this, to kind of bring all of these students in, and the ripple effect is absolutely huge."
For many of the students attending Grace Hopper, it will be the first time they're in the company of such a large contingent of people just like them - smart, skilled women with a passion for STEM. It's their time to shine - and Donovan encourages them to never let anyone dim that light.
Pamme Boutselis is a writer and content director in higher education. Follow her on Twitter @pammeb or connect on LinkedIn.
Explore more content like this article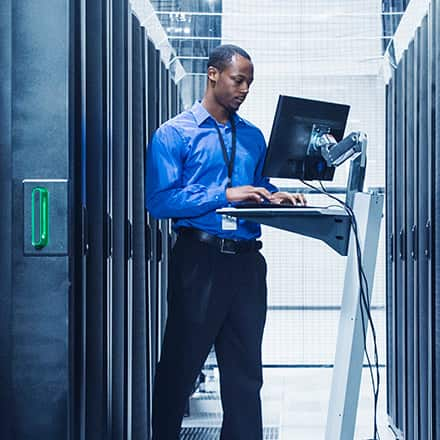 July 20, 2021
The field of cyber security is about leveraging top-notch problem-solving skills with technical aptitude to keep people and data safe. Despite being relatively new, the field of cyber security is here to stay.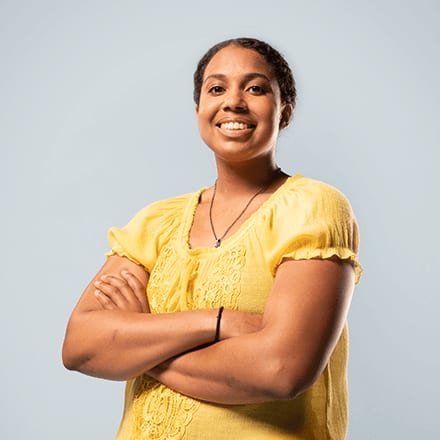 July 19, 2021
Even before she enlisted in the military, Bethanie Thomas knew she wanted to earn her degree. She even knew which field she wanted to study. The only thing missing was the right school.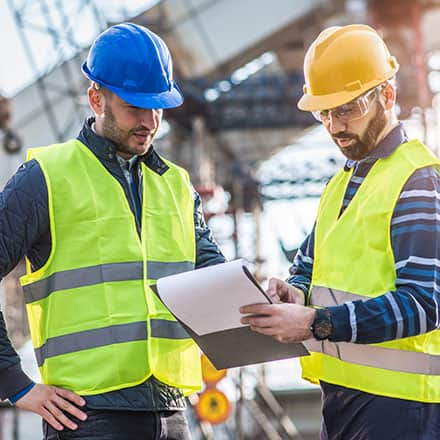 June 22, 2021
There are dozens and dozens of types of engineering. Because when it comes down to the basics, engineering is about using specialized bases of knowledge to solve a problem.