Should You Become a Psychology Major? Info and Advice to Help You Decide
Majoring in psychology can not only be personally rewarding, but it can prepare you for a variety of careers. Beyond the human services field, a psychology major often leads to jobs in business, education, government and roles that require a deep understanding of people and how they interact with one another.
Students often choose to major in psychology because they want to help others. However, it's important not to narrowly define what that means, according to Dr. Barbara Lesniak, senior associate dean of social sciences at Southern New Hampshire University (SNHU).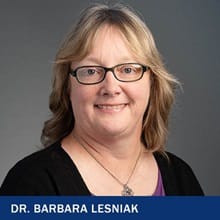 "Students with a bachelor's degree in psychology can certainly get non-licensed entry-level positions where they directly help and support others at places like substance abuse clinics, social services agencies, schools and similar organizations," she said. "However, they can also use their skills at businesses in areas such as human resources or training/development, or in customer-focused positions where they might deal with difficult situations that need to be de-escalated."
A popular major, psychology is one of the top 10 undergraduate programs in the United States, according to The Princeton Review. Dr. Lesniak refers to the psychology degree as "the utility knife" of degrees because it is useful in most job roles – and whenever you're in a position that requires you to interact with people.
What Do Psych Majors Learn?
As an undergraduate, you can expect to learn key psychological concepts, human behavior and research methods. Your classes will help you develop the critical thinking skills you need to communicate effectively. More specifically, you'll take a variety of general education courses in English, math, science and the humanities – as well as courses in your major. You'll also be able to choose from a wide range of electives.
You may wonder, "Is psychology a hard major?" You might find classes to be rigorous and writing-intensive, but, to be successful, you must be able to write a paper and argue one's point of view effectively, according to Dr. Thomas MacCarty, associate dean of social sciences at SNHU.
At some universities, you can choose concentrations within your major to prepare you for a specific career path or graduate study. Here are a few concentrations that allow you to learn more about a specific area of psychology:
Addictions - Understand how people's habits and activities can evolve into substance misuse and how that cycle can be treated to pursue peer-to-peer/community-related positions and/or future licensing opportunities.
Applied Psychology - Build skills in scientific inquiry while you hone your ability to interpret, communicate and apply data to prepare for roles such as human resources specialist, market researcher or management analyst.
Child and Adolescent Development - Study the unique physical, social, psychological and cognitive needs of children and teens. With a focus on experiential learning, you can gain real-world experience by doing internships, a practicum or research and volunteer projects in a child-focused setting.
Forensic Psychology - Apply your research skills, psychological knowledge and critical thinking abilities to a variety of issues facing the legal system to prepare for jobs that require psychological assessment, investigative research and crime analytics.
Mental Health – Focus on counseling techniques and psychological assessment to prepare for further graduate study in mental health counseling, clinical psychology or social work.
Social Psychology - Learn how people see and make sense of the world as you deepen your understanding of human behavior and prepare for roles in business, community relations, marketing or sales-related careers.
How Many Years Does it Take to Major in Psychology?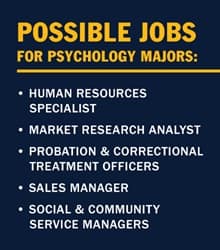 Bachelor's degrees are often referred to as "four-year degrees," but the amount of time it takes for you to earn your bachelor's in psychology all depends on your goals, educational background and the type of program you choose. Online courses, for example, may allow you the flexibility you need, as well as more terms per year.
Once you choose your psychology program type, you'll need to consider the number of courses you want to take each term. It might be tempting to enroll in multiple courses each term to finish quicker, but it may not be feasible if you have other commitments at work or home.
You might also save time if you've already earned college credits. Some universities will allow you to transfer those credits toward your degree program. For example, SNHU accepts up to 90 transfer credits toward your psychology program. Whatever program you ultimately choose, your academic advisor can help you map out a plan to best help you reach your goals.
What Jobs are There for Psychology Majors?
While an undergraduate psychology degree alone won't qualify you to become a licensed psychologist, it does open the door to many helping professions and entry-level roles in business.
The American Psychological Association identifies the types of jobs you may get with a psychology degree on its website. Here are a few jobs for which a bachelor's degree in psychology might prepare you.
Probation and Correctional Treatment Officers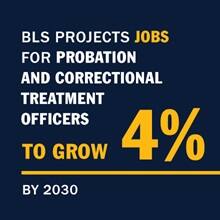 Often, when an individual is released from jail or prison, they must comply with court-ordered supervision. Probation and parole officers provide guidance and help people get the resources they need to successfully reintegrate into society. As a correctional treatment officer, you would help probationers and parolees create and stick to rehabilitation plans. Both roles require critical thinking and decision-making skills, as well as an understanding of substance misuse.
Probation and correctional treatment officers made a median salary of $55,690 in 2020, and the field is expected to grow by 4% through 2030, according to the U.S. Bureau of Labor Statistics (BLS).
Social and Community Service Managers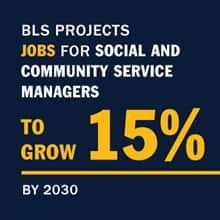 Social and community service managers work for nonprofit organizations, for-profit social service companies and government agencies. They may focus on providing services to children, the homeless, older adults or veterans, for example.
As a social or community service manager, you would focus on supervising staff and volunteers who provide direct services to their clients. You may also be responsible for collecting data, overseeing budgets or meeting with potential donors.
In 2020, social and community service managers earned a median salary of $69,600, and the job is expected to grow 15% (faster than average) by 2030, according to BLS.
Market Research Analyst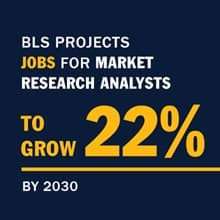 What makes buyers favor one brand over another? Market research analysts can help organizations get a better idea by studying market conditions to examine potential sales of a product or service.
If you have strong math and analytical skills, this role might appeal to you, as it focuses on collecting and interpreting data related to consumer demographics, preferences, needs and buying habits.
There continues to be a strong demand for market research analysts, as the job is expected to grow 22% by 2030, according to BLS, which is much faster than average. Market research analysts earned a median salary of $65,810 in 2020.
Human Resources Specialist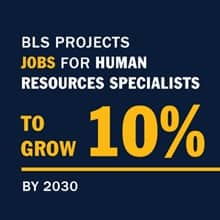 Human resources specialists screen, recruit, interview and place workers in job roles. They also handle complex employee relations, compensation and benefits, and training. If you have particularly strong interpersonal and communication skills, you may be well-suited for this role.
The median annual salary for human resources specialists was $63,490 in 2020 and is expected to grow 10% from 2020 to 2030, according to the BLS.
Sales Manager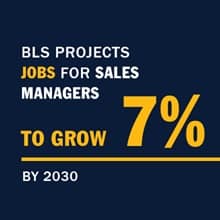 Closing a sale requires understanding your customers, their needs and what it takes to overcome their objections. Sales managers can work in a variety of industries and typically set sales goals, analyze data and develop training programs for their sales representatives.
Sales managers made a median salary of $132,290 in 2020, and the role is expected to grow by 7% by 2030, according to BLS.
To advance your career or open doors to other professions, you might want to consider an internship.
Internships for a Psychology Major
Internships not only expose you to the real-world application of psychology, but they can also help you get a taste of what you might encounter daily in a particular job. Completing an internship as part of your undergraduate psychology program can help you build valuable networks and contacts for post-graduation career searches or for letters of recommendation if you decide to apply to a graduate program.
You might consider completing an internship in your area of interest and work with your career advisor to find experiences that best match your career goals. Popular psychology internships, according to Handshake, include research and assistant roles in community clinics, nonprofit organizations, schools or correctional facilities, for example.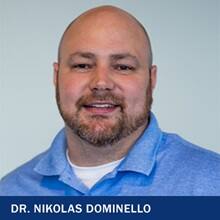 Successfully completing a bachelor's degree in psychology can prepare for graduate study in psychology. As you navigate educational next steps, it helps to keep your end goal in mind, said Dr. Nikolas Dominello, associate dean of social sciences at SNHU. For example, if you want to become a mental health counselor, a school counselor or work with a specific population in the future, consider the coursework and internships that can bring you one more step closer to your goal.
After you've completed an internship and learned what types of jobs most appeal to you, you might be ready to consider graduate programs. There are many fields you can enter or advance in with the help of a master's degree in psychology, including child and adolescent development psychology, forensic psychology or industrial organizational psychology.
An undergraduate psychology degree provides you with a solid foundation to pursue graduate degrees in clinical mental health counseling and other fields such as social work or school counseling.
What Can I Do with a Graduate Degree in Psychology?
A master's degree in psychology can deepen your understanding of research methods, cognitive psychology, social psychology and personality, learning theory and ethical practice while focusing on the real-world application of psychological research.
A master's degree in psychology doesn't automatically lead to licensure as a clinical mental health counselor. Clinical mental health counseling is a specialized field that requires a prescribed course of study and skills development, along with internship hours, according to Lesniak.
Here are some concentrations you can specialize in as part of your master's in psychology program and the types of jobs you can expect to be prepared for. Each of the concentrations positions you well to pursue doctoral-level coursework or seek employment in several fields.
Child and adolescent development psychology master's – Create assessment, intervention and consultation strategies that address the unique individual, cultural and psychological needs of children to develop, coordinate or administer childhood programming for community centers, daycares, schools and nonprofits. If this career path interests you, see how to become a child psychologist, what jobs are out there and the skills you'll need.
Forensic psychology master's – Master the research, analysis, assessment and human behavior skills needed to apply psychology principles in the criminal justice system. With your concentration in forensic psychology, you could pursue jobs such as crime analyst, forensic case manager or jury consultant. Want to know more? Learn how psychology, science and law unite in this career path.
Industrial organizational psychology master's – Improve employee performance, motivation and general well-being by studying individual and group behavior in the workplace. If you can see yourself using your psychology education to help businesses, explore what I-O psychologists do each day.
Becoming a Clinical Mental Health Counselor
When you think of someone with a background in psychology, you may think of a professional who evaluates, treats and follows up with clients struggling with mental health issues. Only those licensed in clinical mental health counseling can provide these services to patients. If your dream is to ultimately work as a clinical mental health counselor, an undergraduate background in psychology may be the first step toward reaching your goal.
For instance, at SNHU, the CACREP-accredited clinical mental health counseling master's degree program requires you to complete 60 academic credits, a 100-hour practicum and two 300-hour internships. However, some states require additional hours for licensure. Potential career outcomes in this program include licensed professional counselor and substance abuse counselor, for example.
Summing it Up
Still on the fence about whether you should major in psychology? No matter what your ultimate career or educational goals might be, a bachelor's degree in psychology helps you better understand concepts, principles and theories from a scientific standpoint—skills you can apply at work and to every aspect of your life.
If you're wondering what else you can do with a psychology degree, explore additional career options.
Krysten Godfrey Maddocks '11 is a writer and marketing/communication professional. Connect with her on LinkedIn.
Explore more content like this article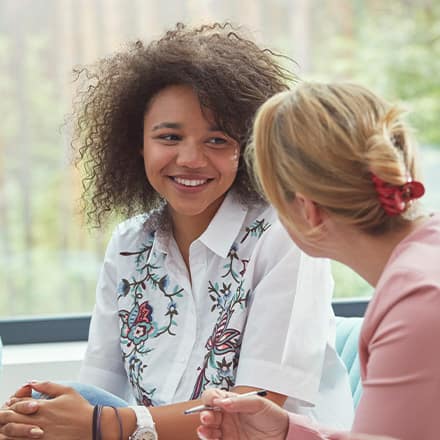 October 14, 2021
To become a licensed social worker, you need to get licensed in the state in which you intend to practice. While each state sets its own guidelines for licensing social workers, this generally means earning a social work degree from an accredited program.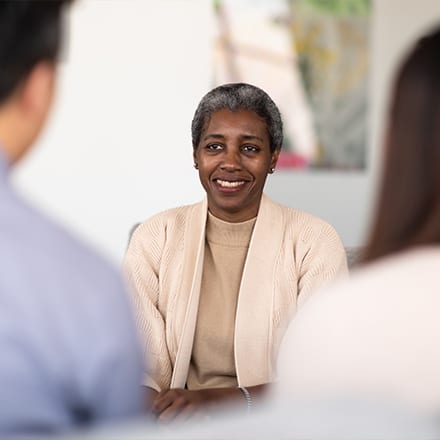 October 08, 2021
If you're fascinated by the mind and how an individual, a community or an organization thinks, earning a master's in psychology can lead you toward a career field that is engaging and growing.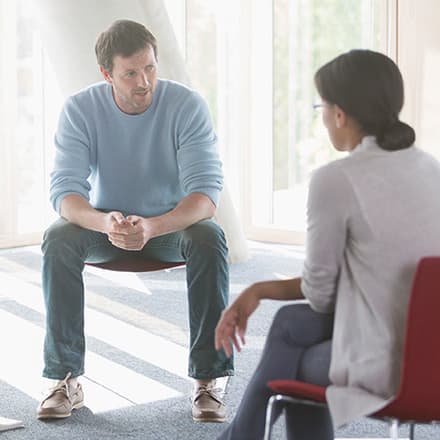 October 06, 2021
With a degree in psychology, you can use core skills such as research, decision-making and communication to work in a vast array of fields, including business, counseling, human resources and many more.