What is a Bachelor of Arts Degree?
Whether you're just starting to consider career options or you're working toward a dream job, earning a Bachelor of Arts (BA) degree could help you reach your goals. So what is a Bachelor of Arts degree, and how can it help you build the future you want?
A BA degree is a four-year, undergraduate liberal arts program offering a broad-based education and teaching key soft skills – often referred to as interpersonal or people skills. From education and psychology to human services and creative writing, there are BA degree programs that can help you prepare for diverse careers across many industries.
If you're considering an undergraduate degree, it's important to understand what programs are available, how to earn a Bachelor of Arts degree and the value of a BA degree long term.
What is a Bachelor of Arts Degree All About?
Earning a Bachelor of Arts degree will give you a strong foundation of learning across many subjects, and help you develop the career skills employers are looking for.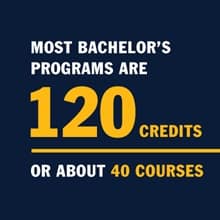 BA degrees typically consist of 120 credits, or about 40 courses. Credits are earned through a combination of general education courses, program-specific courses and elective courses. The actual number of each type of course will vary depending on your degree program.
While program-specific and elective courses help expand your knowledge base in a particular field, general education courses lay the foundation for valuable soft skills like creativity, communication and critical thinking.
These soft skills can help you prepare for more advanced degrees and give you the flexibility to navigate an evolving job market. They're also in high demand across many industries and could help you succeed in your chosen career.
According to a 2019 LinkedIn Global Talent Trends report, 92% of talent professionals agreed that candidates with strong interpersonal skills are increasingly important in today's job market. Another study from the Society for Human Resource Management (SHRM) found that leaders with soft skills can improve their team's performance by 30%.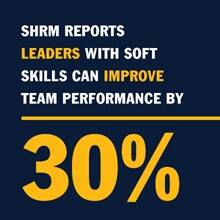 The focus on soft skills is one of the key features of a Bachelor of Arts degree that sets it apart from the other primary type of bachelor's degree – a Bachelor of Science (BS) degree.
What's the Difference Between a BA and BS Degree?
While both degree types include a foundation of general education courses and program-specific courses, there are some key differences between a BA and BS degree. So what is a better degree, BA or BS? It really depends on your interests and career goals.
A BA degree explores topics that require critical thinking and research, like literature, arts or history. BA programs can prepare you for specific careers while also laying a strong foundation of soft skills that can be applied to a variety of career opportunities.
A BS degree, on the other hand, typically focuses on more concrete, technical skills and places a bigger focus on program-specific courses. As a result, students with a very specific career in mind may gravitate toward a BS degree, such as an online bachelor's computer science degree for someone who wants to work as a computer programmer.
One of the biggest differences between BA and BS degrees, however, comes down to the programs of study available within each degree type.
What Majors Fall Under Bachelor of Arts?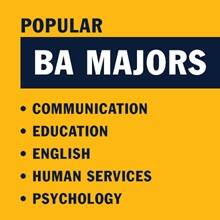 What is a Bachelor of Arts degree program good for? It depends on how you plan to use it! Whether you dream of spending your days writing novels or you want to focus on helping others, there's a BA degree program for you.
Are creative pursuits your passion? While a Bachelor of Arts degree does differ from a Bachelor of Fine Arts degree, there are still many program options that can help you turn your love of the arts into a career. Do you want to make a difference in your community? A BA degree could also help you land jobs in social services, non-profit work or education.
Still not sure what you want to do with your career? Explore some of the most common types of BA degrees available – and the jobs they can help you get – to see what could be a good fit.
Bachelor's in Communication
When you earn a communications bachelor's degree, you get the skills you need to work in journalism, social media, public relations, advertising and other related fields. You'll learn how to convey ideas effectively to a variety of audiences and have the opportunity to apply your learning to real-world situations.
You could focus your studies on areas like business communication, new media, professional writing and public relations. This type of Bachelor of Arts degree could help you prepare for a variety of jobs, including:
Learn more about what you can do with a communication degree.
Bachelor of Arts in Education
With a bachelor's degree in education, you can prepare for teacher licensure and gain the skills you need to work as a classroom teacher or other educator. You can build a strong foundation of teaching strategies and learning theories and participate in a hands-on student teaching experience.
Most bachelor's degrees in education offer a variety of concentrations, allowing you to focus your learning on special education, early childhood education, elementary education, secondary education or specific subject areas.
With a bachelor's degree in education, you can prepare for careers including:
BA in English Degree
If you have a love of storytelling or enjoy discussing literature, a BA in English could be a good fit. In a four-year English bachelor's degree program, you will analyze literary form, genre, structure and style, and you'll gain key research, collaboration and communication skills that you can apply to diverse career opportunities.
Some of the jobs available with an English bachelor's degree include:
Learn more about what you can do with an English degree.
BA in Human Services
When you earn a human services bachelor's degree, you can work to make a difference in the lives of others. You'll explore the art of advocacy and learn how to effectively provide services to individuals, families and entire populations in need.
By focusing your degree on areas like child and family services, gerontology or substance abuse, you can specialize in your chosen field and gain key career skills to help you land your dream job. Job opportunities for human services degree holders include:
Learn more about what you can do with a human services degree.
Bachelor of Arts in Psychology
With a BA in Psychology, you can explore human behavior at a deep level using case studies and experiential learning. You can learn how to gather, interpret and communicate data and build key critical thinking skills.
With a degree in psychology, you could also explore areas of specialization like addiction, applied psychology, child and adolescent development, forensic psychology, mental health and social psychology. These studies could help you prepare for a variety of career paths or advanced degrees.
Some of the jobs available to psychology bachelor's degree holders include:
What Does it Take to Earn a Bachelor of Arts Degree?
Once you've decided which subject to study in your Bachelor of Arts program, it's important to explore how to get started with a BA and what it takes to actually graduate with your degree.
What is Required to Start a BA Program?
While admission procedures vary, most colleges and universities have a few core requirements to enter into a bachelor's degree program. Typically, the process begins with an application.
Once you've applied, you'll likely be required to supply a transcript from your high school or GED program, as well as any other schools you've attended. If you need financial aid, you'll want to complete the current Free Application for Federal Student Aid (FAFSA). Some schools may also require SAT or other testing for admission, while other schools, such as Southern New Hampshire University (SNHU), do not.
If you've completed any college courses already through an associate degree program or past bachelor's degree courses, you may be able to transfer those credits toward your new degree program. At SNHU, for example, students can transfer up to 90 credits toward a four-year degree, saving significant time and money.
Can You Earn a Bachelor's Degree Online?
If you'd rather not attend school on campus or need the flexibility to earn a degree while working full time, then earning an online bachelor's degree could be right for you. Luckily, there are many options for online BA programs.
At SNHU, there are more than 100 online bachelor's degree programs and concentrations. With an online program, you can complete your schoolwork when it works for you, accessing online classes and course resources 24/7. Whether you're working full time or managing family responsibilities at home, you can earn a bachelor's online degree on your schedule.
How Long Does it Take to Earn a Bachelor's Degree?
A bachelor's degree is traditionally a 120-credit program that takes about four years to complete, but the actual time it takes to earn your degree can vary. At SNHU, for example, six 8-week terms throughout the year mean you can complete as many as 12 courses annually.
If you take a full course load and transfer credits toward your degree, you could graduate in fewer than four years. If you take fewer classes each term, it may take longer than four years to complete your program.
How Much Does it Cost to Earn a BA Degree?
The cost of a Bachelor of Arts degree can vary significantly depending on tuition and other fees. At SNHU, bachelor's degree courses cost $320 per credit, resulting in about $38,400 for a full degree. At other institutions, however, a bachelor's degree program may cost significantly more.
Earning an online bachelor's degree can often be less expensive than an on campus degree because you'll save money on housing costs, meal plans and other on campus service fees. But even in an online degree program there can be other costs aside from your tuition, such as textbooks, online learning resources, software and other technology needs.
What is a Bachelor of Arts Degree Able to Do for a Career?
One of the most important things to consider when exploring a Bachelor of Arts degree is what the degree can do for you, your career and your life. When it comes to a BA degree, there's a lot of potential.
It's no wonder that the number of Americans with bachelor's degrees has consistently risen over the last decade: they offer a valuable, in-demand education with significant career benefits.
According to BLS data, the median weekly salary for bachelor's degree holders - $1,305 per week - is 39% higher than workers with an associate degree and 67% higher than workers with only a high school diploma.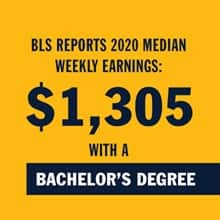 Bachelor's degree holders also have higher rates of employment than workers without a four-year degree, according to BLS. The unemployment rate for bachelor's degree holders was 5.5% in 2020. Associate degree holders had an unemployment rate of 7.1% while workers without a college degree had a 9% unemployment rate.
Data shows it pays to advance from an associate degree to a bachelor's, and earning a Bachelor of Arts degree is also a key step toward entering graduate programs, such as a master's degree. A master's can pave the way for even more job opportunities and earning potential.
No matter what you hope to achieve in your career, a Bachelor of Arts degree could help you get started toward your ideal future.
When you work through a BA program, you can graduate with the critical thinking, analytical and communication skills you need to succeed in just about any field. In preparation for today's evolving job market, these skills provide key flexibility and versatility so you can explore new professional interests over time and find the career that's right for you.
Danielle Gagnon is a freelance writer focused on higher education. Connect with her on LinkedIn.
Explore more content like this article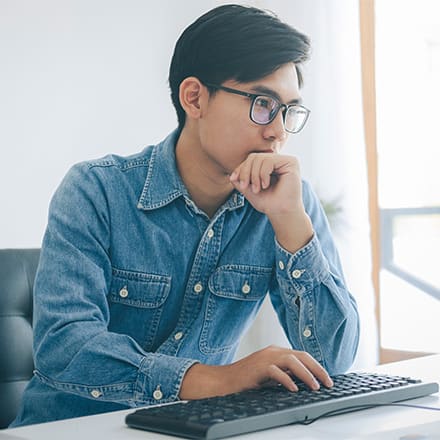 October 15, 2021
Generally taking only two years to complete, an associate degree provides foundational academic knowledge and technical expertise for a variety of career fields without the time and financial investment of a four-year degree.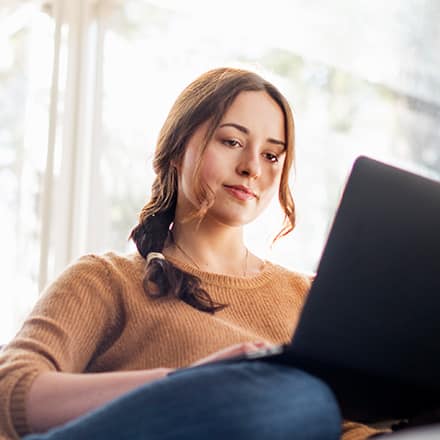 October 13, 2021
Choosing the right MA degree is a matter of your current accomplishments – academic and professional – and your goals for the future. Which MA degree is right for you will depend on your current career and where you want to go from here.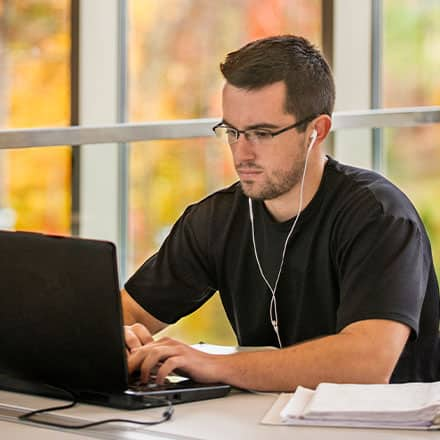 October 12, 2021
There's a clear benefit to getting an associate degree. Workers with an associate degree had median weekly earnings of $862, $132 more than people with a high school diploma alone, according to BLS.