Why the Liberal Arts Will Be More Important Than Ever in an AI-Enabled Workforce
No, the robots are not coming for all the jobs. But that widespread impression is understandable, given McKinsey's recent estimate that 6 out of 10 occupations will see more than a third of their activities automated.
As a result, students, worried that employers today value tech-based skills above all else, are moving away from the foundational subjects taught in a liberal arts program (which typically include humanities — such as languages, literature and philosophy — as well as math and science). The Humanities Indicators report from the American Academy of Arts & Sciences shows that the number of humanities degrees conferred in 2015 (212,512) was 5% below the previous year and 9.5% below the number conferred in 2012.
And yet, competencies developed through these foundational subjects matter more than ever. Automation and artificial intelligence (AI) have limits, because of unanticipated nuances to a task or its human and emotional element.
Also, at its best, AI needs capable humans to manage it and pull the best from it. Today's highly digitized, AI-supported environments have a heightened need for employees with interpersonal skills and nimble minds.
Savvy HR departments are taking steps to better equip employees with the competencies that may get lost in learning and development (L&D) programs focused exclusively on practical skills. Foundational skills taught in liberal arts programs — such as communication, collaboration, creativity, critical thinking, interdisciplinary thinking and problem solving — are vital for any company to stay competitive and effective in the coming age of the AI-enabled workforce.
When AI augments, rather than replaces, human roles
AI is being used to a remarkable effect in nearly every sector. Companies in the healthcare and insurance industries can gather data to determine customers' rates via Internet of Things sensors that capture one's driving and lifestyle habits. A virtual claims adjuster can even minimize fraud as it handles settlement and payment following an accident.
And yet a frightened driver calling their car insurance company from a ditch on the side of the highway wants to speak to a human. That customer service representative must be able to listen sympathetically, gather the relevant information and clearly instruct the driver on immediate next steps. At that moment, the insurance company needs employees with communication and problem-solving skills.
In a doctor's office or hospital, AI can be used to collect and process more comprehensive and accurate data than a human could ever hope to.
But rather than replace the nurses and office administrators, this automated capability frees them to focus on what they do best — educating patients and providing unique support and communication.
Why the liberal arts matter more than ever
It's no surprise, then, that business leaders are speaking out in defense of these foundational subjects. Harvard Business Review recently looked at three books about how the humanities prepare students. Humanities, the books' authors contended, are about the ability to learn, ask the right questions, identify the real problem and never lose sight of real human needs.
Such skills prove invaluable in augmenting and refining AI's potential. The most obvious benefits include mastery of written and verbal communication, honed through countless discussions, essays and presentations. The implications of a liberal arts background extend far beyond that, though.
Foreign languages teach another way to view language itself. This translates into an employee who can move seamlessly between computers, employers and customers, better understanding each one's perspective, limitations and needs. Philosophy encourages logic and inquiry. This translates into an employee who effectively assesses unexpected situations.
Likewise basic math and science are also part of the traditional arts. The problem solving, analysis and observation skills established in those subjects are also essential for a lasting career when AI and other new technologies are upending expectations in the workplace.
Let the human handle this one
Our eBook, Liberal Arts at the Office, gathered opinions from several experts on the value of the liberal arts versus more practical workplace skills training — a dichotomy that is intrinsically flawed. In today's AI-supported work environment, the foundational and the practical must be symbiotic.
"Rather than having a group of engineers who all went through the same program, liberal arts students can see things differently. They can bring creativity, collaboration, and team-building skills," Revature's Executive Vice President Joe Mitchell said in the eBook. "Employees with these skills are able to communicate well, whether that's with business analysts, senior management or other people on the software development team."
That symbiosis is the basis for College for America's unique competency-based approach to higher education. Our curricula are informed by career preparation needs. Modules introduce practical workplace contexts and real-world projects into those "impractical" foundational subjects.
Competency-based education supports the growth of working adults who can, as George Anders writes in "You Can Do Anything: The Surprising Power of a "Useless" Liberal Arts Education," "bring a humanist's grace to our rapidly evolving high-tech future."
Companies that prize their AI algorithms above all else are overlooking the value of a workforce equipped with the strengths of a liberal arts degree. Whereas businesses that cultivate these skills within their pool of employees will quickly realize the incalculable benefits of such well-rounded, competent individuals.
Robert McGuire is a writer and editor specializing in the intersection of talent management, higher education and education technology.
Explore more content like this article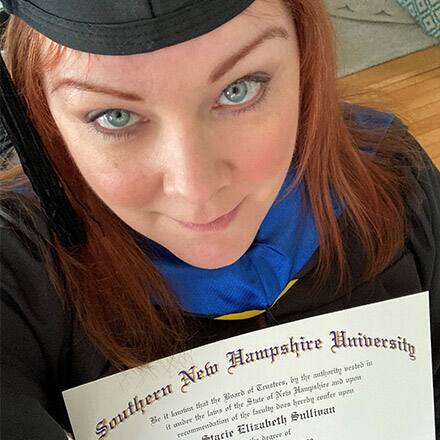 September 08, 2020
For years, Stacie Sullivan '19 felt stuck in her career, sensing her opportunities to advance were limited. After a series of challenging life events, Sullivan enrolled in the BS in Health Information Management program at SNHU.
July 01, 2020
Just a year after she decided to go back to school, Shereka Johnson-Bean '20 is preparing to submit the final project for her bachelor's degree.
June 12, 2020
Shannon Griffin's first job was as a crew member at a McDonald's restaurant. She's still working at McDonald's, but her role is a whole lot different thanks to her hard work and the degrees from SNHU.