Successful Female Entrepreneur and Alumna Gives Backs to Students
Kym Harrington '90 has helped grow a then-fledgling computer company into one of New Hampshire's largest firms employing thousands. She joined a tiny software firm where she redesigned their sales team and later spun-off the product she helped make so successful, launching a 7-member sales team into a business that has been recognized by Forbes and Business NH Magazine.

It's been a long time since the successful female entrepreneur lived and studied at SNHU's Manchester, N.H. campus but not so long since she's visited because she's one of many SNHU alumni that give back to the school in a number of ways. "I try to give back as much as I can," she said.
Early Career
Harrington graduated from SNHU in 1990 with a Bachelor of Science in Business Administration with concentrations in economics and finance before going on to earn her MBA in Business Administration concentrating in multinational commerce. She was already majoring in business, but it was an undergraduate class at SNHU in entrepreneurship that inspired her to pursue sales. "I realized that some day I wanted to be an entrepreneur," Harrington said.

Harrington went to work for a relatively small but growing computer sales company based in Marlow, N.H. She spent about a year in a corporate sales position and, through that work, identified education and government sectors as untapped potential customers. Her bosses told her to go for it and she and two other salesmen went to work. Four years later Harrington was using budgeting, sales and marketing to supervise the 175 salespeople in her division. "That was just a tremendous amount of experience," she said. "I was just able to become really well-rounded ... while I was there."

Harrington's next business adventure came from an entirely new direction. While the computer sales company continued to grow and add employees, Harrington took a position at a small company called Pragmatec Software with the goal of redesigning their sales team. The company's product was marketed to other businesses that needed to prepare a variety of documents on a regular basis, including things like Request-for-Proposals, questionnaires, technical specifications and more. Pragmatec's software automated those processes.
Recognition as Female Leader in Business
A little more than six years after joining Pragmatec, the owners decided to accept outside venture capital financing and began looking at ways to sell the existing software business to focus on a new product, Harrington said. She was put in charge of selling the old division but decided to come up with a plan of her own.

Instead of finding an outside buyer, she wrote a plan that laid out how she would run the business. She submitted the plan on a Friday and over the weekend was given the OK, told to handpick the employees she wanted and go for it. "It was definitely a lot of fun. There were a lot of challenges," Harrington said.

The chief challenge, she said, was that she hadn't expected such a quick answer. Very rapidly she and the seven employees that came with her had to find client training space, offices, design a website and new branding. SalesEdge was formed nearly 10 years ago, and all seven of those employees are still with the company, Harrington said. She and the company have been recognized several times as leaders in the industry. Business New Hampshire Magazine named SalesEdge one of the state's top women-led business in 2013, 2014 and 2015 and one of the five most intriguing women leaders in New Hampshire. In 2015, Forbes magazine named Harrington a top woman business leader in New England.
Benefiting from SNHU Then, Giving Back Now
Harrington credited her time at SNHU for her confidence entering the job market and preparing her for a role in a professional setting. She said the variety of classes was helpful, particularly a focus on communication and writing skills, along with having professors with real-world experience. For Harrington, this helped open her eyes to the variety of opportunities she could expect once she graduated. "The teachers were extremely supportive. They could share their experience from the business world," Harrington said. "It definitely helped me a lot. It helped because there were a lot of different types of classes you had to take. I felt very prepared and very confident, too."

Harrington has maintained her connection to SNHU in the decades since she graduated by speaking before undergraduate business classes, trying to share with them some of her real-world experiences, just as her professors had when she was a student. "I think it's so important for young students to see the opportunities that were out there," Harrington said. "The reality is everything you do in life is sales."

Harrington has also participated as a panelist in the university's Business Indicator Series for alumni leaders and worked with on campus students in the sales minor in networking opportunities, as well as entrepreneurship initiatives, according to Kristi Durette, director of SNHU's Office of Alumni Engagement.

The Office of Alumni Engagement is always on the lookout for alumni such as Harrington with interest in sharing expertise and experience with the SNHU community.
Explore more content like this article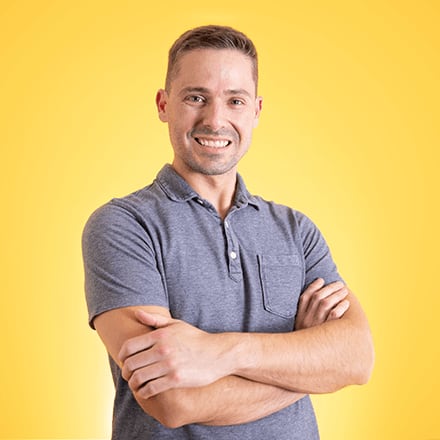 July 19, 2021
Blake Venable always knew he wanted to get his bachelor's degree, not only to achieve a personal goal, but to build on his already successful career. Working toward his degree in accounting, Venable is becoming more confident in himself and doing what he loves.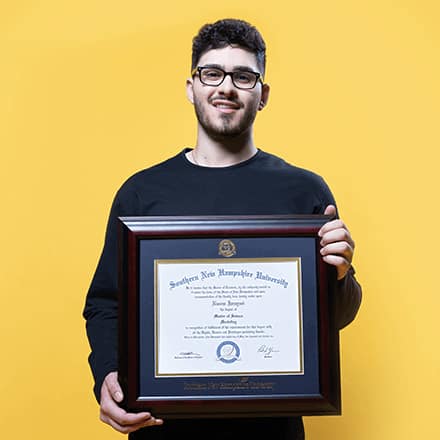 July 19, 2021
When Naeem Jaraysi '20G earned his bachelor's degree, he knew he wasn't done with school. He saw firsthand the importance and longevity of education and was determined to set himself up for a future of possibilities.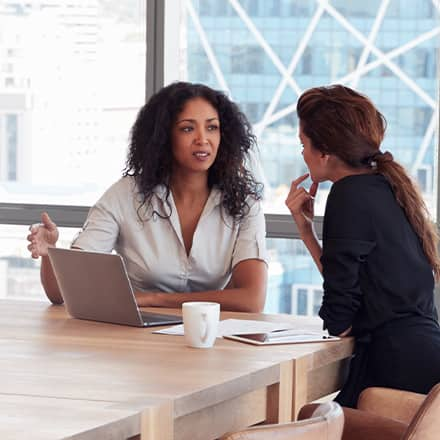 July 16, 2021
Human resources is an integral part of any organization, playing a key role in the strength and vitality of its workforce. While HR roles can vary, the overall goal of the field is the same: to support employee recruitment, retention, engagement and overall productivity.