Southern New Hampshire University offers master's programs online and on campus that are affordable, flexible and achievable. Pursue your passion and advance your career with over 100 graduate degrees, 15+ specialized MBAs, designed to be completed in as few as 12-15 months.
Popular Graduate Programs
Benefits of an SNHU Master's Degree
Whether attending class on campus or pursuing your master's degree online at SNHU, you can expect:
Credibility. Our master's programs are regionally accredited - meaning they meet high academic standards. Some of our degrees even have programmatic accreditation.
Affordability. As part of our commitment to making education accessible, we keep our tuition rates low and offer financial aid to those who qualify.
Expert instruction. Learn from faculty who bring real-world experience and relevant insights to the classroom.
Flexibility. Earn your master's degree online with 24/7 access to coursework or on campus in a traditional classroom setting.
Student support. From day one, dedicated academic and career advisors are available to help you reach your goals.
We believe in creating faster paths to your future. With 5 term starts per year to choose from and no GRE or GMAT requirements, you can begin the path to earning your master's degree online or on campus today.
Why Earn Your Master's?
In fields as diverse as business, education, healthcare and STEM, advanced degrees are no longer an option – they're essential.
Employers are placing greater emphasis on top talent who can enter a role and make an immediate impact.
As a result, a growing number of working adults are going back to school to earn their master's.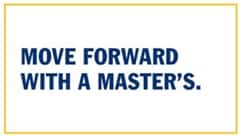 A master's degree can help your resume stand out. It can prepare you for on-the-job demands. It can open doors for advancement within your company and help you reach for high-reward roles in all new occupations or business ventures. So you can continue to evolve along with a fast-changing workforce.
1. Could boost earning potential
For those seeking better pay, earning your master's could be a wise career move. The U.S. Bureau of Labor Statistics reported median weekly earnings of $1,497 for master's degree holders in 2019. This figure is a 19.9% wage increase from bachelor's degree holders and 68.7% wage increase from associate degree holders.1 It is also well above the median weekly earnings for all workers in 2019 ($917).1
2. Prepare for your future
Continuing your education may also result in greater career opportunities down the road. The U.S. Bureau of Labor Statistics predicts a 15% increase in jobs requiring master's degrees through 2029. Comparatively, jobs requiring a bachelor's degree are only set to grow by 6.4%.1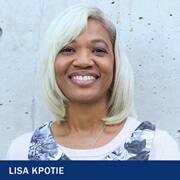 These figures signal big challenges for those who have yet to earn a graduate degree – and not just entry level professionals. As SNHU graduate Lisa Kpotie '16 can attest, even seasoned job seekers with years of experience need continued education to go further.
"I started to realize that in order to be more marketable in my field, I needed to go back to school," she said. Now, thanks to the MS Accounting degree program at SNHU, she's taken her career to the next level.
"Getting my master's … allowed me to branch out and open my own [business]."
3. Reduce likelihood of unemployment
Degree holders are also less likely to be unemployed. In 2019, the BLS reported a 2% unemployment rate for those who earned their master's.1
4. Additional benefits of a master's degree
Earning potential, future planning and increased employment opportunities aren't the only possible benefits of earning a master's – for some, it's the sense of personal fulfillment.
Jessica Cooper '14 is one such case. As a veteran and military spouse, her decision to go back wasn't only for herself – it was for the people she cared about.
"I was the first in my family to ever obtain a degree of any kind," she said. "I never in a million years dreamed I would [earn an MBA], but I'm so glad I did it."
A master's degree from SNHU can help position you for the life and career you want – and help you work toward a brighter future. Request information today.
Frequently Asked Questions
Can I earn a master's degree online?
Yes. Southern New Hampshire University offers online master's programs in subjects ranging from liberal arts to social sciences and, of course, always popular online MBA degrees. Many SNHU students are working full time and managing life's innumerable priorities and demands. Taking classes online provides graduate students the ability to flexibly manage coursework when it's convenient, rather than opting for traditional weekly class schedules and attendance policies.
"The online program at SNHU has allowed me the opportunity to balance my life, school and work," said 2015 MBA Marketing grad Jack Tralongo
Are online master's degrees worth it?
Most assuredly. According to a 2018 report from the BLS the median weekly wage for full-time workers over the age of 25 was $1,497 for those who earned a master's degree compared to $1,248 for those whose highest level of education was bachelor's degree.1 That's a difference of almost $13,000 annually in median wages. In addition, jobs that require a master's degree are expected to grow 15% through 2029.1
Read more about the value of a master's degree.
Do I need a GRE for an online master's?
No. Accessibility to education is at the core of Southern New Hampshire University's mission.
As part of creating high quality, affordable and innovative pathways to educational success, SNHU removes many barriers, including a requirement for GRE or GMAT test scores for entrance into any of its 90+ accredited and affordable online master's degree options.
What are the best master's degrees to get?
Deciding which online master's degree is best is ultimately entirely up to you. Online MBAs may be required for many high-level jobs, but Southern New Hampshire University also offers more than 90+ online master's programs and concentration options in subjects ranging from accounting and finance to communication, cyber security and information technology.
Whichever path you choose, you'll receive the same quality education from experienced instructors in a flexible environment designed to help you succeed.
"My professors challenge me mentally and creatively, and this is what separates this program from others," said SNHU MA in English and Creative Writing grad Geanice Gee '15.
How much does an online master's degree cost? Is an online master's cheaper?
Earning your master's degree online is often more affordable than pursuing a program on a traditional university campus. The cost of an online master's degree is dependent on the school and program you're enrolling in.

At Southern New Hampshire University, we're committed to making higher education accessible. That's why we offer some of the lowest online tuition rates in the nation. In fact, we haven't raised our online tuition since 2012.
What is the easiest master's degree to obtain?
All 150+ on campus and online master's degrees and concentrations at Southern New Hampshire University are designed to set you up for success. Though online courses are no more or less difficult than those in a traditional campus setting, online classes do offer additional flexibility, which is often preferable to many learner who need to balance work and other life demands.
However, which master's degree is easiest, whether on campus or online, ultimately comes down to the subjects that suit you best. For instance, if you've always done well in math and/or science classes, you may want to explore a STEM program. If you enjoy reading and writing, a liberal arts degree in English, Communication or History may be easier for you. On the other hand, if you've struggled with technology, you may find computer science or IT courses more difficult.
Ease really comes down to you and the subjects you enjoy studying.
Those entering a master's program also may find their journey easier if they continue with the program of study in which they obtained an undergraduate degree. In addition, some pre-requisite courses may be waved with qualifying undergraduate coursework or competencies.
SNHU also offers dedicated instructors, academic advisors, tutoring and many additional services designed to help you carve a path to your master's degree.
"My time is precious and SNHU understands those commitments," said Mark Ellingson, who graduated with an MBA Social Media Marketing in 2014.
Are online master's degrees credible?
Yes. All online courses at Southern New Hampshire University are taught by experienced faculty and meet rigorous academic standards required for regional accreditation from the New England Commission of Higher Education (NECHE), which affirms that all programs meet standards for educational quality .
SNHU has degree-granting approval from the New Hampshire Department of Education, Division of Higher Education - Higher Education Commission, and also has earned specialized accreditation for many of its programs including: Accreditation Council for Business Schools and Programs (ACBSP), Commission on Accreditation for Health Informatics and Information Management Education (CAHIIM), Commission on Collegiate Nursing Education (CCNE), Council for the Accreditation of Educator Preparation (CAEP), Engineering Accreditation Commission of ABET (Accreditation Board for Engineering and Technology) and New Hampshire State Department of Education for Teacher Certification, among other respected accreditations.
References
1 Bureau of Labor Statistics, U.S. Department of Labor, on the internet, at:
https://www.bls.gov/emp/chart-unemployment-earnings-education.htm (viewed Nov. 13, 2020)
https://www.bls.gov/cps/cpsaat39.htm (viewed Nov. 13, 2020)
https://www.bls.gov/emp/tables/education-summary.htm (viewed Nov. 13, 2020)
Cited projections may not reflect local and/or short-term economic or job conditions and do not guarantee actual job growth.