Class of '66 Bonds Still Strong 50 Years Later
Leon Tranchemontagne '66 was dying. He knew it, and his family knew it was a matter of time but he had a couple of goals. First, he wanted to host a final "Tranchemontagne and Damn Good Friends Reunion" bash at his picturesque Biddeford, Maine home in August and he wanted to attend New Hampshire College's - now Southern New Hampshire University - 50th reunion in October, the school's first group of bachelor-degree students.
Tranchemontagne had his motivation, but the prospect of him living until August, and especially to October, was no sure bet. So when she heard her uncle had received a save-the-date card for the October reunion, Chris Hagen M'94, decided to make a call to SNHU's Office of Alumni Engagement. Three days later, on a hot and sunny afternoon, three of Tranchemontagne's Class of 1966 classmates were on their way from the Southern New Hampshire University campus to Biddeford for a small but emotional reunion of their own.
Merv Newton, Dan Sullivan and Bruce Connell spent the afternoon with Tranchemontagne and some of his family to talk about their days studying business and accounting when the school was located in downtown Manchester. They talked about other classmates they had kept track of over the years and paged through the 1966 class yearbook, marveling at just how much everyone had changed. "That was a treat. That was special," Tranchemontagne said as his classmates were gathering to head back to New Hampshire. "It was great seeing those guys. I would never have recognized them, though."
Tranchemontagne stood in the doorway of the large screen porch on the side of the home he bought 40 years ago, about half a mile from the Maine coastline. He waved as Newton, Sullivan and Connell piled back into their cars. "All right," he called. "See you guys in the fall."
Tranchemontagne died at a Scarborough, Maine hospital on July 3, three days after the reunion. He talked about his classmates' visit until the end, his family said. "When (Hagen) called and said these guys were coming, that meant a lot to him," Tranchemontagne's wife Cheryl said. "He's quite touched by it."
Lea Tranchemontagne, Leon and Cheryl's youngest daughter, said her family refers to the day Newton, Connell and Sullivan visited as her father's "last full day." His health started failing that night and soon he was hospitalized and medicated. "He just said 'I had the best day.' It's obviously something that I'm always going to hold on to. It was my last day with him, a really happy one," she said. "He seemed so full of life. That day he was just so lively. It was just a good feeling to have. It just made me happy and had a sense of peace that he was so happy on his last full day."
Leon P. Tranchemontagne enrolled at New Hampshire College in 1962 on the GI Bill® following his service in U.S. Navy during the Vietnam war. He had taken some accounting classes at a school in Dover previously but didn't much like it. New Hampshire College was a better fit. "It was just what I wanted," he said.
After graduating in 1966 with a bachelor's degree in human resources, Tranchemontagne went to work for Johnson & Johnson as a recruiter. His French-Canadian roots were put to good use during his frequent trips to Canada to recruit workers. "That was a good job but I was a small fish in a very large pond," he said.
Tranchemontagne spent the next 20-plus years in human resources, an industry he said he enjoyed especially when he could help "rehabilitate" someone and get them into a steady job - like his first client, who had just been released from prison, he said. After a career in HR working for Johnson & Johnson, Dorr Woolen, Sunbeam and ITT, Tranchemontagne moved into real estate. For another 20 years, he helped sell many of the homes in his native southern Maine.
Here, too, his desire to help people, to make sure they were taken care of, came to the fore. Hagen recalled one woman he sold a house to in particular. She remembered the woman only as Mrs. Mitchell. She was an older woman who bought a home in the Biddeford area and was living alone. Long after the sale was final, Tranchemontagne would visit routinely to make sure she was getting by OK and was able to get groceries and other necessities. "He really cared," Hagen said. "He wanted to make sure that people were okay."
Tranchemontagne began having health issues decades ago following his military service. He received dozens of blood transfusions in 1960s-70s and contracted Hepatitis C from one of them. By 2002, his liver was destroyed, according to a story on HealthCentral.net about Tranchemontagne. But the next year he received a donated liver and quickly began speaking publicly about the importance of organ donation. His message reached thousands before he was done. "Once he was given that new liver he just had a new mission," Hagen said. "He talked to everyone and anyone who would listen about organ donation. He went all over New England talking about the importance of organ donation."
Public service was a large part of Tranchemontagne's life after his years at New Hampshire College. He was a longtime member of the Biddeford-Saco (Maine) Rotary Club. He also volunteered for local soup kitchens and for a time with the Biddeford Pool Volunteer Fire Station, Hagen said.
On the visit days before Tranchemontagne passed away, the Class of '66 members spent the piece of the afternoon they were together catching up, finding how many kids and grandchildren they each had and what they had been up to all those years. For a little while Sullivan and Tranchemontagne - class president and vice president, respectively - looked through a copy of their class yearbook, filled with black and white photos of the mostly-male graduates. Sullivan had a clipping of a story in the New Hampshire Union Leader about the school's first graduating class of bachelor degree students.
SNHU always remained important to Tranchemontagne his family said. And there was one more SNHU connection at the Tranchemontagne homestead that day. Hagen's daughter, Rachel, will be a sophomore at SNHU in the fall, extending the family's 50-year connection to the school. At the impromptu reunion, he said his degree gave him opportunities throughout his life. "That sheet of paper they gave me opened up a lot of doors," he said.
Part of the reason for that was that he was the child of immigrants, Lea Tranchemontagne said, and the importance of education was "drilled" into him from a young age. "Going to college for him was a really big deal," she said. "... I think there was a sense of community. I think back then college wasn't as common as it was now. I think there was a sense of brotherhood with that in some ways."
Hagen said it was remarkable to watch. "To me, that was a piece of my uncle that I didn't know 50 years ago ... Here was this bond that he had with these guys 50 years ago that was still there," Hagen said. "To me, that spoke volumes to the person that my uncle is that those friendships he made 50 years ago still had those strong bonds. I just think that's amazing."
Lea Tranchemontagne said despite his health problems, her father's death came as something of a shock because they expected to have another month or even two with him, especially after seeing him happy and energetic during his classmates' visit. Despite that, they're getting on as best they can. "He put family before any and everything. He would just do anything for anyone," she said. "He was the best dad and he was a great family man, and there's definitely a hole in a lot of people's hearts now."
GI Bill® is a registered trademark of the U.S. Department of Veterans Affairs (VA). More information about education benefits offered by the VA is available at the official U.S. government website.
Explore more content like this article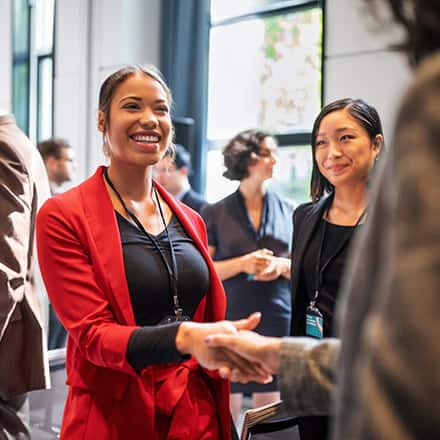 June 04, 2021
The day you receive your diploma from your university is a proud one, marking the culmination of your degree. But, your relationship with the university doesn't have to end there. Alumni are an integral part of a university community and are true advocates for student success.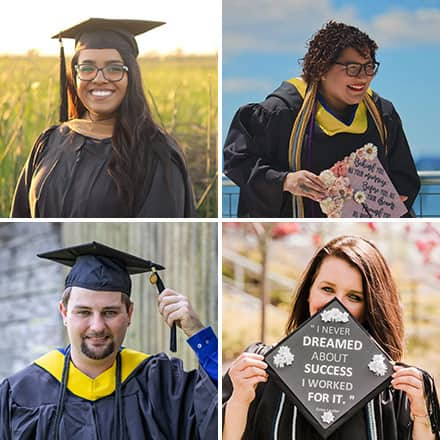 May 10, 2021
Determination has always been a key characteristic of SNHU graduates but never more so than within the 43,000 students who persisted throughout the pandemic in completing their degree programs.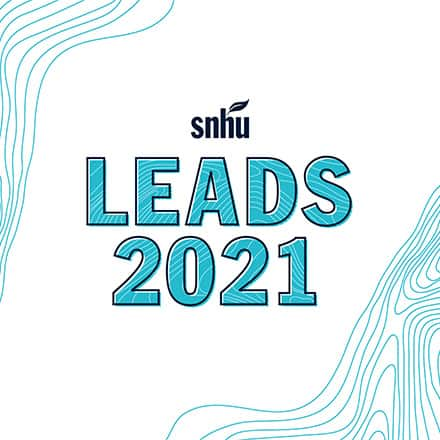 April 22, 2021
SNHU students, staff and alumni worldwide dropped by the 7th annual LEADS Conference earlier this month for personal and professional development that focused on academic achievement, leadership and career advancement.